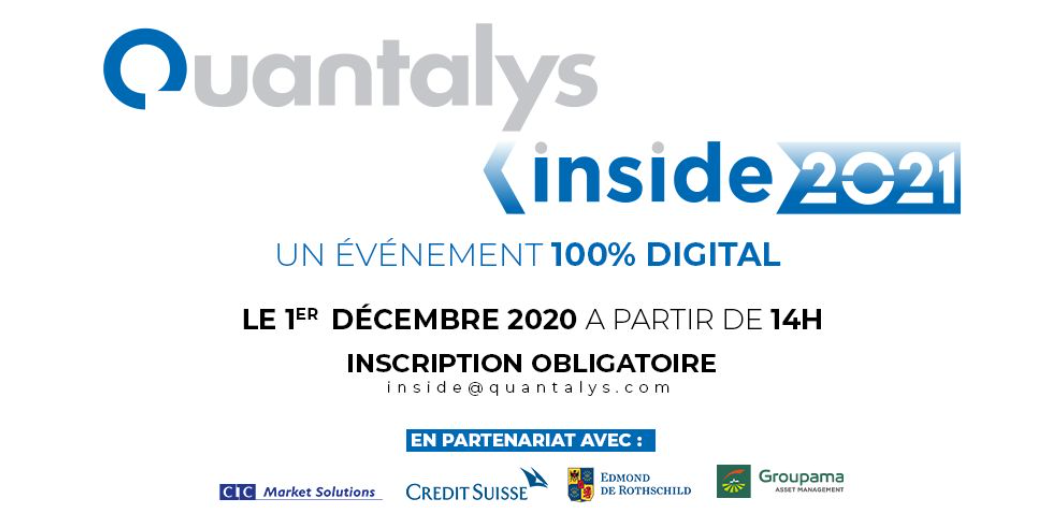 2020 is ending and your events might have been postponed. For many companies, organizing a virtual trade fair required adaptation and responsiveness.
Quantalys, a web development firm for finance corporations recently experienced their first virtual event. Mariane Barré, the company's Event Manager, has agreed to tell us about their first event in the beginning of December.

"Each year, Quantalys organizes a half-day event at the Palais Brogniart in Paris for finance professionals. We usually host round tables and workshops called "Quantalys Inside". This year, we considered a hybrid event in August. When the government announced the second lockdown in November, we had to change plans. We decided to make it 100% virtual. But we only had a month to prepare!", says Mariane.

Choosing the right platform for your project
In such a tough situation, our number 1 priority is to find the platform that best meets our needs. This was crucial for our event. Spontaneously, you might want to create a virtual event with a face-to-face setting: allowing visitors to walk the aisles. Transposing is sure reassuring, but does not suit a virtual event. Behind a screen, it's not as easy as walking from a stand to another. "In the first place, we thought about a 3D version with avatars walking from one room to another, it was not innovative. Digital is our job. I wanted something more impressive" she explains."That's why we chose MeltingSpot. I really liked how clean and easy the platform was", she adds.
Define your objectives
Your goal is the most important criteria when choosing your virtual event platform. For Quantalys, the objective was both to promote its partners and to collect relevant information on visitors. "We could have simply made Youtube lives and upload them on our website. It would have been less expensive and easier to achieve. But that would not have given enough visibility to our partners. This is why we chose a outsourced solution with virtual stands participants and partners can talk through", adds Mariane Barré.

Think through every stage
Once you define the goals and select the right platform, you need to manage the communication between the service provider and the company. "It is important that you conceive each step of the project closely with your service provider. Teamwork is key here",  says Mariane Barré.

Prepare
Keep in mind that preparing a virtual event takes work especially when you have little or no experience in carrying out a virtual event. "For example, the partners' spaces require a different setting for a face-to-face and a virtual event. Education is also important: explain what and why we are doing, let the participants know that the technical support is always available", tells Mariane Barré.

Draw lessons from the first event
"I was nervous that a server shutdown would prevent people from logging in. But everything went well. The MeltingSpot team handled it perfectly: there were no technical bug" recalls Mariane. Obviously, a first event is always challenging : not everything can be predicted. "People found it captivating: both the content and the setting. It was everyone's first time but was it suitable for our customers ? We need an effective assessment for ourselves to draw lessons from this first event".

Take stock
This is now time to assess the event, not necessarily on a financial aspect but in terms of image or customer satisfaction. "Overall we had the same number of participants as last year. There were around 200 people per roundtable and we got very good feedback! Of course, it is still too early to assess the real impact of the event. However, I learned a lot from this experience! », concludes Mariane Barré.
👉👉 Wanted more information about our platform?