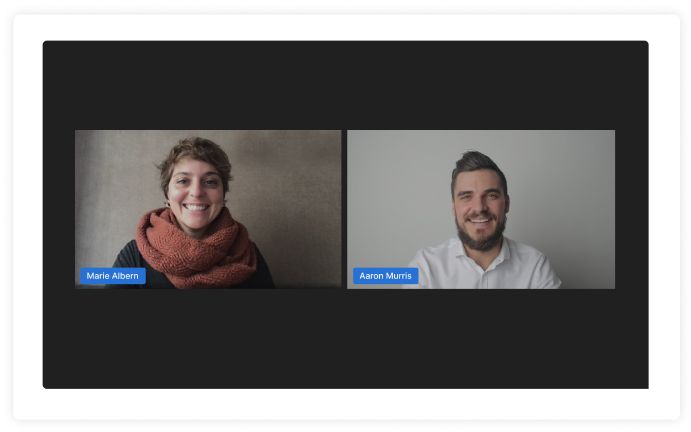 Digital is booming and the event industry is going through some deep changes. Though digital tools are considered as a trend, Now that more and more features are being developed, they are expected to become key for companies!
How to choose between an online event platform and a video conferencing software? What are their features? They both meet very different challenges! Let's see how.
🙋‍♀️ Participants are key
Video conferencing solutions match with business meetings, presentations and webinars, thus enabling salespeople to discuss, meet and share internal information real time. However, they are not suitable to host online events.

While virtual event platforms are designed to create large-scale online events. Virtual event tools allow rich and varied content to be displayed, engaging the community and guests; There are many advantages, such as :
The creation of a user account ;
Live video calls to interact with your community ;
Live chats in duo or in groups to promote external communication ;
The ability to zap from live to live and from content to content.
Virtual event tools and physical event platforms are quite complementary. They are both designed to focus on participants, speakers, hosts and sponsors.
🗣 Types of interactions
Video conferencing is a data based system while virtual event provides an interactive and customizable solution. As networking is its ultimate goal, online event platforms offer various settings :
"One-to-one" or "few-to-many" networking type meetings
Virtual roundtable sessions and workshops
Live videos
A chat tool
Making it a unique experience that can't be compared to a video conferencing solution!
With various existing formats, virtual events will undoubtedly become the third dimension of community management and a new step of inbound marketing strategy. In other words, the online event will help you gather more people and monetize your audience, 5 to 10 times less expensive than a physical event!
🎉 User experience
Video conferencing is the best solution to discuss with your teams, your leads, your community and your customers. Information is uploaded real time, making the participant now a consumer : he can reach content but remains "passive".

Whereas virtual event platforms do more than only give live presentations : they are designed to enhance connections. They provide an effective communication strategy so that the company attracts as many people as possible.
For any online event, participants will be able to both:
Access high-quality content : MeltingSpot screened the most matching content for our users ;
Explore the rooms : channels are open and the participants choose which sessions they want to attend;
Share with the community and hosts ;
Explore and fully experience live events ;
Communicate with the other participants in one-to-one meetings.
For all those reasons, the online event is much more consistent than a more traditional video conferencing solution. Participants engage in the meeting, they are free to get in and leave a room as they wish.
🤚 The number of participants
Video conferencing softwares maximum capacity hardly exceeds 50 participants. Some of them may give you more space for guests, but you need to pay more! It is always more complicated for small structures.
The online platform makes it possible to welcome many more participants all over the world. The event can be spread on a large scale. An online event platform is the most efficient tool to help you attract participants.
🎯 Very specific features
Video conferences and virtual event platforms have their own features :
The video conferencing tools are suitable for casual presentations, for a limited duration. The number of attendants is also limited.
Online event platforms give you the whole room to manage your online events of any type : virtual trade fairs, team building, customer afterworks, onboarding process, general meetings, customer days, workshops, etc.
The platforms offer multiple features, which ensure the lifecycle of your event :
Communication and marketing automation
Management of registrations with email scripts
Recording replays
Creation of an agenda
User experience assessment tools

✅ All those features give you better control of your online events. They improve the promotion of your brand, but also express your values ​​and your corporate culture. You will be able to collect data on the participants' journey and use it to nurture your marketing strategy. The online event platform is also a communication tool between your participants : it will strengthen your community.
🚀 Are you looking for a tool to launch, host and broadcast your online events ? MeltingSpot will support you and follow every stage of your project : before, during and after your event. Our goal is to improve the participant engagement and give them a unique user experience !