All B2B companies have a common goal: to transform their prospects into customers. But this transformation cannot be achieved in a snap. And relying only on isolated actions, such as organizing webinars, won't do the trick!
To accompany prospects throughout their journey and achieve this transformation, the ideal is to create and engage a community of prospects over time.
But do you know why building a community of prospects is a virtuous process? And how can you effectively manage your community to generate an effective ROI? MeltingSpot answers all your questions.
Community of prospects: why should you engage it?
Let's imagine: you are a startup, and you are preparing the release of your first SaaS solution. This launch could well disrupt the market... But to get the full picture, it is essential to gather contacts with your potential prospects, to "take the temperature". So you decide to organise a series of two webinars a week for a month. But soon, disaster strikes: fewer and fewer prospects show up for the webinars.
With the organisation of a series of online events like webinars, the risk is that you will lose your prospects over time. One attendance is sometimes enough to gather all the information they need. Before, during and after that, if prospects are not gathered in a tight group... It is difficult to engage them in the long term!
Creating and animating a community of prospects is therefore essential. The benefits of a community strategy are numerous: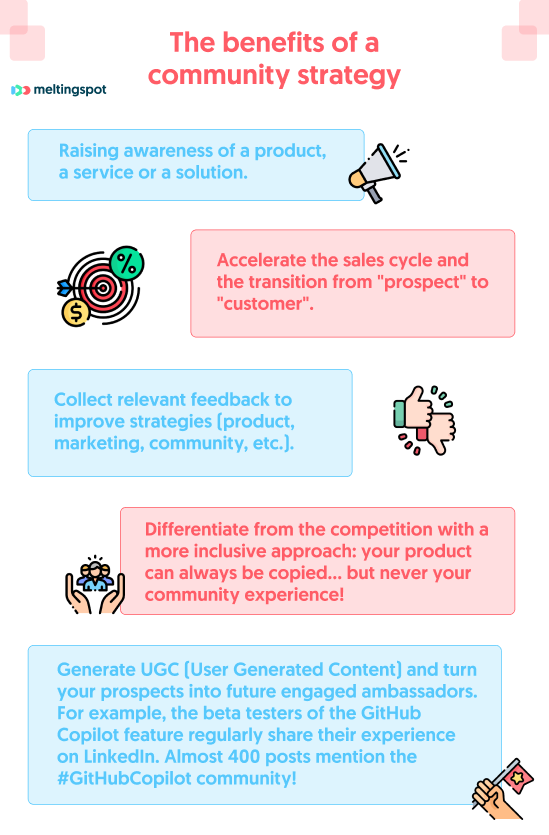 Here are some other concrete examples of a community of prospects:
FoodTech Smart Kaps made the choice to create a community of 400 beta testers. The objective? To test its alternative to fizzy drinks and seduce prospects, even before the Go-To Market and the search for Business Angels.
For its part, the startup Kippit (household appliances that can be repaired for life) was able to rely on its community to identify more than 100 members ready to become shareholders in the company. Its community of prospects thus becomes the lever for a new form of financing: citizen fundraising.
Finally, the SaaS solution Spendesk relies on its community of prospects and customers "CFO Connect", for its Community-Led Growth strategy. The growth of the company is driven by the community, at all levels.
So, are you ready to lead yours?
How to engage your community of prospects
A community of prospects does not only rely on the organization of webinars or lives. These tools are animation tools... But the strategy itself must be much more complete! Here are 5 steps to put in place to engage your community of prospects (sustainably):
Step 1: Create a solid foundation. A place to meet. A "safe place" for prospects, far from the information-saturated social networks. To achieve this, use a community platform.
Step 2: Define your objectives and the purpose of your prospect community. Be careful! The idea here is not to imagine a self-centred, 100% commercial angle of attack. The key is to give to your prospects (to meet their expectations, share knowledge, facilitate networking, etc.)... Without expecting anything in return.
Step 3: Share relevant and targeted content. Information, knowledge and content are the cornerstone of your community, to engage it in the long term. The members of the community must feel your desire to send them personalised content, to encourage a feeling of attachment and belonging. For better organisation, think of classifying your content by theme, within a resource library.
Step 4: Organise meetings, varying the formats. For example, why not alternate between thematic conferences, webinars, product demos, training sessions and workshops? The aim is to create long-term meetings, while reinforcing your credibility.
Step 5: Create discussion groups. The aim is to encourage the sharing of experience between prospects, in a public or private way, but also by theme. For example, have you thought about creating a "product feedback" or "advice and best practices" discussion channel, or even channels by city, to encourage exchanges between members?
Dedicated platform, sharing, meetings, events, content... You now know the keys to running a community of prospects!
Community, performance and profitability: what you need to remember before you launch
You get it. Engaging a community of prospects has many benefits. Let's not forget one of the most important: generating a sustainable return on investment (ROI).
Let's take the example of the community of Respire, a cosmetic brand. A few years ago, the community of 20,000 members (which has grown to nearly 200,000 today) supported the pre-sale crowdfunding of 21,000 products, for a total amount of €250,000 raised. Today, the company is growing at a rate of +30% every quarter, thanks to the success of its Community-Led Growth strategy.
This type of community success story also applies to B2B. For Spendesk, the return on investment of a community of prospects is measured by the acceleration of the sales cycle. Within its CFO Connect community, member prospects have a sales cycle that is 3 times faster than a prospect from a traditional Inbound Marketing strategy. The number of contracts signed is 35% higher than that of prospects attracted by other channels.
Another example from the UK is the B2B company Finimize. Thanks to its community of prospects, this tech company has increased its business deals by 20%, while doubling member retention in relation to its annual subscription solution.
The impact of a community strategy can also be measured by the increase in the average purchase basket, or on certain savings generated by the company. Let's take the example of a prospect, who discovers a product or service before it is released. The knowledge and mastery of the product reduces the risk of calling on customer advisors. A community-based strategy can therefore relieve customer services and make savings on support.
Savings, growth, performance, profitability... The ROI of a lead community is measured over time. But before you can enjoy all these benefits, you know what you have to do: create and engage your own community!