And you, which tribe do you belong to? This question may come as a surprise, but it concerns us all. We all have values, passions or rituals that we share with other individuals.
Our social behaviors lead us to act in groups and form different communities. For BtoB and BtoC companies, these communities based on common codes are gold mines to explore. They can inspire the deployment of new strategies, like tribal marketing.

Find out in this content 👇
Tribal marketing: definition and benefits
How to implement a tribal marketing strategy?
Tribal marketing: 3 mistakes to avoid
Tribal marketing: definition and benefits
Tribe vs. brand community: definitions to know
First of all, the term "tribe" is defined as "a community based on common codes", according to the Larousse dictionary. Michel Maffesoli, the sociologist, specifies that it is characterized by shared rites and behaviors.

In marketing jargon (and contrary to the Larousse definition), it is common to differentiate the terms "tribe" and "brand community":
A tribe is a group of individuals who share common codes, values, or consumption habits.
A brand community is a group of individuals gathered around a BtoB or BtoC company. This community can be a community of customers, employees, partners, prospects... Whatever the type of BtoB or BtoC community, the brand plays a central role in the creation and animation of this community.
To go further, we could add to these definitions with the community of an influencer: like brands, many influencers gather communities on the Internet, and especially on social networks.
What is tribal marketing?
Tribal marketing is a marketing strategy that all BtoB or BtoC companies can deploy. This strategy consists in adopting the behaviors of groups of consumers considered as "tribes", in order to promote a product, a service, or an offer.

The objective of tribal marketing is simple: to become part of a community as a brand sharing strong values with its members. The idea is to understand and respond to the identity of a tribe of consumers while offering products, services, or actions that meet their expectations.
The benefits of tribal marketing
For companies that want to join a tribe and rely on tribal marketing, one step is essential: understanding the tribe and its interests, in order to find the positioning and the communication that will invite action.

Indeed, tribal marketing is based on emotion. It is important for brands to succeed in creating a connection, a strong feeling of recognition and belonging, before being fully integrated into a community.
Once this step is successful, tribal marketing allows you to benefit from the following advantages and opportunities: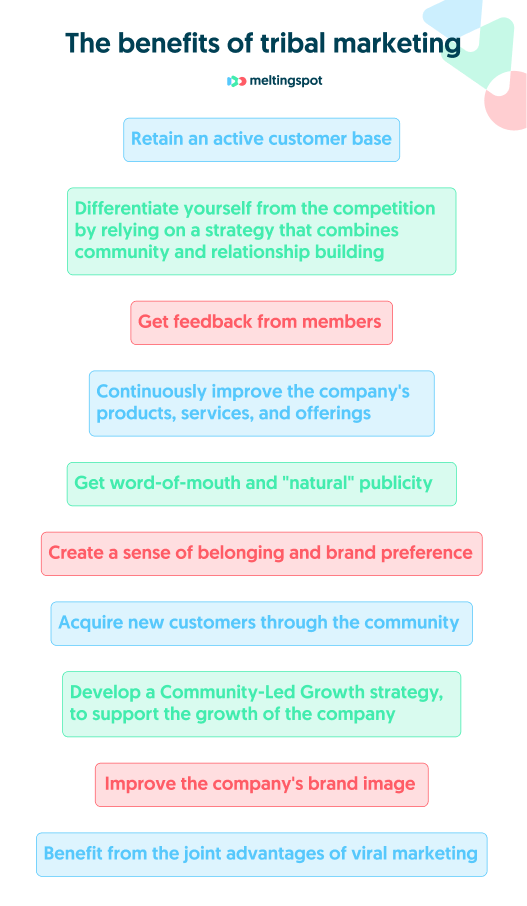 You now know the challenges of tribal marketing, as well as the opportunities generated by this strategy. Are you ready to take action?
How to implement a tribal marketing strategy
With tribal marketing, the biggest challenge for brands is to become part of an existing tribe and to connect with the different members. Unlike community marketing (which allows the company to start from scratch and create its own community), the challenge lies in integration.

In a society where the feeling of mistrust is growing, with consumers having higher and higher expectations... Implementing a tribal marketing strategy cannot be improvised. To achieve this, MeltingSpot advises you to respect the following 5 steps:
Identify the tribe to target
For brands, the emergence of numerous communities and tribes with similar characteristics is a real opportunity. As part of a tribal marketing strategy, it is necessary to identify these groups deemed interesting for the company, and with whom synergies could be numerous.

🚀 This first identification step is important, in order to target the tribe closest to the company's issues.
Understand and analyze the tribe's rites
Before integrating the tribe, there is an essential understanding and analysis stage. It is important to combine this discovery phase with meetings, especially during hybrid, virtual or physical events.

🚀 By making contact with different members of the same tribe, you will thus be able to observe, question, and grasp the different rites, values, or shared habits.
Take care of your speech and your actions
During a tribal marketing strategy, it is essential to take care of your approach and your communication. When joining a tribe, any BtoB and BtoC company must show maturity, transparency, and authenticity. It's important to focus on creating an emotional connection first and foremost, rather than directly promoting a product, service, or offer.

🚀 Remember that modern consumers today want proof, more than promises. To convince them and create strong bonds, make sure to match your actions with your words.
Creating a strong and lasting bond with the tribe
Tribal marketing is above all a social marketing strategy. Therefore, integrating a company into a tight-knit group must be accompanied by moments of sharing, where social connection is fostered.

🚀 To achieve this, MeltingSpot recommends organizing regular virtual, hybrid, or physical events. The idea is to animate your community, all year round. These encounters will help create long lasting bonds of proximity between the brand and the tribe.
Develop complementary marketing strategies
Tribal marketing can be accompanied by other complementary strategies. For example, why not rely on viral marketing and influencer marketing, using opinion leaders or influencers within the tribes? They will be able to carry and embody the brand's discourse while making the most of their notoriety on the web.
🚀 After joining a tribe, the company can also decide to recruit and invite certain members into its own brand community. A Community-Based Marketing or Community-Led Growth strategy can be combined with tribal marketing to further leverage the community approach.
Tribal marketing: 3 mistakes to avoid
Want to associate your brand with an engaged and passionate tribe? Before you get started, here are 3 mistakes to avoid.
Imposing yourself as an overly strict tribal leader
With tribal marketing, you don't create a community from scratch. You are accepted and integrated into an existing group of B2B or B2C consumers.
👉 It's important to respect your assigned place in the tribe. Don't try to impose yourself as an uncompromising tribal leader too quickly. Instead, be open to sharing and relating, share relevant tips or resources, and always remember to value all tribe members.
Do not rely on collective intelligence
The tribe is a valuable lever of interaction and social link. As part of a tribal marketing strategy, it's important to leverage the strength of the group and its collective intelligence.
👉 For example, consider co-constructing your brand events with the tribe (webinars, online conferences, virtual fairs, forums, interviews, etc.). You can also enlist the help of your tribe to co-create your future products, services, or offers. Collaboration is the key to fostering community spirit!
Favour complexity over simplicity
To be successful with your tribal marketing strategy, it's important to keep it simple. Members don't have time or energy to waste. So, to save them some, don't hesitate to bet on simple and centralized tools.
👉 For example, why not deploy an all-in-one community platform to bring the entire tribe together? A platform like MeltingSpot that allows you to exchange asynchronously, organize virtual events or share news all in one place can be a real lever.
Ready to get your tribal marketing strategy off the ground?

At MeltingSpot, we believe that the future of marketing will be social. Communities and tribes must therefore be at the heart of today's brand's priorities.

To effectively leverage this collective power, we offer an all-in-one community platform. Our tool facilitates the deployment of your tribal marketing strategy... For the happiness of small and large customers!

Want to discover the MeltingSpot platform, and accelerate the development of your tribal marketing strategy? Go here 👇