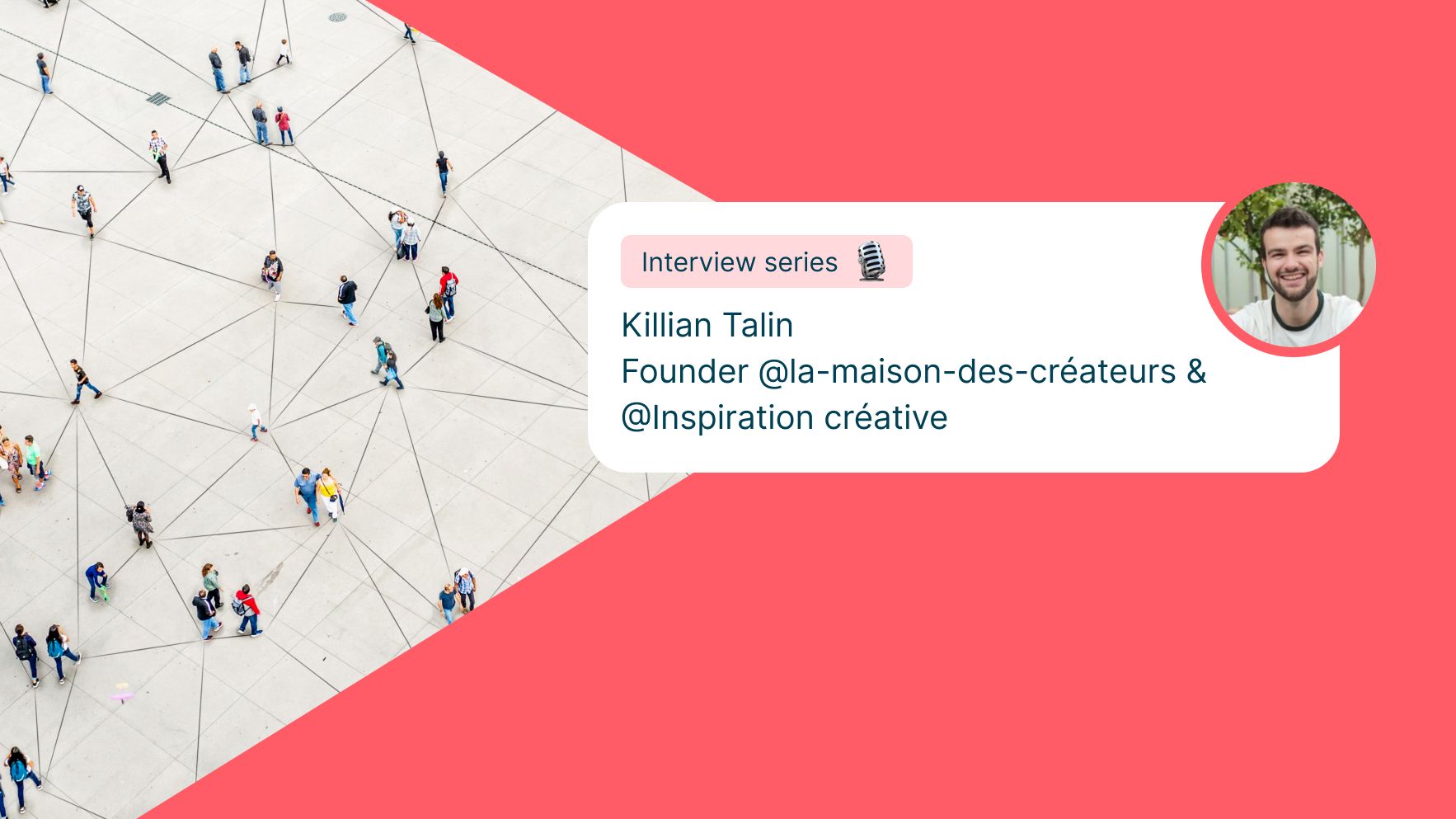 "50 million. That's the staggering number of individuals across the globe who embrace the title of 'creators'."
Killian Talin, an expert in creativity and the facilitator of multiple creator communities such as Inspiration Créative and Le Cercle des Créateurs, provides invaluable advice on developing and engaging vibrant communities. These creators, whether in entrepreneurship, content creation, or community building, are actively driving the growth of a new economy known as the Creator Economy. Among the shared characteristics of these burgeoning creators is the innate need to come together, exchange ideas, and foster collaboration within communities.
To explore the profound interest in creation, MeltingSpot has enlisted the expertise of Killian Talin, whose community memberships number in the thousands. In this article, MeltingSpot explores four key best practices discussed during their recent event: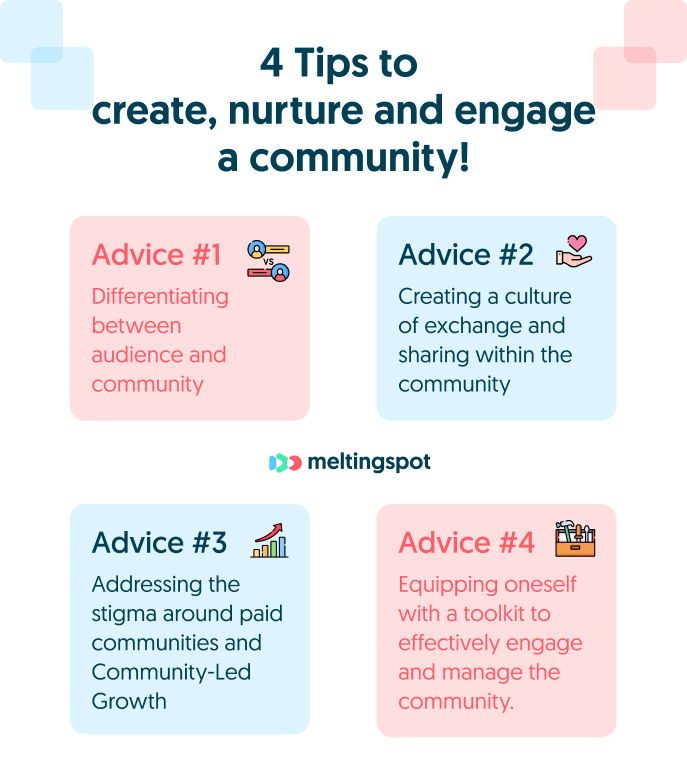 Distinguishing the Audience from the Community
Today, businesses of all kinds can establish B2B or B2C communities. These communities can bring together clients, consumers, partners, employees, investors, and more. However, it's crucial to grasp a fundamental distinction before venturing into community creation:
🚨 Building an engaged community goes beyond simply managing an audience on social media.
Often, the terms "audience" and "community" are mistakenly used interchangeably. Yet, as highlighted by Killian Talin, there are substantial differences:
An audience comprises individuals who follow a brand's or influencer's content on social media. Communication tends to be one-sided, and the audience usually takes a passive role.
A community, on the other hand, is a shared space where communication flows more horizontally. Members gather around common characteristics, values, or goals. Communities adopt a more active posture, and interaction is facilitated through dedicated community platforms.
At MeltingSpot, we emphasize the critical importance of distinguishing between an audience and a community. Killian Talin also underscores the need for distinct human resources to engage audiences and communities: Social Media Managers play a vital role in audience engagement on social platforms, whereas Community Managers and Community Builders focus on community-oriented marketing tasks.
Creating a Dynamic of Exchange and Sharing in Your Community
Exchange, interaction, sharing, and discussion—these are the cornerstones of a thriving business community. Regardless of the type of community you establish, it is vital to cultivate a culture of horizontal and "many-to-many" communication. The responsibility for engaging with the community should not rest solely on the company or the individual in charge of the B2B community or B2C community.
To build a community that remains actively engaged on a daily basis, it is important to provide:
Public spaces for open discussions, enabling interaction on various topics and facilitating content sharing among the entire community.
Private spaces where members can connect on a more personal level, fostering connections away from prying eyes, or engaging in private conversations with the company.
Regular events such as 2.0 webinars, interviews, online conferences, and team-building activities. Customize these events based on the community's interests, creating a collective enthusiasm around diverse formats.
For example, Killian Talin consistently interacts with his community, employing strategies such as newsletters, sharing valuable content within the communities, and hosting virtual events. He encourages peer-to-peer exchanges to nurture a sense of camaraderie and support among the members.
Overcoming the Taboos of Paid Communities and Community-Led Growth
❌ "A community must always be free and non-commercial" - it's time to dispel this misconception and discard the stereotype when it comes to implementing your community marketing strategy.
Indeed, it is possible to create and nurture a free community (as exemplified by Killian Talin with Inspiration Créative, a community of 10,000 creators). However, it is equally possible to launch a community with a paid membership (as offered by Killian Talin with his community Le Cercle des Créateurs, which brings together 200 creators).
These two ecosystems, free and paid, can coexist or be developed independently. There is no inherently superior strategy; it all depends on your objectives.
💸 Moreover, community marketing is not solely driven by altruism or selflessness. Creating a community can also align with a commercial development approach, aiming to acquire new customers, support product launches, or boost overall business growth.
When a company's growth relies, in part, on its community, we refer to it as Community-Led Growth. This strategy can be complemented by Community-Based Marketing. By structuring your community around these strategies, business and commercial objectives play a vital role. It is entirely possible to maintain a relational, authentic, and transparent approach while also seeking to convert and engage your community.
For Killian Talin, the primary objective is to "reduce risk and increase the incentive to engage." This fundamental perspective is essential for building a robust community that supports Community-Led Growth.
Equipping Your Toolbox for Community Management
To consistently drive engagement within a community, it is essential to prioritize a key element: community management.
Community management encompasses all the actions taken to foster integration and active participation among members. To effectively manage a virtual community, it is crucial to equip yourself with a well-rounded toolbox of resources.
Killian Talin advises community creators to avoid getting overwhelmed by the abundance of tools available on the market. Instead, he suggests selecting a few user-friendly tools that address specific needs for both organizers and community members.
Here are the various tools that Killian Talin relies on to effectively manage his communities:
Circle.so, a platform that facilitates continuous member interaction, dialogue, and engagement.
Zoom, for organizing group coaching sessions, meetups, or occasional gatherings of community members.
Stripe and MemberStack for seamless payment management.
Sendinblue, is a tool for distributing emails and newsletters to community members, elevating the Inspiration Créative community to a media-like platform.
MeltingSpot, is a comprehensive community platform designed to organize inclusive virtual events.
By defining a clear and structured toolbox, you can streamline community management efforts. At MeltingSpot, we share this vision and have developed a community platform that caters to the needs of modern businesses, enabling them to create, manage, and engage communities for the long term.
Ready to Create, Manage, and Engage Your Community with MeltingSpot?
Now that you're familiar with the key insights shared by Killian Talin from our recent expert interview session, are you ready to put theory into practice?
🚀 MeltingSpot is here to support your community marketing strategy with our all-in-one platform. On our platform, you can gather, manage, and engage your B2B or B2C community through a wide range of integrated features. It's a unique toolbox designed to help you achieve a central objective: nurturing a cohesive community that becomes your strongest ally.
With MeltingSpot, you have the tools to create, manage, and engage your community effectively. Let's embark on this journey together and unlock the full potential of your community!