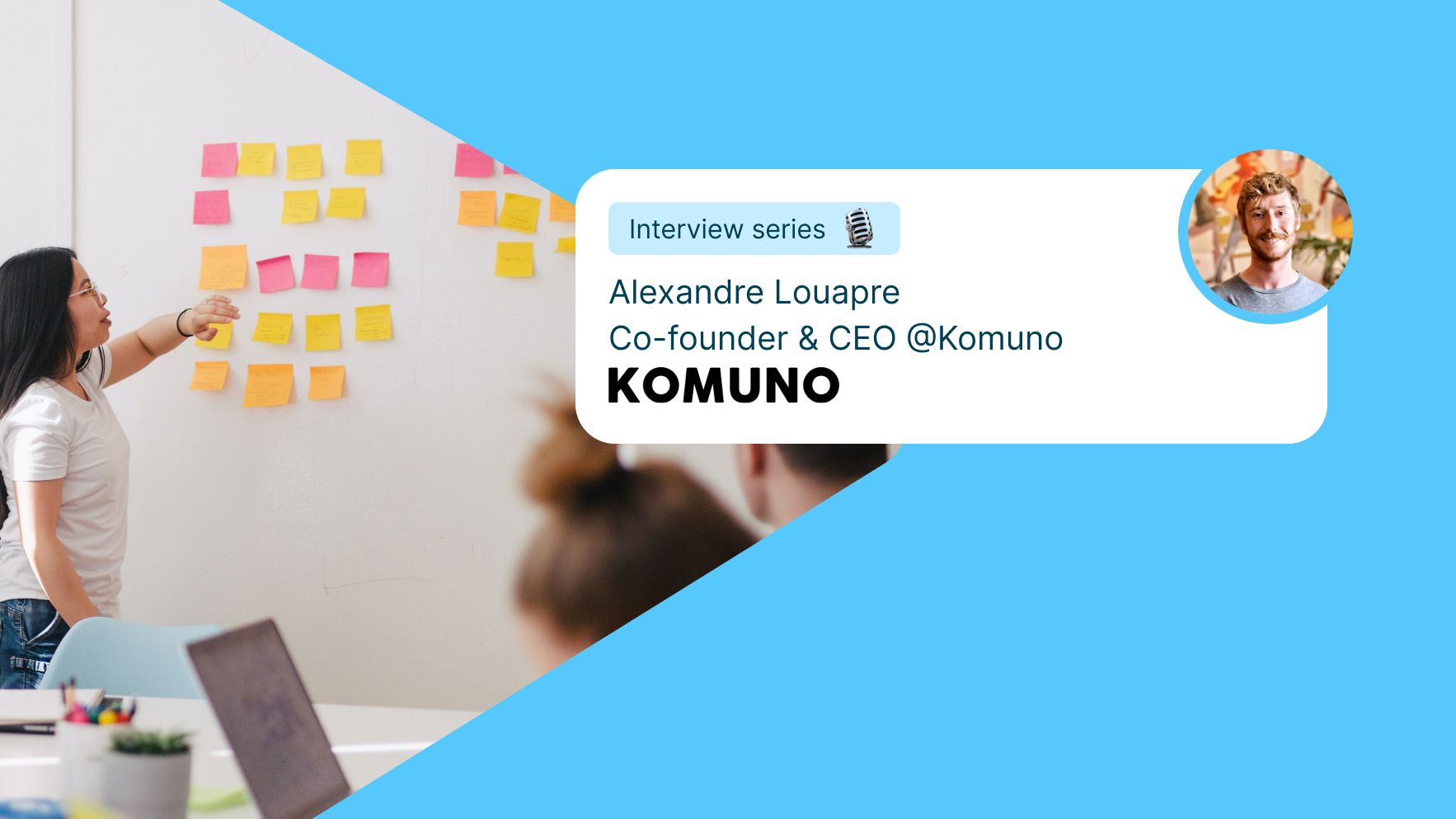 Today, the field of Community Building is experiencing significant growth. However, just a few years ago, the concept of communities was still in its infancy. Alexandre Louapre, the founder of KOMUNO, confirmed this to us. In 2016, he held the position of Head of Community at Crème de la Crème.
At that time, he found himself surrounded by startups recruiting Community Managers, Social Media Managers... However, Community Builders and Heads of Community like him were still rare in the French market. Drawing from his experience in creating and managing communities, he decided to consolidate all his learnings. In 2021, he established Komuno: a training program designed to enhance skills in the field of Community Building.
But what exactly is a Community Builder? Why is their role essential within B2B or B2C companies? Is it truly a profession with a promising future? Here are the insights shared by Alexandre Louapre, gathered during an interview conducted by MeltingSpot 👇
What is a Community Builder? Definition
According to Alexandre Louapre, the founder of Komuno, a Community Builder is someone who "lays the foundation and acts as a mediator." Their primary responsibility is to create and cultivate a community, whether it's physical, virtual, or a combination of both.
Once the community space is established, a Community Builder focuses on fostering connections between community members and the organization. They achieve this by organizing virtual events, facilitating personalized one-on-one interactions, and sharing relevant content.
To effectively embrace the role of a "Builder" and a "mediator," several key qualities are required. Here are three of them: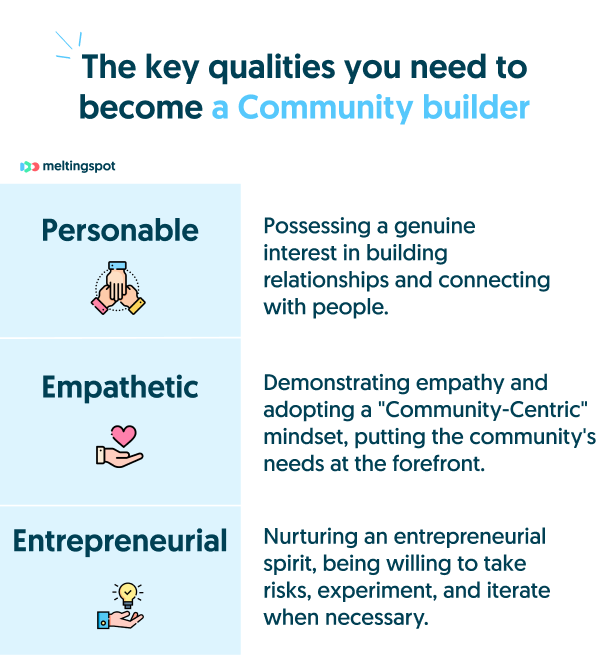 Furthermore, a Community Builder has two overarching objectives:
✅ Community engagement objective: Creating a cohesive, active, and engaged community is crucial. This entails organizing events, facilitating interactions within the virtual community space, and fostering a shared sense of purpose and values. Over time, community engagement is manifested through the presence of loyal and motivated member ambassadors who contribute to the community's growth.
✅ Business growth and performance objective: Community marketing goes beyond simply engaging customers, partners, or collaborators. It also aims for acquisition, growth, and retention targets. The Community Builder plays a pivotal role in driving business objectives, leveraging strategies such as Community-Led Growth, where the community's strength fuels company growth.
Community Builder: An Essential Ally for All Businesses
Community building is not limited to startups. At MeltingSpot and Komuno, we share the same perspective.
Indeed, all businesses have a vested interest in creating a Community-Led Growth strategy and collaborating with a Community Builder, regardless of their size, industry, or the desired community type (B2B or B2C, customer community, partner community, employee community, etc.).
Among the businesses that can benefit from community building, Alexandre Louapre particularly highlights a specific type of organization: platform-based businesses. These companies that connect "target A" with "target B" can readily leverage a community-driven strategy to recruit members from both sides and guide the company's growth. Airbnb and BlaBlaCar are excellent examples in this regard.
However, it's important to remember that community building is not limited to platform-based businesses. All companies can make community building a growth catalyst, with Community Builders as invaluable allies. The key is to foster a "Community-Centric" culture that moves beyond the traditional "Product-Centric" model.
🎯 To achieve this, companies have the freedom to establish their own guidelines. As community building is a burgeoning field, Alexandre Louapre emphasizes that there is no "one-size-fits-all success model" or "prescribed onboarding process" for Community Builders. They can be integrated into the marketing team, sales team, or even form a dedicated "Community" department.
The ultimate goal is to align the right objectives with the appropriate organizational structure to develop a robust community-building strategy.
3 Tips for Community Building Training
Now that you have gained insights into the world of Community Building and the crucial role of a Community Builder in businesses, here are the final three tips from Komuno and MeltingSpot to help you take action and receive training in this rapidly growing field:
1- Clearly distinguish Social Media Management, Community Management, and Community Building
To effectively apply your knowledge, it's important to understand the distinctions between these related terms. When discussing "communities," different concepts and roles often get mixed up. It is crucial to differentiate them:
💡 Social Media Manager: This role focuses on social media strategy, building audiences, and representing the brand. Their communication style is primarily one-way.
💡 Community Manager: Responsible for community management, their focus is on execution and day-to-day operations.
💡 Community Builder: The voice of the brand, responsible for creating, nurturing, and engaging a community. Community Builders have a more strategic role than Community Managers, fostering close connections with community members and cultivating a supportive atmosphere.
While these roles are complementary and can work in tandem, it's clear that Community Building is a promising profession that continues to expand within organizations.
2- Foster an entrepreneurial mindset
In the business world, a Community Builder is akin to a "serial entrepreneur." They constantly create, implement, test, innovate, and iterate. Therefore, developing an entrepreneurial spirit and a strong sense of initiative is crucial to overcome challenges in community building.
⚙️ Additionally, since Community Building is an evolving field, there is no fixed job description set in stone. To receive training as a Community Builder, it is essential to embrace curiosity, flexibility, and adaptability. Community Builders often explore no-code tools, automation platforms, event management software, digital collaboration spaces, and more. Their toolbox can be diverse and extensive.
Finally, Community Building is set to grow and become a valuable skill in the future. Community Builders should remain open to market opportunities and trends to progress in their field.
3- Enhance your Community Building skills with Komuno
The community has become a potent marketing asset, and Komuno is dedicated to training Community Builders. According to Alexandre Louapre, these future-oriented roles require present-day guidance. To build an engaged community, develop a structured long-term strategy, and foster its growth, Komuno has launched a comprehensive 6-week program.
Komuno's goal is simple: "Provide a concrete method for building your community as if it were a product."
Additionally, MeltingSpot aims to contribute to the growth of the "Community-Centric" culture embraced by an increasing number of businesses and Community Builders. Our community platform simplifies the creation, management, and engagement of corporate communities.
To explore our tool for today's and tomorrow's Community Builders, visit us here ⬇️