Becoming "Community Centric", even before adopting a "Product Centric" posture: this is the challenge for modern companies, in BtoB as well as in BtoC.
Today, creating, animating and engaging a community is a key factor for growth... But also for loyalty and innovation.

However, even though more and more companies are aware of the benefits of community marketing, certain obstacles prevent them from taking action. There are many limiting beliefs: budget, time, resources... So how can you overcome these obstacles to truly create your community?

In this new article, MeltingSpot helps you eliminate 5 brakes to action, which delay the creation of business communities 👇
Why create a business community?
Before getting down to business, a theoretical reminder is in order: do you (really) know what a business community is?

💡 A business community refers to a collective of individuals gathered around common characteristics: values, culture, interests, etc. BtoB as well as BtoC companies can use community marketing to create communities of customers, collaborators, partners, investors... And this, in face-to-face, hybrid, or through virtual communities.
Once the community is created, companies benefit from many advantages.

Here are 10 of them: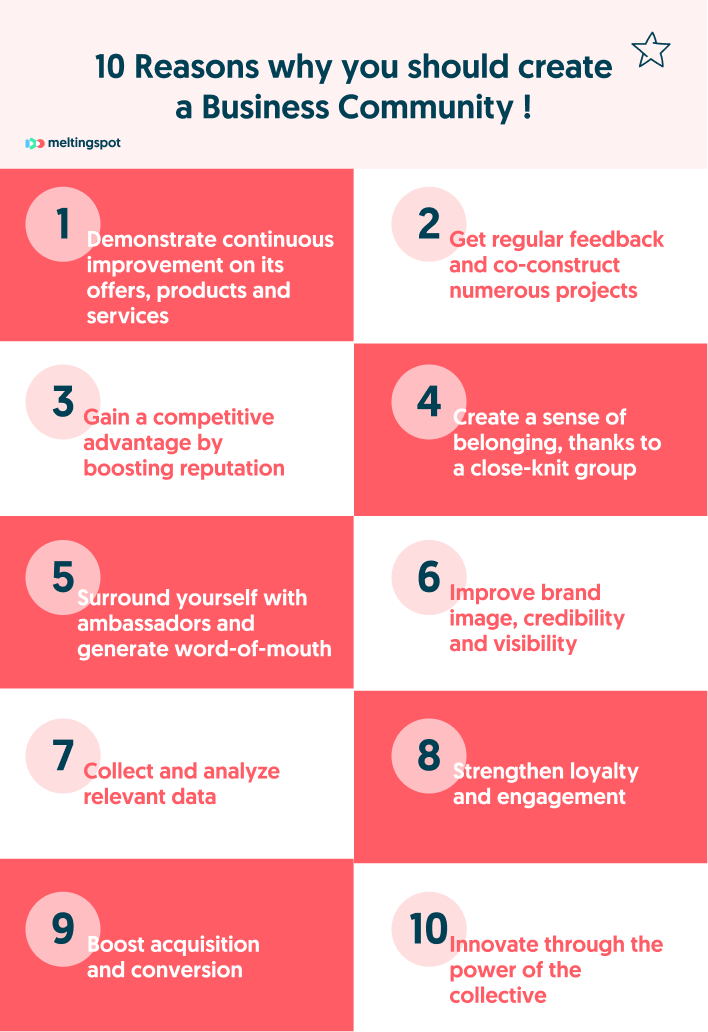 Being aware of the opportunities related to community marketing is a first step. But in order to take the step of creating communities, it is sometimes necessary to overcome certain fears, doubts or blocking points.

So, what are the main limiting beliefs to overcome when it comes to community building?
5 obstacles and blocks to overcome in order to create a community
The obstacles and blocks to overcome are sometimes linked to personal preconceptions, collective prejudices or the corporate culture. It is not easy for all companies to innovate and act at the same pace.
In this inspiring video, Pablo Gonzalez shares his expertise on the fact that you don't need a massive audience to kick-start a thriving community. He explains how small groups of loyal individuals can make a significant impact and create a solid foundation for community growth.
The replay of Pablo Gonzalez's session from the CLG Summit 2023 is now available on The Community Lab!
To take full advantage of the benefits offered by community marketing and take action, here are 5 blocks to "unblock" 👇
"Creating a community is too expensive!"
A place to rent to gather members, pay service providers for certain face-to-face events, plan a logistical budget for all community actions...

But today, the rise of digital communities is changing the game. Creating a community and animating it over time is a simple and accessible action. It is even a profitable and sustainable investment. By deploying a Community Led-Growth strategy, a company can develop its growth by relying on the strength of the community! 🚀 Community-Led Growth is therefore a lever of profitability not to be underestimated. For a few hundred euros per month (or even less!), it is possible to use a community-platform to gather its community, and to organize engaging virtual events.
"My company doesn't have the resources to create a community"
Beyond financial resources, it is sometimes the human or material resources that are questioned. So, to create a community, what are the essential resources? And are they difficult to find?

First of all, creating a virtual community requires the use of a software or community platform like MeltingSpot. Our all-in-one tool requires no technical skills. In just a few clicks, you can start creating your BtoB or BtoC community.

Afterwards, it is preferable to have an internal or external resource to manage the community. Today, community building jobs are booming. Community Managers are also numerous on the market. Their mission is to manage and animate the different communities of a company. A key role, not to be confused with the Social Media Manager. The Social Media Manager deals more with the visibility strategy on social networks.

👉 You can also take an example from the go to market strategy of the startup Spendesk: when they launched their CFO Connect community, only one person in charge of marketing was overseeing the community project. Then, with time, new resources could be deployed, to take care of this growing community project.
"Creating a community takes too much time"
Creating a virtual community has never been so easy and fast. The digital transformation has facilitated the rise of "communities 2.0". And today, many tools help companies save time during the creation stage.

Beyond tools like MeltingSpot, which simplify the creation of online communities, another element is important to understand. Community marketing is a viral and collective strategy: once the community is created, members can quickly become actors, keep the community alive and use word-of-mouth. The company's efforts to develop the community are therefore minimal, because carried by the momentum of a committed and motivated group.

👀 Finally, to save time on this creation stage, it is also possible to bet on tribal marketing. This strategy consists in joining an existing community, composed of members welded around a passion, interests or common goals. The company then becomes part of an existing community and contributes to its development, while benefiting from the many advantages of Community-Led Growth.
"I am not capable of creating, facilitating and engaging a community"
Too many companies feel unable or illegitimate to take on the role of community builder and facilitator. Yet, these same companies often forget their journey: creating a business, materializing an idea, launching a product, developing an audience on social networks... All these actions show a real ability to take action!

✅ To support you in this process, you can also count on dedicated resources, such as the new Community Building professions (Community Builder, Head of Community, Community Manager, etc.) and easy-to-use tools like MeltingSpot.
"Communities are not useful in my industry"
Developing a Community-Based Marketing or Community-Led Growth strategy is not reserved for a minority of industries or companies.
All companies can leverage the power of communities to achieve their goals.

Whether it's a BtoB or BtoC company, a startup or a large corporation, whether it's in the tech, retail or fashion sector... Community-based marketing is a universal and multi-sector strategy. The following companies prove it well:
Sosh, with its online self-help community, composed of about 800,000 customers of the phone operator.
VetFamily, a BtoB community of independent veterinary professionals, with nearly 2,500 members worldwide.
Cash is King, Agicap's self-help community, which brings together 1,000 small business managers to discuss cash management on Slack.
BeautyGang, the beauty fan community launched by ELLE magazine, bringing together more than 66,000 members in a private Facebook group.
LiveMentor and its Facebook community of 9,000 entrepreneurs, spread around the world.
🔥 Moreover, in a single company or industry, it is possible to innovate by creating several communities: a community of consumers, but also of employees, partners, investors... Everything is possible, with the Community Centric approach.
Ready to take action by creating your business community?
✅ Creating a community doesn't cost a fortune
✅ Finding the resources to run your community isn't impossible
✅ Creating a community doesn't take "too much" time
✅ All businesses are capable of creating, running and engaging a community
✅ Community marketing isn't just for a minority of industries or businesses
So, ready to take action? MeltingSpot will guide you step by step, thanks to our community creation, management and animation platform: