World Wide Web is over 30 years old. And since its creation in 1989, different versions have followed one another. After web 1.0 (and the emergence of websites and e-commerce), then web 2.0 (with the rise of social media and m-commerce), it's time for web 3.0 to make its entrance.
Today, web 3 (or web 3.0) focuses on new digital uses and practices... Like the rise of digital communities.
For BtoB and BtoC companies as well as for their customers, web 3 represents a new golden opportunity. But what are the (common) challenges of web 3 and community marketing? What are the opportunities opened by web 3 for companies? Discover our answers 👇
What is web 3? Definition
For some, web 3 is considered the next mutation of the Internet. For others, it is a decentralized web, based on peer-to-peer technologies such as blockchain. Definitions are multiplying, faced with this new and growing concept.
To better understand this phenomenon, here is Fred Cavazza's definition:

💡 "Web3 refers to a new level of maturity in digital uses, technologies and practices. It concerns innovative content, products or services, based on open and/or decentralized technologies, with the aim of offering an alternative to marketplaces and aggregators (e.g. Google, Facebook, Amazon...) or traditional institutions (e.g. banks)"

In other words, this third generation Internet is based on a desire to develop decentralized technical architectures and a new economic model, founded on redistribution. With such an alternative system, a new culture is born: it's no longer individuals, but projects that are put forward (communities, cryptocurrencies, metaverse, NFT, DAO, etc.).

💡 For Jeff Kauffman, "with web 2.0, we were building communities on platforms. With web 3.0, the communities are the platforms."
Web 3 and the rise of communities
By 2026, 25% of users will spend 1 hour/day in the metaverse, according to Gartner. This prediction is not surprising: digital transformation, the search for new collaborative experiences, and the effervescence of communities of all types are accompanying these new trends related to web 3.0.

Indeed, web 3 represents a new decentralized era, where virtual communities reign supreme. BtoB or BtoC companies have therefore every interest in creating, activating, and engaging their communities (or, if necessary, joining these existing communities). The power is in the hands of the users... And very often, the growth of companies can even be guided by their communities: this is called Community-Led Growth.
Today, Community-Led Growth and Web 3 go hand in hand. Here are some examples of communities that are now emerging, and the practices that characterize them:

✅ Employee communities (internal to the company), federated around a common goal, especially within digital workplaces.
✅ Financial communities, which are structured around crypto-currencies.
✅ Artistic communities, grouped around NFT collections.
✅ Influencer communities, which interact with each other via specialized platforms.
✅ Communities of customers or consumers, who gather on a community platform with their peers and the brand.
There are many examples of communities emerging with web 3. What is important to remember is that these "new generation" communities are federated around a need for common fulfillment. The feeling of belonging and involvement is increasingly strong, and all companies can benefit from this, thanks to community and web 3 marketing.
Source : le web 3 marque le passage à un web communautaire, Fred Cavazza
Web 3: What are the challenges for companies and their communities?
With the rise of web 3 and online communities, companies are facing new challenges. From now on, the idea is no longer to fire up audiences with advertising messages on social networks. The rules of the game are changing, with new expectations. The main challenge is now to spread a community dynamic on third-party platforms, dedicated to the creation, animation, and engagement of communities over time.

Faced with this new paradigm, different challenges await BtoB and BtoC companies. For example:

🚀 Succeeding in capturing the attention of over-solicited Internet users on social networks, to anchor new habits in their daily lives.

🚀 Weave a relationship of trust with community members (customers, collaborators, influencers, etc.), who sometimes question the transparency of some companies.

🚀 Involve the entire company in the development of new community strategies (like Community-Led Growth). All of this, to spread a Community-Centric dynamic, is still new to some professionals.
Thus, with the development of Web 3, a new approach to community marketing is emerging. Companies will have every interest in completing their e-commerce or social media strategies, for example by creating and activating private communities. The use of other technologies offered by Web 3 (cryptocurrencies, immersive spaces, etc.) will also be able to feed community strategies.

The benefits of such an approach are great: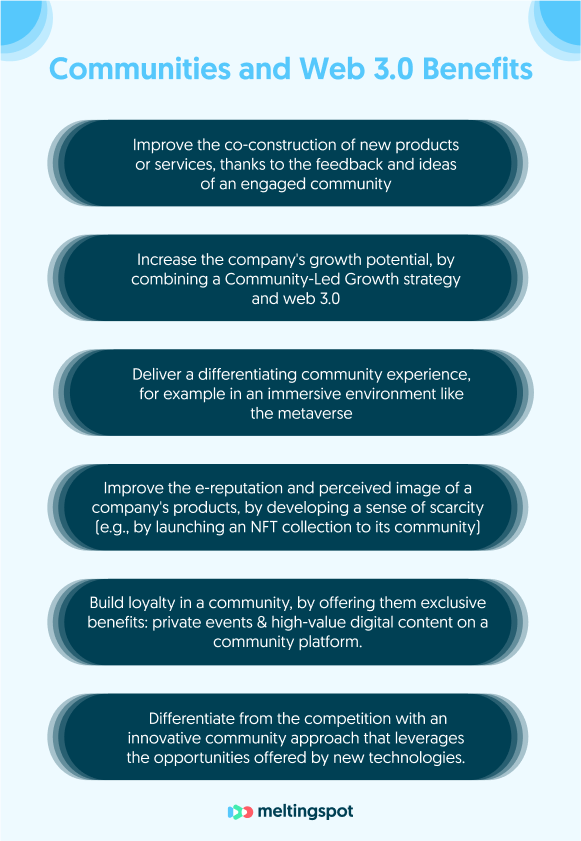 Faced with these new uses, new challenges, and new expectations, BtoB and BtoC companies have only one thing left to do: develop their community strategy, and set out to conquer web 3.0!
Ready to launch your community strategy?
With Web 3, the power is in the hands of the users. And for companies, this is a source of golden opportunities! To conquer new members, improve product strategy, retain some active customers... The community is the ideal lever.µ

So, are you ready to develop yours? To help you create, animate, and engage a community far from the ambient noise of social networks, discover our community platform. An all-in-one platform, to meet the present and future needs of all your communities ⬇️