Creating content on Internet is no longer just a passion. For many freelancers, Youtubers or more widely Influencers, content creation is becoming a new economy. We talk about the Creator Economy.
But where will this nascent revolution end? Is it already too late to jump into the Creator Economy? What future do we predict for the Creator Economy? In this article, we explain the workings of the Creator Economy 👇
Creator economy: a two-speed business
What's Creator economy?
The Creator economy refers to all independent content creators who manage to monetize their creations. For the last ten years, this new model has been underlining the emergence of "passion-crafts". These creators rely on:

✅ Platforms: TikTok, Instagram, Youtube, Twitch, Spotify, Facebook...
✅ To produce different content: videos, textual, visual, webinars or even podcasts
✅ And benefit from multiple revenues: advertising revenues, brand-sponsored content, product placements, audience or community donations, paid subscriptions to their platforms, organization of paid events (physical or virtual)...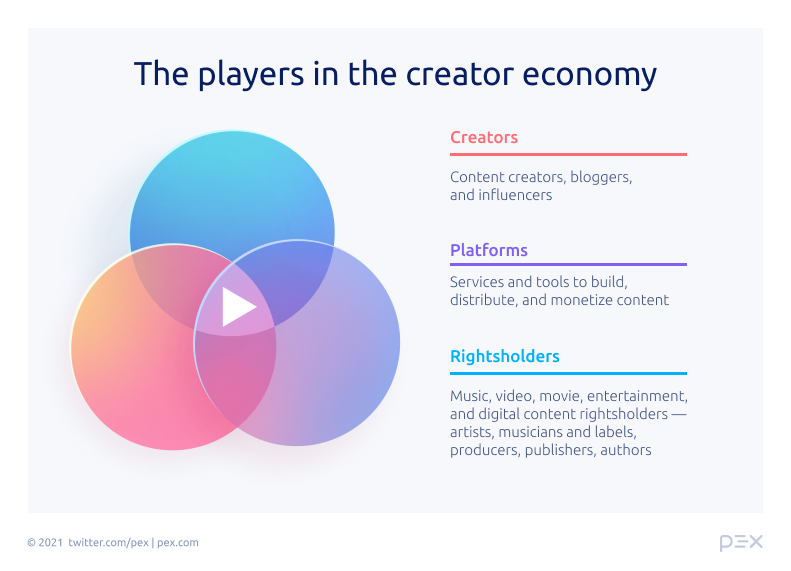 Source: Pex, 2021

But while this model seems simple and attractive, reality is quite different. The Creator economy is really a two-tiered market.
One business model, two different realities
On the one hand, a tiny fraction of creators manage to make a living from their creations. According to SignalFire, the creative economy represents more than 50 million independent creators... And only 3 million of them would be professional, living from their activity full time. This market is worth a total of more than $104.2 billion in the United States. However, on Youtube, only 3% of top creators manage to earn more than $17,000 per year in advertising revenue. And to achieve this, these creators must accumulate about 1.4 million views per month on their videos.

On the other hand, nearly 47 million creators remain amateurs. The platforms allow this category of creators to monetize their content, but the revenue remains anecdotal. Instagram allows more than 30 million non-professionals to create monetizable content, compared to 12 million amateurs for YouTube (Strategies, 2021).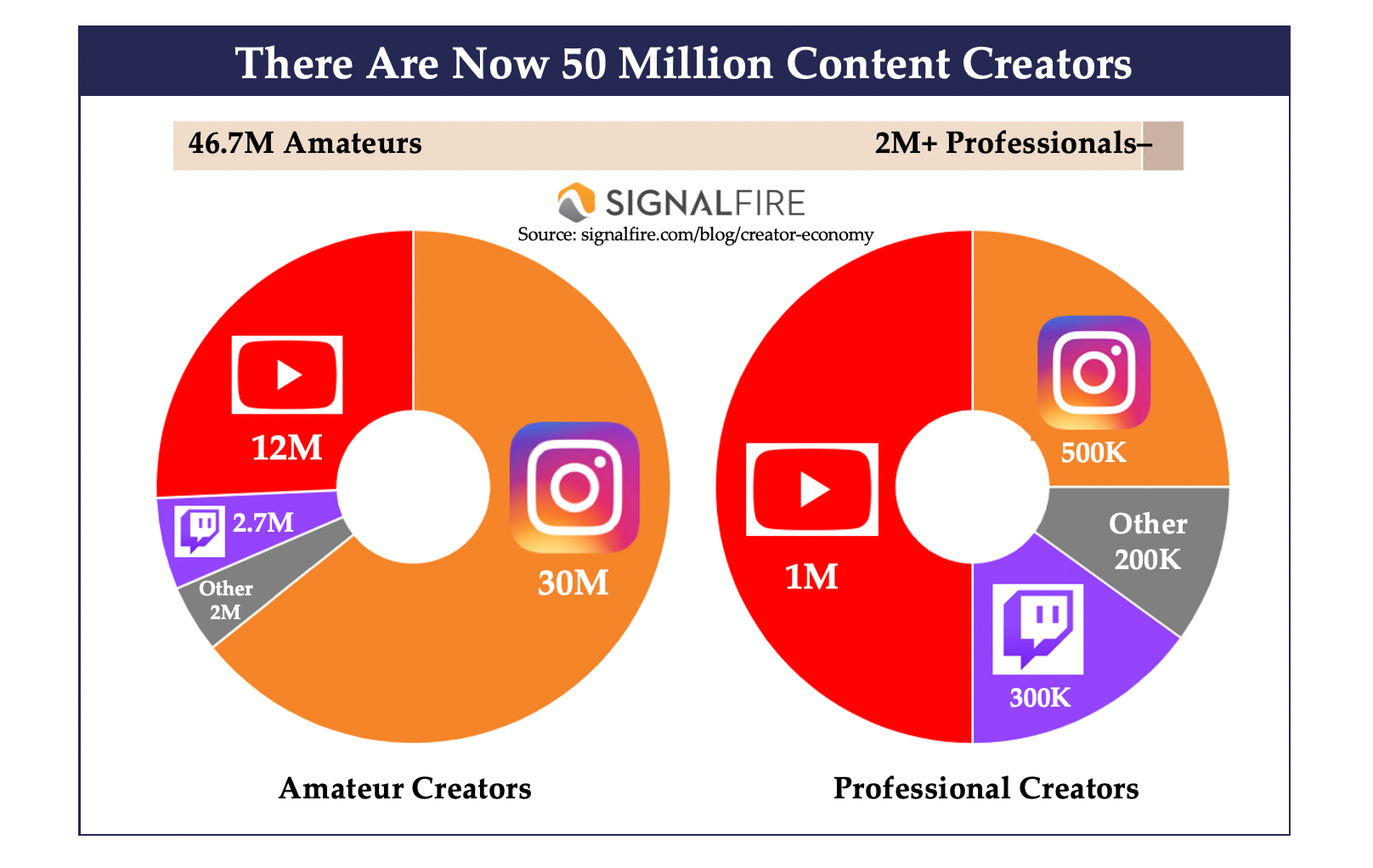 Source: SignalFire, 2021
The faces of the Creator economy
Faced with this double speed economy, Americans consider the Creator Economy as a "dog eat dog marketplace". Only a few creators (mostly influencers) are performing and making a decent living.

In the United States, the leading example is Emma Chamberlain, an influencer and content creator on the web. According to the American media, she earns an estimated $2,000 a day thanks to the ads on her Youtube videos. Her channel has over 11 million subscribers, and she has a community of 15 million fans on Instagram.

In France, many creators also excel in different fields. The most followed Youtube video creator is Squeezie (16 million subscribers). On Twitch, the creator Gotaga (specialized in video games) has more than 3.6 million subscribers.

The rise of freelancing also contributes to the monetization of creations. Freelancers mostly sell their time... But also their creations, in the creative professions (graphic design, web writing, copywriting, video makers, etc.).
This new economy has many advantages, and seems to have no limits. But what is it really? What can we predict for the future of the Creator Economy?
Is this the end or the beginning of the creation economy?
Creator Economy and the Hype Cycle
The Creator Economy is a recent concept, but one that has experienced a meteoric rise. Its development can be studied thanks to the Gartner Hype Cycle. This curve describes the interest for new trends (mostly technological). Faced with a trend, the public's interest would go through 5 phases: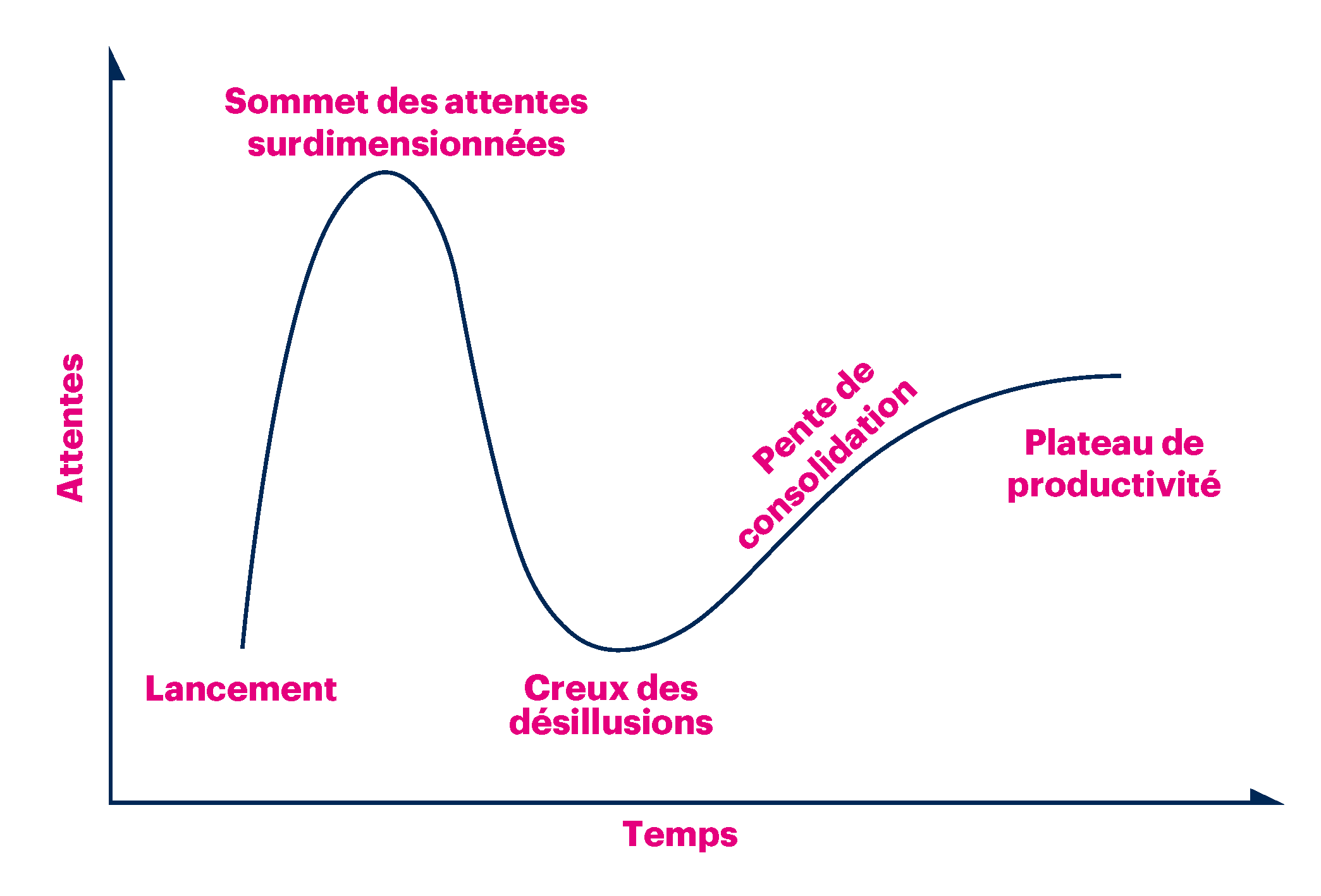 Source: Hype's cycle, Gartner
Supported by the rise of web 3.0, the Creator Economy seems to be at the top of the hype phenomenon. But beware of disillusionment: this economic model has some limits, which you should know how to anticipate.

Of course, the Creator Economy is a symbol of the Ownership Economy, the Passion Economy, the Sharing Economy... But all this must coexist with another threatening model: the Attention Economy. Today, a real war for attention is taking place on digital, via social networks.
Social networks are saturated and infobesity reigns. Even if creating your own media has never been so accessible, transforming it into a profitable business model requires a lot of effort. Talent is not always enough: it is also the ability to create, gather and federate a community that is united over time that makes the difference.
Leveraging the Creator Economy through Community Building
The role of the designer is becoming more professional. Just as a brand must gather customers to survive, the creator must follow the same challenge. Each Creator must learn to master the codes of Community Building, to animate and engage a community.

The most profitable, followed and appreciated content creators all have this in common: an engaged community at their side. This is the key to success, to consolidate this new business model.
In France as well as abroad, the future of the Creator Economy will depend on this issue: how to combine Creator Economy and Community Building, to perform in the long term?

At MeltingSpot, we are convinced that the Creator Economy marks the beginning of a new era. But to turn this era into a success, we need to define the right community strategy at the same time... And use the right Community-Platform to deploy this strategy!