It's official: community is undeniably one of the most powerful tools, a must-have for both B2B and B2C businesses!
No matter the format (prospect community, customer community, partner community, employee community, etc.), the community approach is a powerful driver of performance.
However, simply "creating" one or more communities is not sufficient to achieve your objectives. Your priority is to accompany members throughout their community journey. This is where the Community Funnel comes into play. Do you know why it is crucial to build it? What are the stages of the Community Funnel? And how can you effectively support members at each stage? We will explore all these aspects in detail in this article.
Community Funnel: Definition
You've probably heard of the "Marketing Funnel" and the "Sales Funnel," but have you ever wondered about the "Community Funnel"?
The Community Funnel is a framework that breaks down the different stages of the community integration process. It can be applied to any type of community, whether it's a community of prospects, customers, partners, employees, investors, and more.
Think of the Community Funnel as an initiatory journey represented by a funnel shape. It focuses on the various stages that community members go through, starting from Discovery and progressing towards Evangelization, where strong commitments and responsibilities drive the advancement of the community.
While the "Marketing Funnel" concerns prospects' interactions with the brand's content, and the "Sales Funnel" revolves around prospects' interactions with sales representatives, the Community Funnel centres on members' interactions within the company's community. Creating and managing the Community Funnel is the responsibility of a Community Builder.
But why is defining this step-by-step journey so crucial for all Community Builders?
Why Create a Community Funnel?
Let's consider the example of a customer community. Whether in B2B or B2C settings, these communities, also known as "Customer Communities," are highly prevalent. The primary objectives of a Customer Community are:
To directly provide value to members (customers) at no cost.
To indirectly fuel the Sales Funnel through nurturing (enabling subsequent opportunities for upselling, cross-selling, customer loyalty, etc.).
A Customer Community serves as an ideal platform for gathering, fostering connections, and establishing close relationships with your customers. However, despite shared characteristics, not all customers progress at the same pace. Some may be new to the community, while others are already deeply engaged. This underscores the importance of maintaining an overarching view through the Customer Funnel.
Building your Customer Funnel offers several benefits:
Understanding the complete journey of community members, from start to finish.
Mapping out actionable steps for each stage to guide members throughout the funnel (such as webinars, physical events, lead magnets, blog articles, etc.).
Identifying members who may be stuck at a specific stage and devising solutions to help them advance.
Filtering and prioritizing the most motivated and engaged members to provide effective support throughout the funnel.
Now that you comprehend the rationale behind creating and mapping your community journey, let's delve into the discovery of the stages that constitute the Community Funnel.
The 6 Stages of the Community Funnel
The Community Funnel represents a journey in the form of a funnel, mapping out the progression of community members. This journey consists of 6 stages, and each stage is crucial to move forward. To advance through the entire funnel, every member must transition from stage 1 to 6: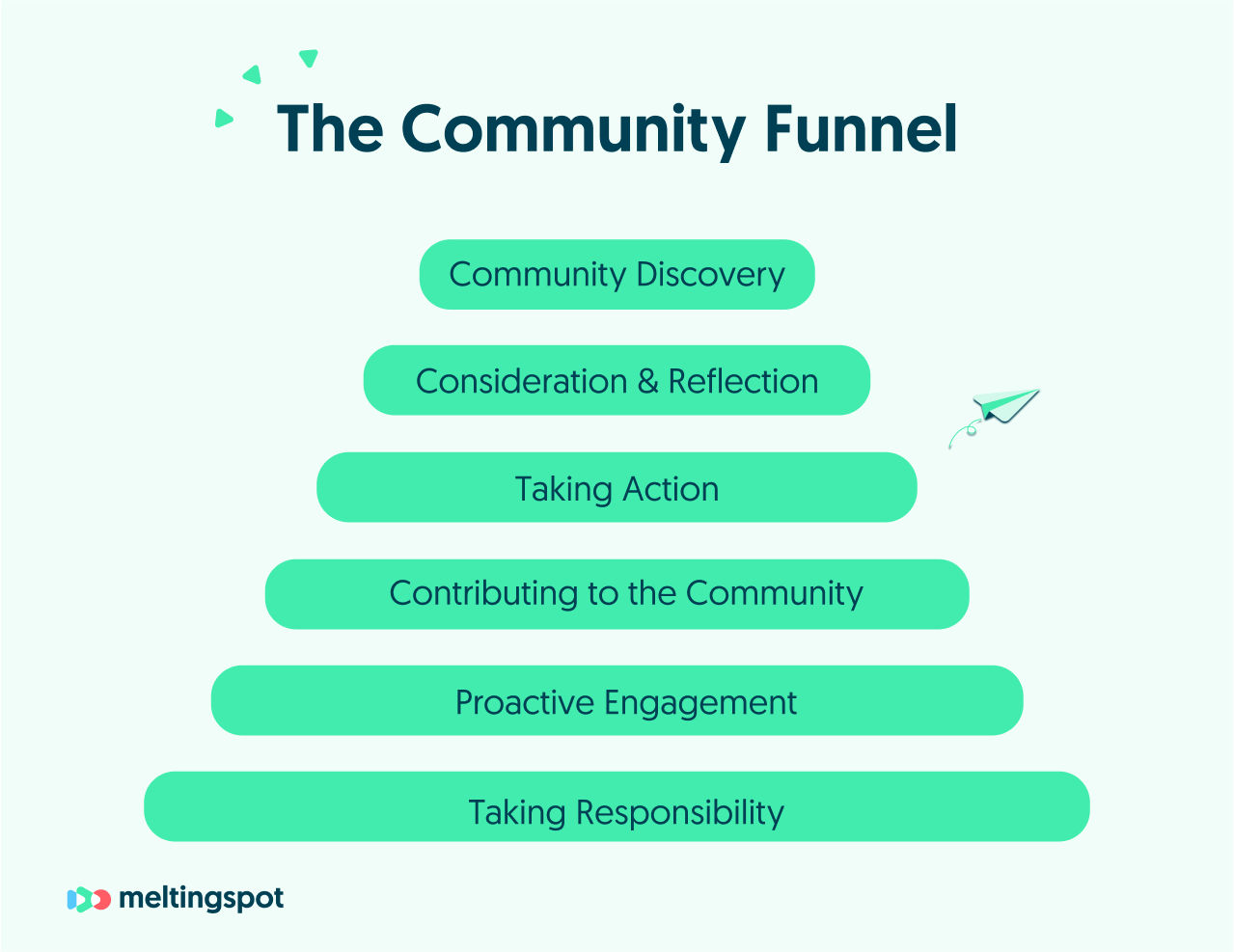 At each stage, every member assumes a different role, and the company must implement specific actions to meet their needs and support their progress.
Stage 1: Community Discovery
Objectives: Establish the community as a leading authority within your ecosystem and ignite the desire to join.
Target audience status: Visitors. You capture the attention of unknown visitors.
Recommended actions: To build trust with visitors, provide compelling content that showcases your company (website, blog articles, etc.) and your community (member testimonials, social media posts highlighting community goals and benefits, etc.).
Stage 2: Consideration and Reflection
Objectives: Persuade prospects to become community members and support them in their decision-making process.
Target audience status: Prospects. Visitors who have shown interest and become potential prospects.
Recommended actions: Host webinars for prospects, featuring active community members, to accelerate the decision-making process through interactive sessions and real-time discussions.
Step 3: Taking Action
Objectives: The prospect makes the decision to join the community, and it is essential to provide them with a warm welcome and a seamless onboarding experience.
Target audience status: Members. The prospect has now become an official member of the community.
Recommended actions: Organizing an event to celebrate and acknowledge the new members is always a fantastic idea! Additionally, facilitate their integration by introducing them (or encouraging self-introductions) on your community platform, like MeltingSpot.
Step 4: Contribution to the Community
Objectives: Encourage active participation of community members and foster a sense of co-creation within the community.
Target audience status: Active Members. New members transition into actively engaged participants within the brand community.
Recommended actions: Offer opportunities for co-organizing events (such as webinars), co-creating valuable community content (such as guides, charters, best practices, etc.), and engaging members in various community-driven initiatives.
Step 5: Proactive Engagement
Objectives: Empower the most active members to become ambassadors and represent the community.
Target audience status: Ambassadors. These members serve as internal and external advocates for the community.
Recommended actions: Encourage ambassadors to be proactive, share their ideas, initiate discussions, and create exchange groups within your community platform. Additionally, invite them to organize events, spontaneously promote the community within their networks (through LinkedIn posts, podcast mentions, events, etc.), and contribute to its growth.
Step 6: Assumption of Responsibilities
Objectives: Elevate the most dedicated ambassadors to the role of evangelists, who take significant ownership in driving community growth.
Target audience status: Evangelists. These "super-ambassadors" wholeheartedly commit to the community's advancement.
Recommended actions: Cultivate a culture of care to foster loyalty among these members. Support their community-driven initiatives, promote the live events or content they organize within the community, and maintain regular one-on-one interactions to ensure their ongoing engagement and satisfaction.
Improving Your Community Funnel: Our Melting'tips
To optimize and enhance your Community Funnel over time, here are some tips:
1- Define your OKRs early on
OKRs (Objectives and Key Results) are a system for defining and tracking measurable goals and key results. Incorporating OKRs into your community strategy can help you set clear objectives, monitor your growth, and demonstrate the ROI of your community.
This is an excellent way to enhance the actions you implement and propel members through the Community Funnel!
Here's an example of OKRs: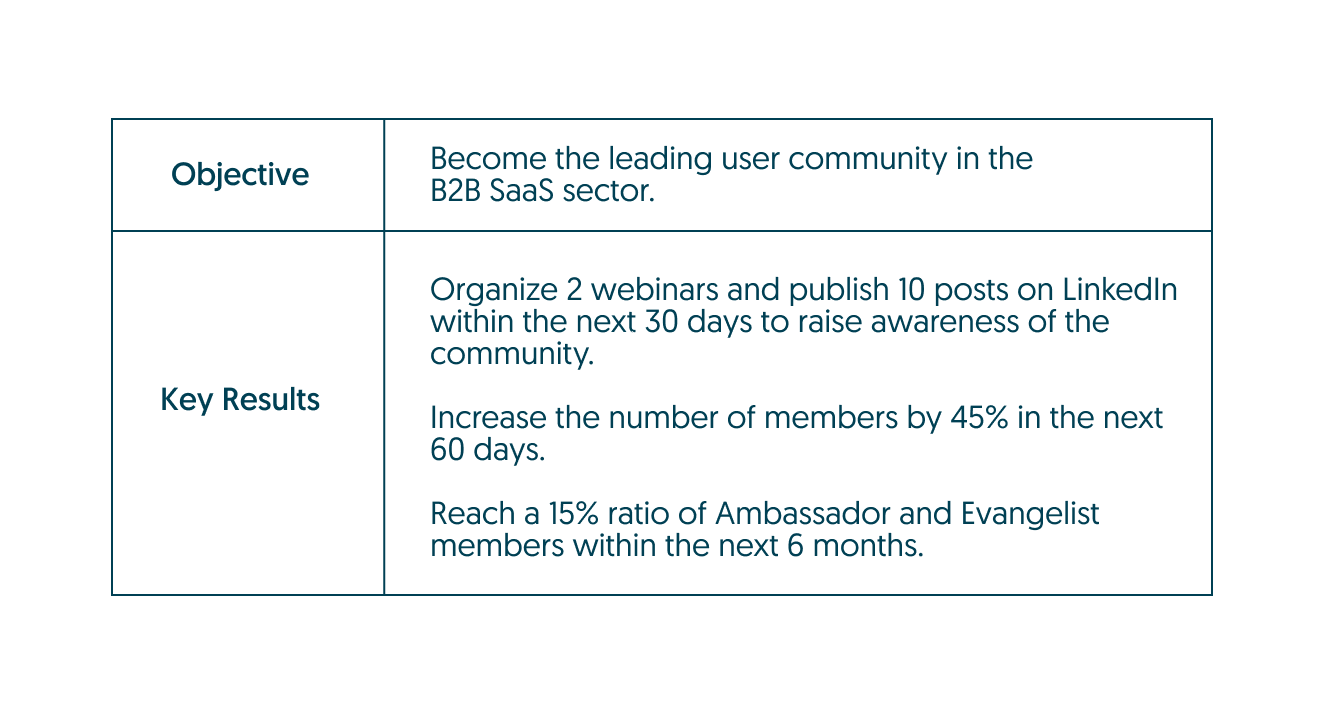 2- Cultivate a unified community culture across the organization
The Community Funnel is not solely a tool for Community Builders. It is essential for the entire company to be aware of its existence and foster a shared community culture. This "Community Centric" alignment is vital for all teams within the organization.
From marketing and sales to product teams, every employee should be well-informed about the community's objectives, initiatives, and outcomes.
In this excerpt, Nikki Thibodeau and Holly Firestone share their expertise on the role of each department within the community and emphasize the significance of aligning the goals of individual teams across the company. Explore their invaluable insights from their presentation at the CLG Summit 2023!
Did you miss the live broadcast? Don't worry! The recording of Nikki and Holly's discussion is now accessible on The Community Lab!
To ensure that the community remains a top priority for everyone, it's important to invite different departments within the company to community events such as webinars, physical gatherings, live sessions, and more. Additionally, share any valuable feedback with them that can be beneficial, such as product reviews or insights on the company's content strategy. This collaborative approach fosters a stronger connection between departments and the community.
3- Emphasize Quality over Quantity
The goal of your community strategy should not be to attract a massive influx of members, resulting in a bottleneck at the funnel's entrance with a flood of visitors, prospects, and new members.
Instead, your primary focus should be on retaining the best members and guiding them through the final stages of the funnel. To achieve this, prioritize quality over quantity. This approach is more effective in helping you achieve your objectives and maximize your return on investment (ROI).
It's crucial to understand that member engagement is paramount in your community, especially if you aim to create a Customers Community. The more loyal your customers are, the stronger the relationship becomes. This, in turn, translates into improved sales, increased average order value, reduced customer churn, and enhanced brand reputation.
To take action, here's what you need to do:
Build your Community Funnel.
Define your community strategy, including setting objectives and key results (OKRs), identifying your target audience, and refining your positioning.
Choose a platform like MeltingSpot to facilitate and unite your community members.