Recently, web 3.0 specialists declare that "communities will be at the heart of the new web". But the truth is... Communities have already been at the center of our lives (personal and professional) for a long time!
If the rise of digital transformation contributes to the rise of communities, we must not forget their origins. On a daily basis, communities concern us all and have been structured for decades. In this article, MeltingSpot deciphers the subject of communities, the different typologies and their little known benefits 👇
What's a Community?
Since the beginning of time, people have been used to grouping themselves in "tribes". According to the sociologist Michel Maffesoli, a tribe is characterized by shared rituals and behaviors. For example, the consumers of a cosmetics brand or the owners of motorcycles of the same brand can find each other. They share the same codes, values and habits.

When a brand tries to reach and adopt the behaviors of groups of consumers considered as tribes, it is called tribal marketing. But companies can also create their own communities. When they initiate such an approach, it is called brand communities and community marketing.

🚀 Whether the community is launched by an individual, a group of individuals or a company, the community pursues the same stakes: to gather a collective that advocates exchange, sharing and the creation of lasting relationships.
The different types of communities
In everyday life, it is possible to distinguish between different types of communities: personal vs. professional communities, online vs. physical communities... Whatever their form, communities are differentiated by their purpose.

To go further, many researchers have expressed their views on the nomenclatures that allow us to differentiate communities. For example, A. Armstrong & J. Hage explain that there are 4 types of communities:

1️⃣ Transaction communities
2️⃣ Communities of interest
3️⃣ Relational communities
4️⃣ Virtual world communities
For Bielaczyc and Collins (1999), learning communities are also important. For Chevillet (1991), linguistic communities (defined by spatial, temporal and cultural unity) coexist with other types of communities.
At MeltingSpot, we differentiate communities according to the typology of the members who make them up, in order to put the human being at the heart of the concept. All individuals can belong to different types of communities, such as :
💡 Customer and consumer communities
💡 Communities of prospects
💡 Communities of partners
💡 Communities of collaborators
💡 Shareholder communities
💡 Student communities
💡 Communities of investors
💡 Ambassador communities
💡 Sports communities
💡 Religious communities
💡 Local communities
etc.
All these types of communities can also be divided into community subgroups. For example, in a company, a community of employees can give life to different groups that share the same values, goals or interests.

A group of colleagues who play sports together every lunchtime, a group of mentors who regularly help each other or a group of parents who organize talking circles are concrete examples of corporate communities.

Companies can either drive the creation of these communities, or let the members get together among themselves. In both cases, the conclusion is the following: corporate communities have not finished multiplying, to the delight of their members!
Being part of a community: what are the benefits?
Communities: the known benefits
Community marketing is a winning strategy for companies. Through the creation, animation and engagement of a community over time, the benefits for the brand are multiple: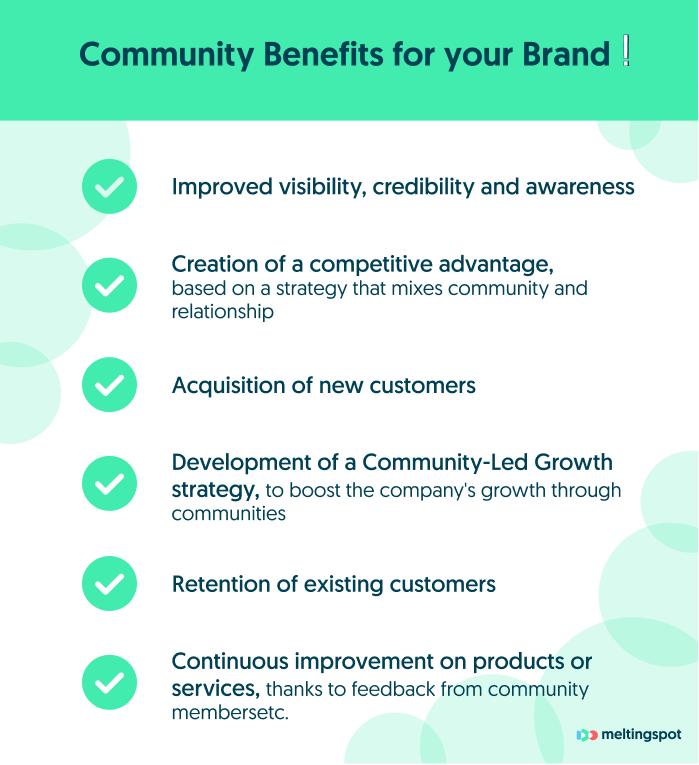 These are the most well-known benefits.
In this enlightening excerpt, Bill McGlade sheds light on the often overlooked external and internal benefits of communities. He dives into the significant impact that communities can have on NGOs but this can also be applied to Companies.
Take a glimpse into Bill McGlade's session at The Community Lab during the CLG Summit 2023.
If you missed the live session, worry not! The full replay is now available for you to watch. Head over to The Community Lab now and watch the complete replay of Bill McGlade's session.
Communities: the underestimated and misunderstood benefits
1️⃣Bringing out personalities
Within communities, each member has the opportunity to reveal himself. By expressing a topic that is close to his or her heart, by volunteering to lead the community, by offering to help other members... The community is an excellent lever for affirmation, to hatch and develop personalities.

2️⃣Support committed projects
The notion of commitment is at the heart of community marketing. Each community engages around a common theme... And that theme can be engaged too! For example, corporate communities can improve the quality of life at work (QWL) or promote social and environmental responsibility (CSR). The strength of a collective helps make an impact, in terms of engagement.

3️⃣Building strong, lasting relationships
One of the main (and sometimes underestimated) benefits of communities is this: creating strong, lasting bonds. Before advocating a BtoB or BtoC objective, the corporate community is a tool that promotes HtoH (Human to Human). Corporate communities bring individuals together and humanize brands. At the dawn of Web 3.0, this profoundly human advantage should not be overlooked.
4️⃣Building strong and lasting relationships
One of the main (and sometimes underestimated) benefits of communities is this: creating strong and lasting bonds. Before advocating a BtoB or BtoC objective, the corporate community is a tool that promotes HtoH (Human to Human). Corporate communities bring individuals together and humanize brands. At the dawn of web 3.0, this deeply Human advantage is not to be overlooked.

5️⃣Getting out of the self-culture
Corporate communities do not sustain extremist communitarianism. On the contrary, the sub-communities are so diverse that individuals can belong to different groups.
Members then meet new people, who do not necessarily share the same profession, social class or culture. It's the end of an overly compartmentalized self-culture!

6️⃣Go from virtual to face-to-face (and vice versa)
Communities are levers of opportunity... Provided the right tools are used over time.

For example, a community with physical habits (sports at the office, outdoor activities, etc.) can take advantage of digital technology to organize itself. On the other hand, a virtual community can organize physical meetings and face-to-face activities.

Today, digital technology and Community-Platforms such as MeltingSpot make it possible to simply reconcile the best of both physical and virtual worlds... In order to take advantage of all the benefits offered by communities, whether in real life or at a distance!

To find out more about communities, create your own and run it from an all-in-one Community-Platform, go here 👇