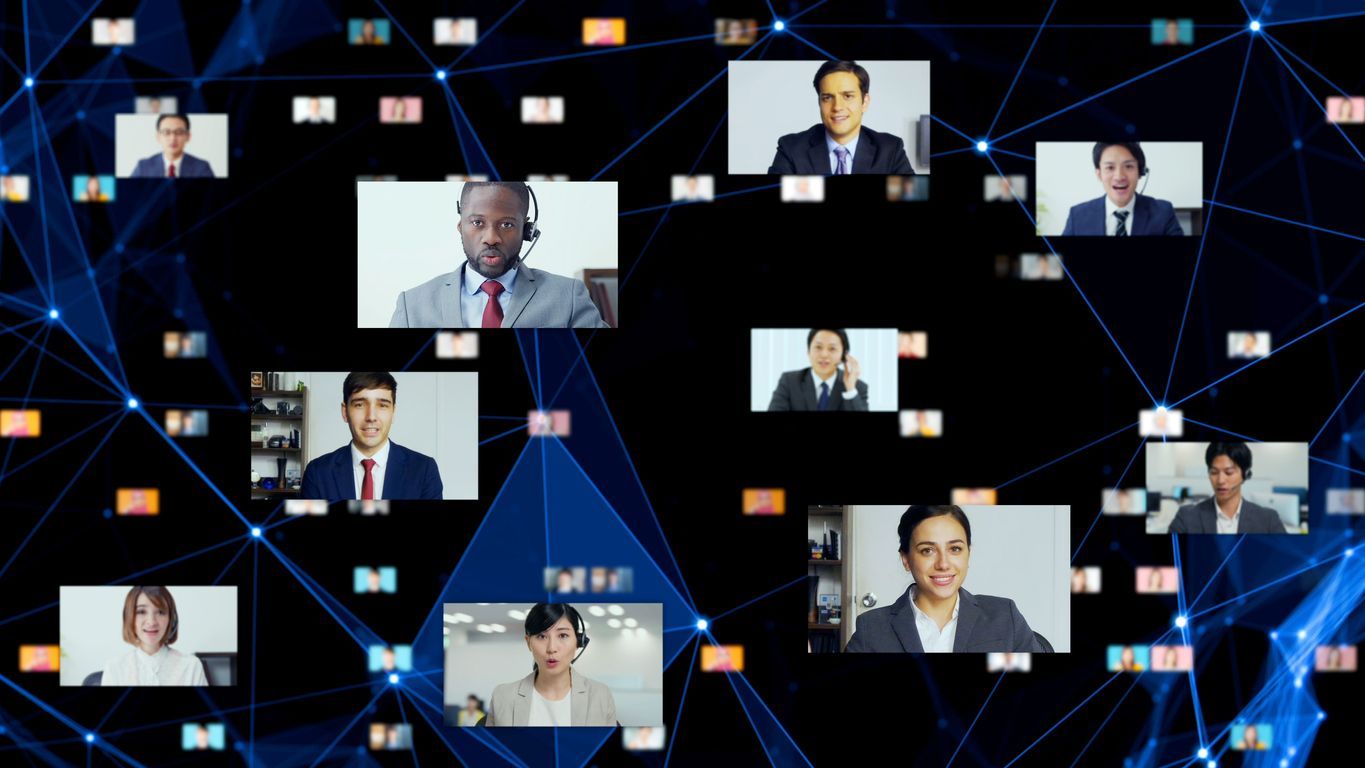 Hopin's virtual event platform fundraiser was announced last Wednesday. Less than a year after its last , the company has raised $ 125 million, which today values ​​the company at more than $2 billion.

An announcement that makes the buzz and raises questions, but also tells us a lot about virtual events. Analysis.
Physical events remain attractive but are too costly
The coronavirus crisis is acting as a catalyst for a deep and lasting transformation of  events. It puts the light on virtual events and contributed to a stepchange in their popularity. Indeed, virtual events' advantages make them increasingly complementary to physical events.
Less expensive, more environment-friendly, shorter, they also have other benefits: a global optimization of contact points (you just need a good web connection to access them), a huge visibility (a digital event can reach a much larger audience since the geographic barrier no longer exists) and key data collection. Moreover, it delivers live, always-on demand, and personalized experiences. Finally, it is a very powerful channel to stand out from competitors. On the other hand, virtual events make events accessible for many companies that did not have access to them previously for reasons of size or resources: SMEs.
Physical events therefore continue to seduce but cost too much. With virtual events, it becomes possible for all companies to organize events at a lower cost and so to strengthen their reach to their customers, partners, teams etc.
A learning that seems to have been well accepted by investors: according to the research firm Grand View Research from August 2020, the global market for virtual events should grow by 23% per year between 2020 and 2027...
Virtual events are the third dimension of community management
Virtual events are very complementary to physical ones. But in fact, tomorrow it will be even more and will constitute the new pillar of community management.
Virtual events are already used by companies to engage their staff. Recently, a leader of a large international group told us that every year he organized 3 days of seminars and limited the number of participants to 300. All for one million euros. In 2021, for the first year, his group will organize a virtual event, which will bring together a wider audience. The expense is 5 to 10 times less...
Animating a community of collaborators is therefore possible online, at a lower cost. The physical seminar will return, post-health crisis, but virtual events will be required to bring together teams of collaborators more frequently, on specific topics. And it will be the same for external company events dedicated to partners, customers and prospects.
Virtual events will allow companies to organize many more events, to capitalize on and deepen contact with their audiences
And all this thanks to a format: live video, already very popular on social networks, it allows you to bring a moment to life. So what to think of a platform on which you can organize all your corporate moments in a virtual format: partner days, onboarding sessions, seminars, etc and which allows you to bring all these moments to life in all your communities? Maybe it will be part of the future ...!
The future of community leadership
Whether internal or external, virtual corporate events can benefit businesses in many ways, such as increasing brand awareness, customer conversion and retention, staff and client education, and team spirit.


👉 Virtual events are a real differentiator for companies. All companies do content marketing or engage on social networks. Both of these consume a lot of energy and few companies manage to stand out. The virtual event is a new playing field and allows you to have a competitive advantage.

👉 Internal corporate events represent a huge market. Meetings, workshops, seminars, budget presentations. Seminars and workshops alone represented 200,000 events with more than 50 employees per year in France in 2018 *.

👉 Virtual events also allow companies to multiply appointments with their different audiences. Companies are of course not going to organize virtual events every two days, however it is very likely that they will meet much more frequently with their communities to capture their attention and maintain their relationships.

👉 Virtual events offer a much more interesting ROI. Whether it is a virtual annual conference or a virtual professional show, they can reach a much larger audience and have lower fixed costs than with a face-to-face event. This combination of advantages makes this format very interesting in terms of profitability and ROI.

👉 Finally, these events make it possible to collect a great deal of data on the user's journey, which is key data for improving their lead generation strategy and acquiring quality customers. Basically, take the example of a commercial real estate trade fair: an average stand will cost around €20k. On a virtual event, an exhibitor will be able to bring together 500 customers and partners, over 3 hours of time, for a budget two to three times lower. Moreover, the timing of a virtual event is not the same as that of the physical event. The first will open a few days before the official start, will be available for replay along with other content. And as the virtual trade show is not frozen in time, this content will be able to feed the company's marketing and communication strategy for several weeks and months and generate a much greater ROI !

The key success factors to make virtual events a new pillar of your comunication and acquisition strategy
Here are what we think are the rules to follow for any event organiser.
First, unlike a webinar on which the audience is passive, the virtual event must adapt to an audience used to zapping or scrolling. It should offer a format with moments that offer several video streams live and in simultaneous to change "room" if a conference or a pitch isn't of interest. How to nagivate on the platform is therefore an important factor for adoption and success.
It is also crucial to engage participants and give them frequent appointments. The tool used must offer functionalities to make participants real actors of the event and not just consumers of content. Chat, networking zone, surveys, making an appointment,… it's up to them to build their program. To make them always more active, giving frequent appointments allows your events to strengthen the link between you and your community and thus improve your ROI.
Controlling temporality is also a very important success factor. The physical events are limited in time. What businesses need is to be able to make content available before, during and after the event via replays for instance.
Finally, participants data is key and should be easy to analyze. Virtual events are a wealth of information on visitor behavior and an essential tool for an effective lead generation strategy.

The virtual event, for the most digital companies, can thus become a brick of their inbound marketing strategy.
Many virtual events are already hosted

Here is a non-exhaustive list of everything a virtual event platform can help you organize. The only limit: creativity!
Seminars or workshops : internal masterclasses, webinars, the first virtual events of this type already exist and everything indicates that this type of event will be one of the most requested in virtual.

Trade shows: Virtual event solutions are incorporated with numerous interactive tools, such as chats, polling, and live questions and answers (Q&A), to enhance business events.  For example, this platform which has been organizing trade shows for several months.

Employment forum: schools and universities organize several "recruiter-candidate" meetings each year. These events can take place online with activities such as a welcome conference, a live presentation of a few recruiters, recruiting / recruiting appointments. This is the format chosen by the Ouest Avenir forum this year.

Customer and partner days: a virtual platform makes it possible to invite customers to a virtual event, to expose their partners via virtual stands, to organize conferences (a word from the CEO, next year's strategy, product), etc. The fintech Quantalys will hold the first virtual partner days on November 19.

Networking: conferences by opinion leaders, 1: 1 exchanges between participants (chat or video) are already organized virtually. This is the choice mabe fy Univers VO this year by launching its annual event virtually. Julien Clère, its founder, is convinced: "BtoB events, whether virtual or physical, remain a force [...] the future belongs to those who know how to adapt and evolve".

Sales meeting: companies like Bonjour.io offer to invite prospects to group demos, to invite customers to testify live in other rooms.

Employee onboarding: inviting his recruits wherever they are in the world to follow a company discovery session or to meet the CEO live, it is now possible!

Shareholders meetings: bringing shareholders together at the annual general meeting in physics is quite outdated, especially in the case of multinationals. Virtual assemblies are much more relevant.
Virtual events offer huge possibilities for engagement, animation and acquisition and are far from being a simple means of digitalizing physical events.
Far from being a trend, virtual events are part of a sustainable transformation movement in the events sector, but also in corporate communication. They offer new perspectives to a global ecosystem, and enrich a range of solutions in the same way as physical events. No wonder the market, under these conditions, is announced to increase by 25% each year between 2020 and 2027 (92bn in 2020, 400bn in 2027) **.