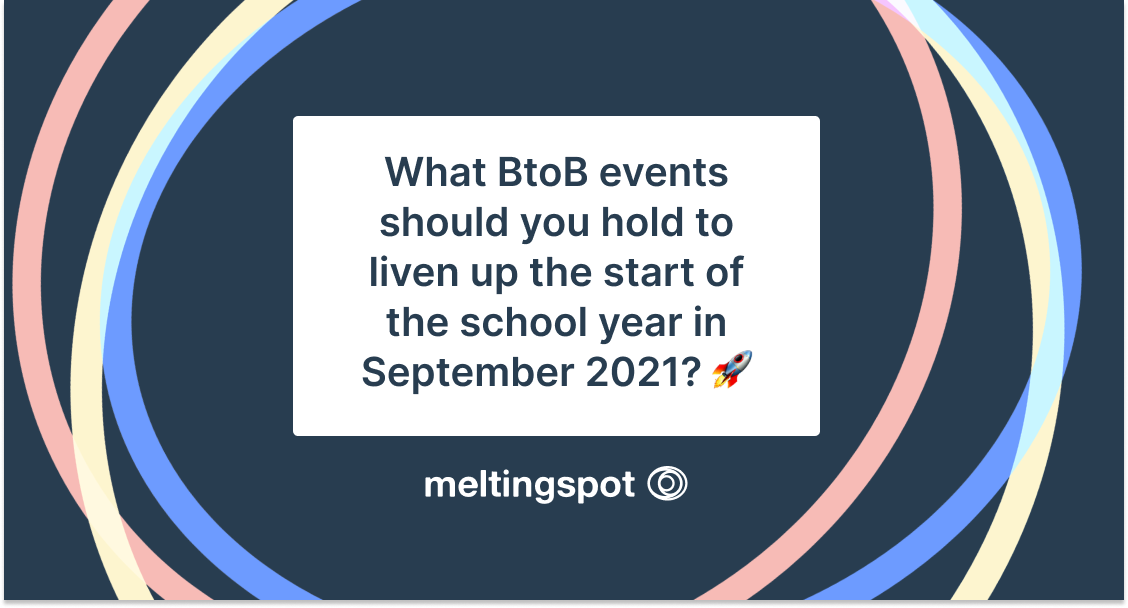 How to make your back-to-school 2021 a success thanks to digital events?
In business, August is often synonymous with the calm before the storm. Departures on vacation, projects on pause, a slower pace... What if this year, you took advantage of this lull to prepare your September event season?
Think again: it's not too late to organize online BtoB events for the beginning of September! With an all-in-one solution, preparing a digital event can be as easy as pie. So, ready to find out what types of events to organize... And why take action now? ⬇️
Why is back-to-school September the perfect time to host BtoB events?
In BtoB, the start of September is often perceived as:
The return of the employees' vacations, all freshly rested
The welcome of new recruits, ready to join the company's ranks
The approach of Q4, the last quarter of the fiscal year
This news gives rise to an important need: to federate, gather and engage its BtoB communities.
Indeed, the beginning of September is the ideal time to plan an event gathering. In the post-covid period and a few weeks before the September resumption, digital remains the number one ally for companies. A virtual event is the easiest and most effective way to :

✅ Bring together different communities (employees, customers, partners, suppliers...) for a moment of remote exchange, without geographical constraints.

✅ Save money, as the end of the year approaches. The cost of a virtual event is much lower than that of a physical event... And can also be much more profitable!

✅ Prepare just a few weeks before a 100% digital event: thanks to an all-in-one platform like MeltingSpot, renting a room, the need to call on technical providers or printing communication materials disappear. To organize your back-to-school event, all it takes is a few clicks. But you still need to have in mind the idea of the event (with a capital L) to plan!
Ready to discover MeltingSpot's BtoB event ideas to liven up your back-to-school season in September?
5 ideas to liven up the back-to-school season in September, thanks to BtoB events
If in May, the saying goes "do what you like"... In September, MeltingSpot's motto is "organize events that bring people together". To achieve this, here are 5 ideas for BtoB events to prepare (starting now):
1/ An internal event for employees to get together
To wish your employees a good start to the new year, why not bring them all together at an event? Among the event formats to organize, several options are available to you:

💡 The quickest idea to set up: a back-to-school breakfast, easy to organize in face-to-face, hybrid or virtual. To liven up the reunion, don't hesitate to ask employees to share a memory from their vacation or one of their expectations for this last quarter coming up.

💡 The most fun animation to set up: A team building activity like a virtual treasure hunt, a cooking class or a collective blind test. This format boosts internal communication. Divided into small groups for the duration of the activity, the team building allows to federate the members around a common goal... And to revive the team spirit!

💡 The most engaging format for your employee community: A back-to-school seminar, for a whole day. This format can be deployed in 100% digital, around webinars, online training, collective workshops... With this event, your teams will be ready to start off on the right foot.
2/ A customer event to promote your new products and services
Have your BtoB products or services evolved in recent months? Are there any updates or new features? If your answer is "yes", ours is: let your customers know about it, during a back-to-school event! For example, why not host a...

💡 A BtoB workshop, around customer exchanges. This format allows you to gather a whole group of customers, while collecting a maximum of feedbacks. This is notably the solution proposed by Up Cityzen, which organized a virtual event with MeltingSpot :
"Every two years we organize a week called "Solis User Exchange". It's an opportunity for us to bring our customers together and keep them up to date on what's new with their software. Despite this chaotic year, we did not want to cancel this event. That's why we thought of another way to offer this event."
Lucie Cottereau, Up Cityzen's operational marketing manager
💡 Product demo. Are you familiar with Apple's famous KeyNotes, these events designed to showcase new products? At your scale and in 100% virtual, don't hesitate to take inspiration from this format, to give a demonstration to all your customers. Invite them to block an hour of their time for a presentation, followed by a moment of networking, for more conviviality.
3/ A round table, to animate your partners' network
Among all the stakeholders of your company, your partners should not be neglected. We advise you to animate this community of partners as soon as you get back to work, by inviting them to a virtual round table.
This event, which highlights the expertise of the partners around an exchange, can be made public. This way, you reinforce your brand image, strengthen your relationship with partners and attract new potential customers.
This strategy was deployed by CosmoConnected:
"We organized 3 round tables of 45 minutes each on 3 different themes. They were animated by a journalist specialized in tech, Marjorie Paillon. For each conference, we invited 4 to 5 important actors of the sector. (...) Our objective was to bring together the biggest players in mobility to discuss tomorrow's travel in the heart of cities. This type of event allows us to be at the center of the debates and to increase the company's notoriety.
Anne-Sophie Frenove, CEO of CosmoConnected

4/ A preparatory virtual event, to anticipate the major events of the end of the year
For many BtoB companies, the end of the year promises to be full of physical, virtual or hybrid events. Trade shows, forums, congresses, open days... There is no shortage of events!

Before participating in all these events during the last quarter of the year (Q4), the month of September can be synonymous with preparation or training. For example, feel free to schedule as soon as you get back to school:

💡 An exhibitor meeting, to anticipate participation in a trade show. With this event format, you'll take the time to address any questions or points of alert for the big day.

💡 A virtual rehearsal for a conference. A successful event is not just about the number of attendees or the reputation of the speakers. It is essential to prepare, to rehearse, to practice.... In person or remotely!

💡 An internal team meeting. Before the realization of a big event, it is essential to gather all the teams that contribute to this project. A dematerialized team meeting can notably help you finalize the last preparations.
5/ A post-summer recruitment forum
In business, September is often a month of renewal. So, if after the summer, you are planning to recruit new employees... Why not plan an online recruitment forum in September?
This type of event allows you to simply organize recruitment interviews, grouped together on the same day or over several days. On a single platform, you can post job offers, organize company presentation webinars, conduct individual or group interviews, collect and store candidates' resumes and cover letters... All without wasting time and from a distance. 💻
Viveris executed this event format to perfection with its "Adopt a Job" digital forum. Deployed over 4 days, this event featured recruiters' booths, lives, moments of exchange and sharing, etc.

Are you ready to follow Viveris' example to recruit the best talents remotely? By communicating about this event at the end of the summer, you contribute to the improvement of your employer brand... And more: thanks to virtual events, your visibility and your e-reputation are boosted.
----------
You've got it: with virtual events, the start of the new school year in September will not be an unpleasant experience... but a lively one, thanks to quality exchanges!
Do you have an idea or a project for back to school? Contact our teams all summer long 👇