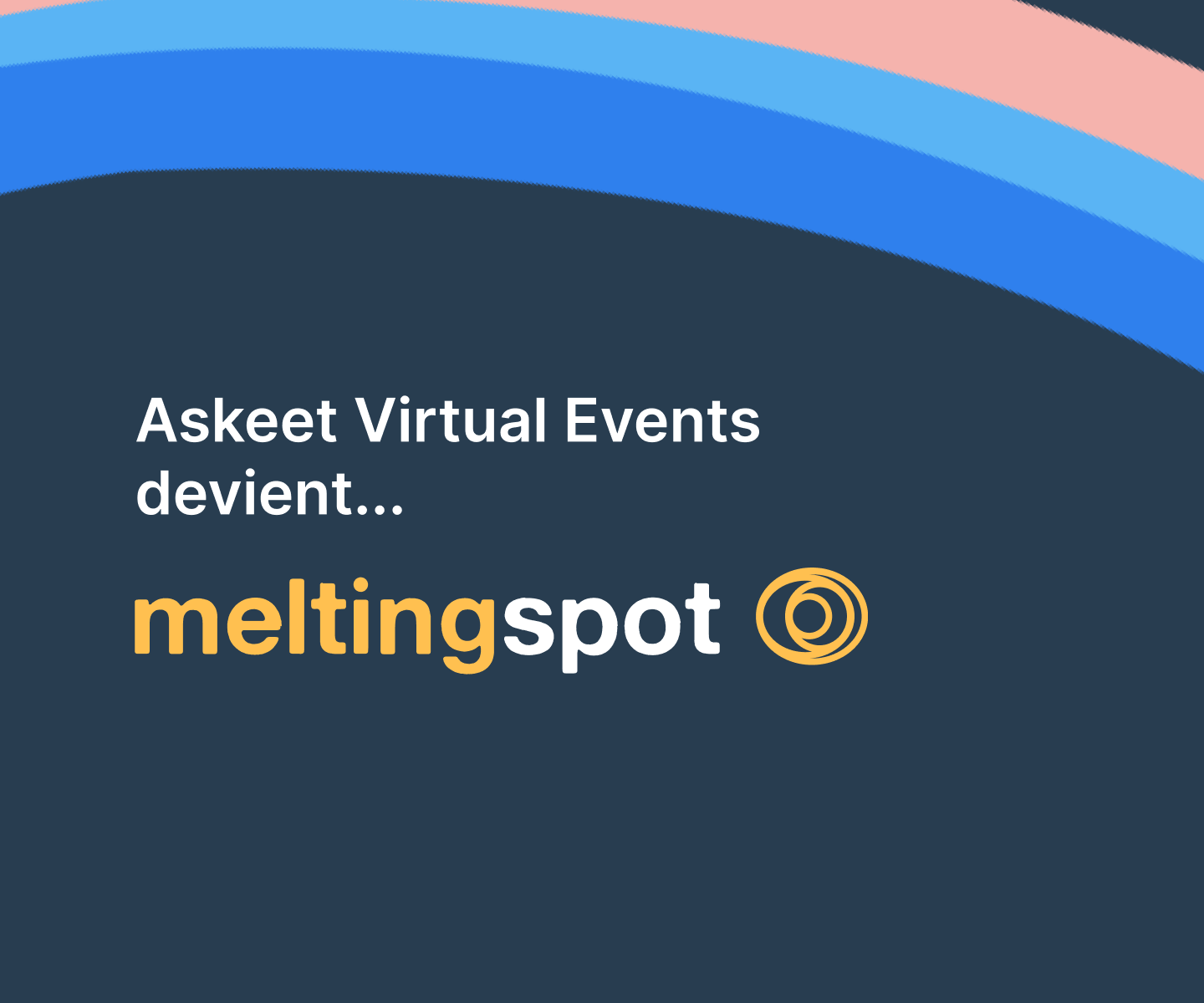 And Askeet Virtual Events became MeltingSpot…
Our story
When Askeet Virtual events was born, it was not about starting a business but rather finding a solution to an internal issue. During lockdown, Askeet wanted to offer a sourcing platform for customers, partners and prospects to meet, discuss and explore at virtual professional fairs. We then started looking for a platform that would enable us to organize exhibitions remotely, to live stream and broadcast content and to ensure a high engagement rate before, during and after the event.

We were looking for a reliable tool with very effective user engagement features.
Since this perfect tool was nowhere to be found, we created our own platform. Our shows were a great success and we received a lot of requests to use our platform. Unwittingly, we ended up being the first customers of what would become a new business for us.
Yet, it didn't happen within two days ... We were and still are learning how the event industry works. Online and hybrid events are a new market to us. We are convinced that the event industry is undergoing some deep change.
We believe in virtual and hybrid events. Beyond the health crisis we are going through, they will eventually enable companies to acquire and engage their customers and partners.
We want to provide the most interactive, engaging and easy-to-use platform for everyone.
Our vision
We believe in uplifting encounters whether business or human. This is how the greatest stories and the greatest successes are born.
And nothing like events has the power to create such "secret sauce".
Still, we don't forget that not all companies have access to the event industry. Due to lack of resources or mainly because they are too small, many companies are excluded from large events. Many of them miss out great networking moments where long lasting business or human relationships are built.
We want to create synergies between physical and digital events. We consider online events as an opportunity to make the event industry accessible to all businesses.
Our platform has been created to become the place to build inspiring and deep relations for companies and their audiences. Our goal is to open up endless opportunities for them.
To support our ambition and our vision, we embarked for a rebranding. We are more than happy to introduce MeltingSpot and its brand identity.
A new logo, a new site, a new user experience. A unique brand platform to build the future of events.
Our new brand identity
MeltingSpot is a nod to the Anglo-Saxon concept of serendipity - the ability to make an unexpected discovery by chance and to grasp its usefulness.
Our new name MeltingSpot
Like the Anglo-Saxon term "meltingpot" and as a  contraction of two terms - one referring to this mixing and exchange of ideas that one encounter during events, the other to the space where those opportunities happen - it symbolizes our vision and our desire to create a special and unique space.
MeltingSpot is the new place to build relations, ideas and projects for companies.
Our new logo
Our logo consists of two main shapes: the circle, which represents the smoothness of encounters, and the eye, which reflects attention, human and focus.

We started with ideas and images representing dance, movement, fluidity, puzzle pieces or even the "meeting point", this unique place where we meet.

Simple, clean and easy to read, our font represents the ease of use of our product. This is a classic serif typography with a few imperfections, giving the right balance between human and classic.
Our new colors
Our main color is yellow, meaning: joy, human, positive, clear, energy, optimistic, enlightened, remembrance, intellectual, honorable, loyal and joy.

Our main palette also consists of a bright, almost electric blue, symbol of dynamism and discovery, and a darker, corporate blue, specific to our B2B DNA.
Our secondary colors are brighter colors that you will find on our product and illustrations. They represent exchange, ideas and human contacts.
We hope you like it !
To find out more about the platform, click here 👇