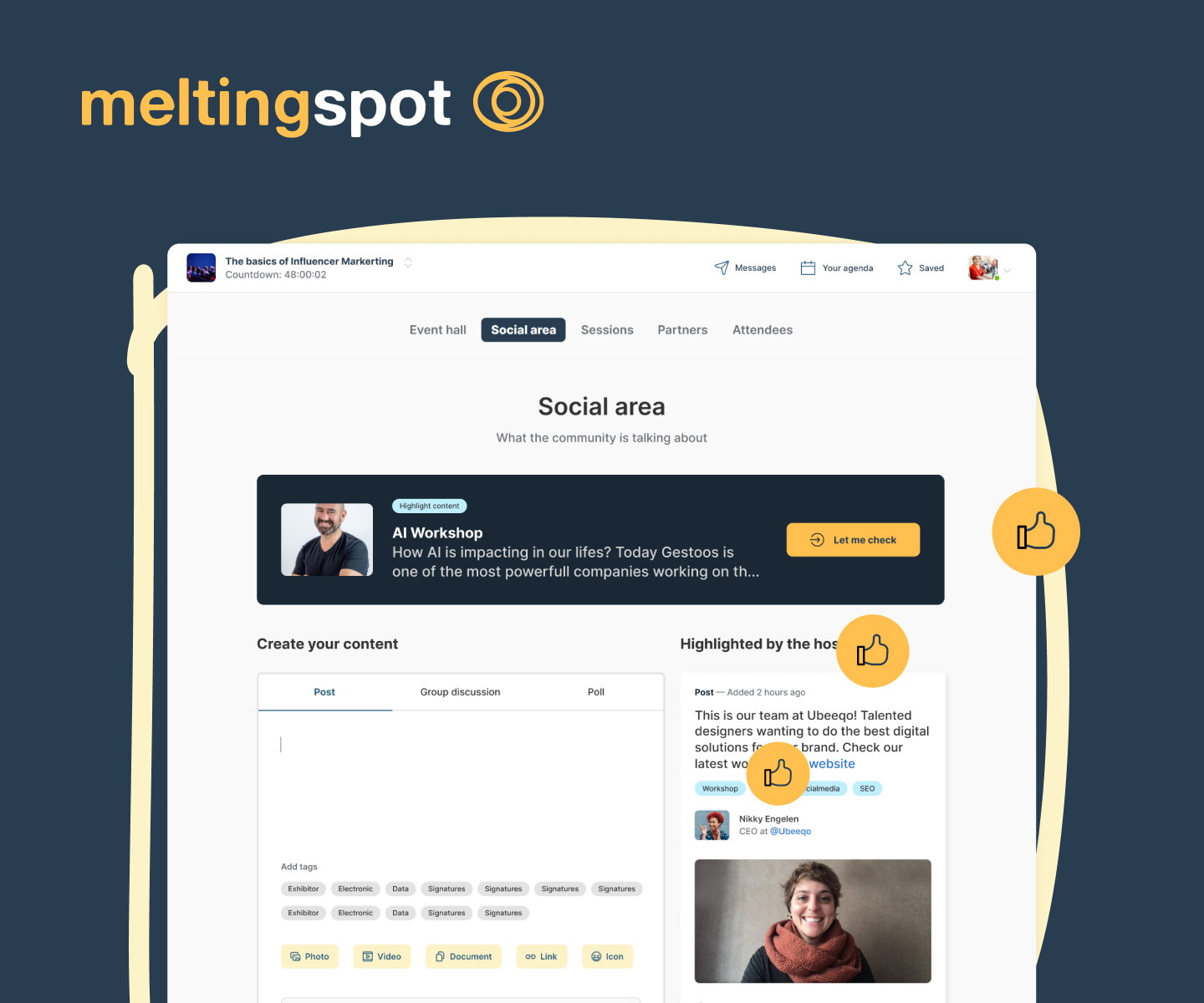 We started 2021 with a bang : we added more features to the many existing ones
We will show you around, but we want to share some good news first. You might have heard already: Askeet Virtual Events becomes MeltingSpot !
🚀🚀🚀 A new logo, a new brand and a new identity to support our mission and vision : to make events accessible to all companies !
At the products department, we go the extra mile to make sure we provide the best platform for all your events 😉
Here's our brand new features of February:
Customization of your dashboard
While registering for an event, you can provide some information you want to be displayed on your personal space such as some relevant content, topics and people.
A much larger participants tab
Once you log in to the platform, you will now find more information about the participants. Whether they are speakers, organizers or visitors, you can filter by name, company, job title. You can also send messages and make appointments with them.
We suggest that you take a look on this tab before your event day to find out who will be attending 😉
The new company page
It consists of a tab bar and an autoplay video.

Anyone can contact the partners, make appointments and read more about your company.
The polling feature has arrived !
From the chat rooms, you can complete surveys and follow-up real time.
Of course, participants can launch their own survey too 😉
Speakers and organizers : we've got you covered !
From now on, you can access the event before your guests or the public.
Are you or will you soon be a speaker ? You no longer need to be associated with a company. You can be only a speaker or host, visitor and speaker at the same time.
Partners : choose your meetings
You can now accept or decline an appointment and control your time slots : deleting or creating new ones.
Live webinar
You no longer need Youtube to stream videos. Visitors, speakers and organizers are all on Livewebinar !

Contact us for a free demo 👉 click here