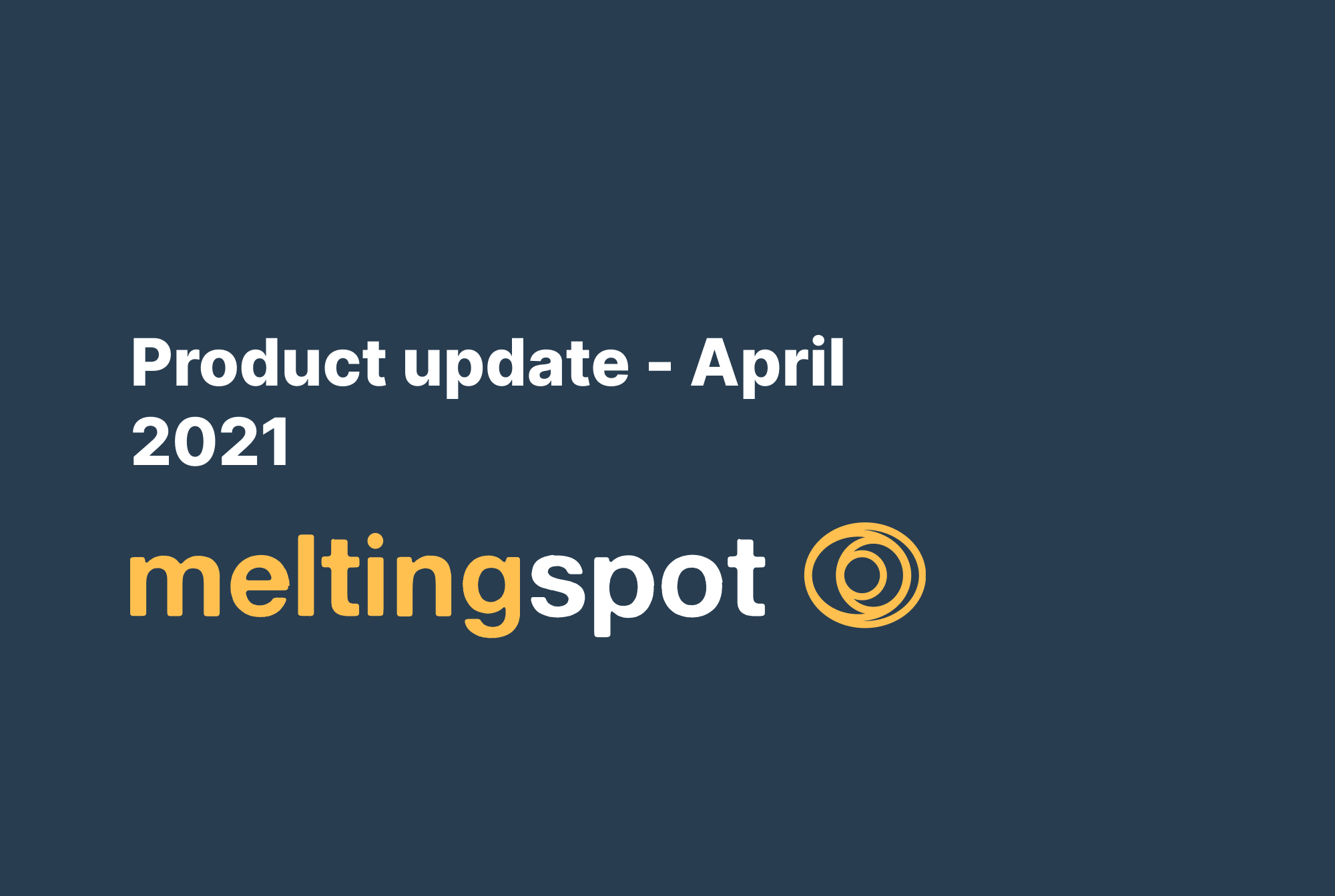 Since January, we have not stopped upgrading our product 🚀.
New features, new products and a whole new design, find out what we have prepared for you over the past three months👇
But before all that, we wanted to remind you what drives us and the vision behind these new features.
MeltingSpot, the new tool to help organizations acquire, lead and engage their audiences
This new era has changed things : some trends appear and others are gone. The evolution of the event industry is one of them.
Event planning, according to one of the largest French B2B event planners, aims to "connect with professionals and help them create business opportunities".
The Covid crisis hasn't revealed any trend but rather has boosted this one : that of redesigning the event formats, online and physically, and over time.
This is the issue that MeltingSpot aims to address.
We created our virtual and hybrid events platform because we are convinced that this type of format will allow companies to acquire, connect with and engage their customers and partners.
An interactive event is a prerequisite for an engaging relationship with participants. This can only be achieved with real features and a interaction-centered UI 😉
This is exactly our focus over the past three months. Highlights of the platform's brand new features 👇
A whole new design
If you log in today, you will discover the new design of the platform with big improvements at the front office !
UI and UX have been transformed for a smoother user journey and a higher engagement rate.
👨‍💻 The vision is to offer you a platform that puts interactions at the heart of events and makes visitors engage !
The feed or social area
From now on, on each event, you can access the feed, or social area : the spot where everyone can interact, share and view content.
You can now lead discussions, react to posts or to discover contents on a social area feed.
This tab, which is inspired by social media features, promotes information sharing, exchanges and short content 👇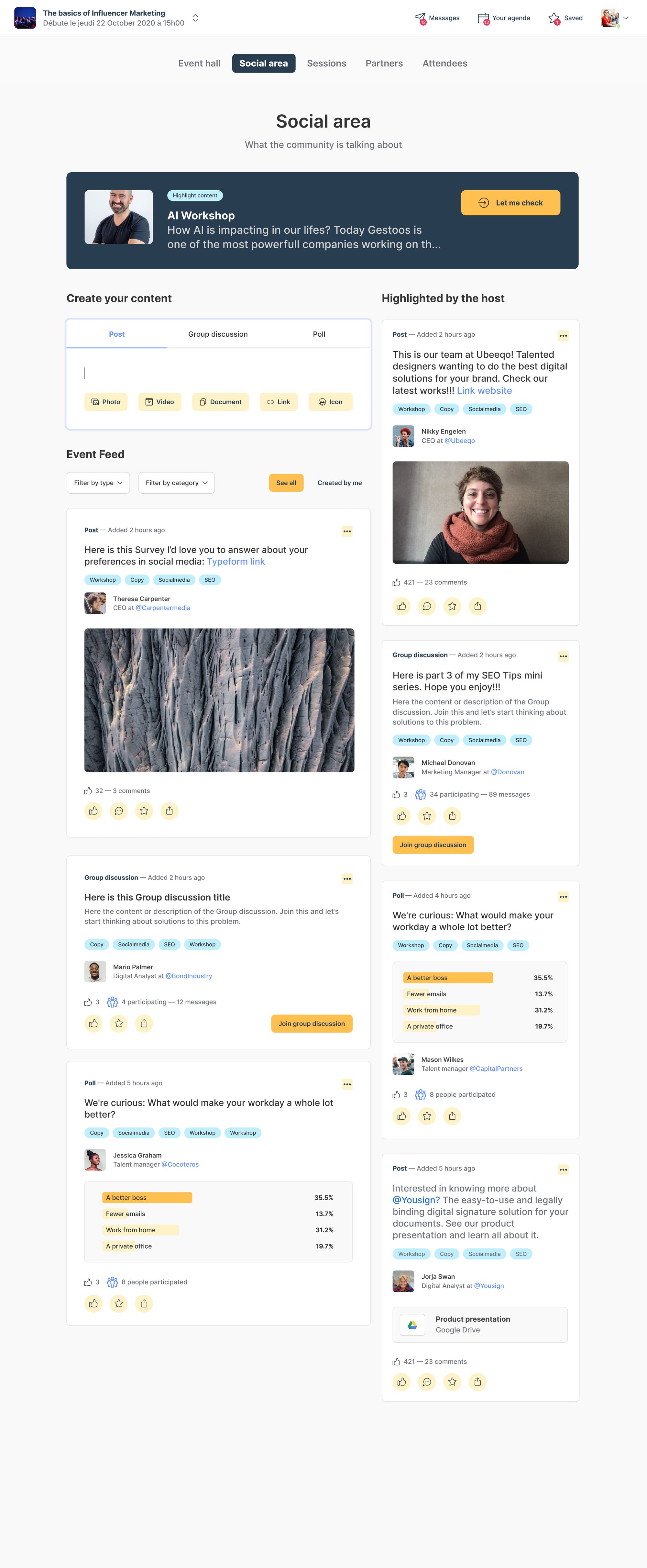 Large-scale platform customization
Each element of the event is customizable such as the colors or the look & field of the platform. Our goal : on each event, visitors discover a unique ecosystem that 100% matches your brand.

You can also:
✅ cancel appointments
✅ replace the word "partners" with another one
✅ hide the list of participants, especially during private events for the sake of confidentiality
A tailor-made registration process
In the registration process, you can make fields mandatory, hide them or edit them such as the company, the job title or the LinkedIn profile.
👉 Do you want to discover our new platform ? We have prepared a very nice video for you ☺️
Favorites
In this new design, live sessions are highlighted. Each session, partner, company or participant can be saved in your favorites so that nothing is lost from the event.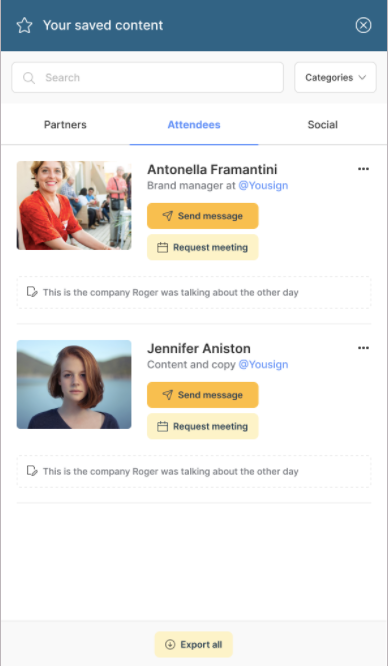 1to1 and group chats
In the message button next to the participant section, you will find in the participant menu, the list of all the participants in the event. You can find each participant's last name, first name, company and title, as well as their LinkedIn profile.
You can also launch a 1to1 discussion with him via the chat and thus create a "networking zone" and / or launch a discussion group with several people in the groups tab.
👉 Any user can create a discussion group after he fills in a title, a description (and tags, optional). Then anyone can join in ! Any group member can chat as in a normal group conversation.
What we have in store for you in April
Improving the flow of appointments
Next month, for best management of appointments, each organizer will be able to choose between those features :
no appointment at all during the event
appointment with partners
appointment between any participant and partner
👇 A little preview of what awaits you 😉: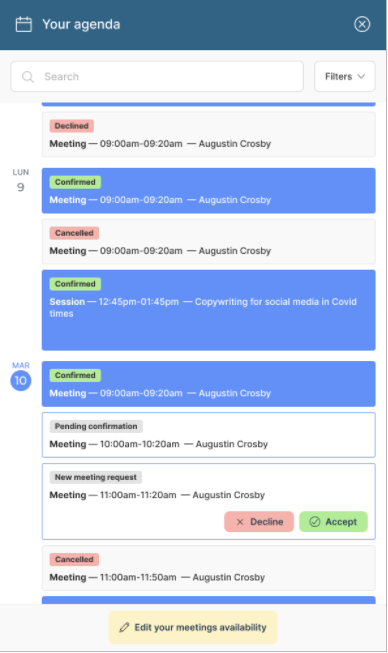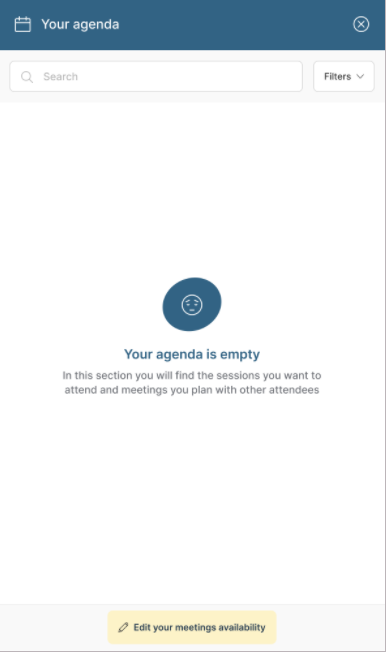 A new back office design
A beautiful and brand new back office is what our customers expect in the coming months ☺️ ultra-simplified setup, more personalization and monitoring options.
Integrations with several marketing tools
At MeltingSpot, we are convinced that the virtual event will be an essential part of your inbound marketing strategy. This is why we are working on integrating our tool into the entire marketing stack.
A little more patience before viewing our latest integrations !
See you next month, stay tuned 🚀😉