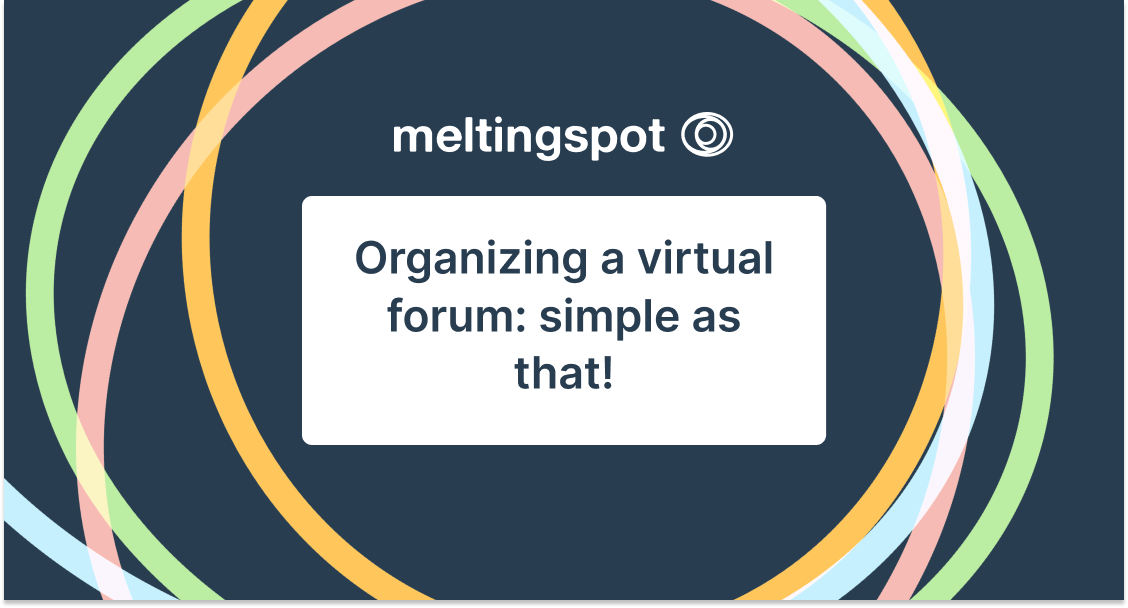 You are planning to organize a student virtual forum, job fair, orientation event... this is the place to be!
Preparing a face-to-face forum is a challenge and requires flawless technical, financial and logistical processes (room rental, goodies, massive printings, good speakers, selection of service providers, etc.) that you will not have to deal with on a virtual forum.
👉👉Organizing a virtual forum requires less time, less money and is environmentally friendly. With the best practices and the right tool, you will nail it!
A virtual forum: what for ?
Organizing a virtual forum offers the advantages of a physical one, without the travel constraints. In other words, this is the opportunity to show the audience what you have to offer. On a virtual recruitment forum, you will show your job offers. If you organize a virtual student or guidance forum, you promote schools and programs. On physical events, visitors move around from a stand to another while virtual forum participants don't have to leave their homes or offices 😉
Virtual recruitment or employment forum, how does it work ?
The virtual recruitment or employment forum enables the company to provide its visitors with various content as well as its job offers and detailed job descriptions. Participants can apply online. A recruiter can personally chat with the candidate through the platform, switch to video call and interview them.
Virtual student or guidance forum, how does it work ?
Face-to-face student forums are very popular. They are always crowded: people rush on the stands or wait for a long time to meet.
The Virtual version requires little effort: click on a link and register. The visitor can access the documents or videos about the school, the programs. They can also participate in online conferences, chat with the school representatives or make video calls and so on. 😊
Organize your virtual forum : best practices
It takes good preparation to organize a successful event. Here are our best recommendations to host a virtual forum that meets your expectations 👇
Before the virtual forum:
Define clear objectives and the messages that you want to convey
Qualify your target,
Choose the date and time for your event. Keep an eye on your competitor's events in order to host yours on a different date,
Choose your partners and stakeholders. Make sure to ask for a written confirmation and to keep them involved and informed until the D-day,
Communicate about your event to your staff and to your audience via emailing and social media,
Choose the right tool according to your needs (see which tool to choose for my virtual forum ?).
During the event
The visitor's experience should be simple, intuitive and visually pleasing.
Thanks to specialized virtual and hybrid event platforms, such as MeltingSpot, you can match the interface with your brand and add your logo and those of your partners.
The platform should be easy to use in order to meet the visitors' needs. This will keep them longer on the event. Communicate on social media : share the content of your participants, the agenda, articles in real time.
After your virtual forum
It is important to keep in touch after the event. Send thank you emails to the participants, the replays and provide them with some content to download!
In this email, add buttons that lead to your social media, where you'd also thank your audience and share the event highlights.

Which tool should I choose for my virtual forum?
Regular softwares
These are the conferencing software we all know : Google Meet, Zoom or Skype, which are suitable for meetings, online conferences or webinars.
However, you'll need more specialized platforms to organize an interactive virtual forum. Although these software allow you to give presentations and chat with your participants, the interactions are much limited.
Hybrid platforms
Virtual event platforms, such as Meltingspot, provide visitors with an immersive experience tool and enables unlimited interactivity between the participants. They offer many options 👇
🚀 Personalize your event with an interface that matches your brand,
🚀 Create a participant satisfaction survey,
🚀 Manage registrations and analyze them,
🚀 Create virtual stands
🚀 Offer one-to-one video conferencing rooms to your visitors,
🚀 Provide your participants with private or group chat rooms,
🚀 Enable simultaneous live conferences.
🚀 ... And many others 👇