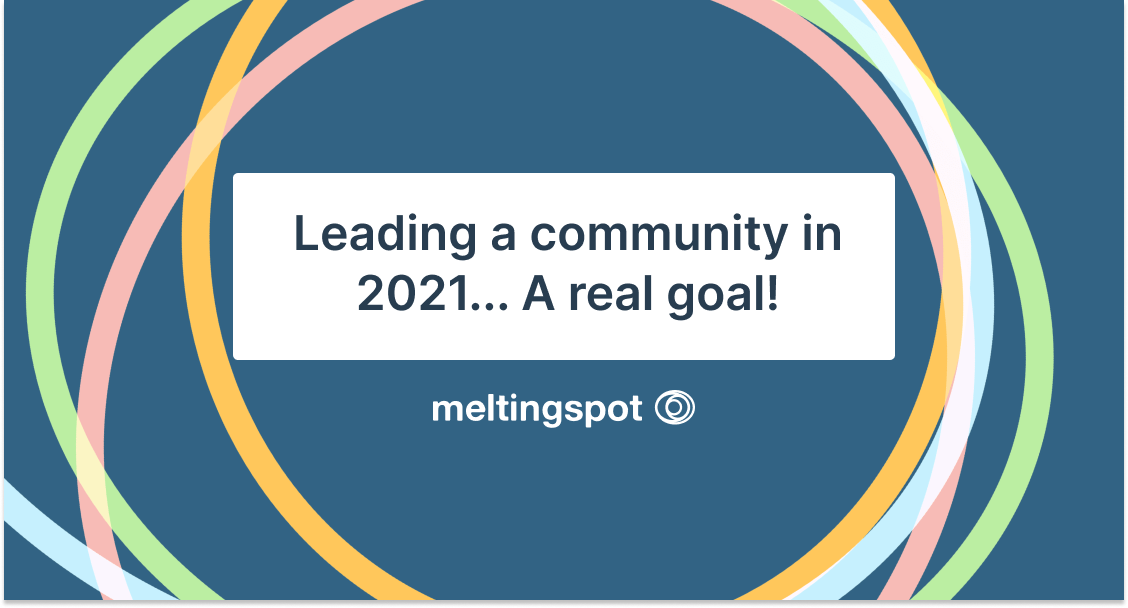 Are you searching all the tips to lead and engage your communities? Come and see!
The dice are thrown, the cards have been redistributed. In the post-covid era, it's no longer time to build a passive audience. This year, the challenge is rather to gather and engage an active community... In a sustainable way.
But then, how do you go from idea to action? How do you really animate a community and encourage maximum engagement? All of MeltingSpot's best practices are in this article 👇
Community animation: a (really) recent topic?
The notion of community (or community building, community management, etc.) is not new. For decades, communities have been multiplying in the private and public sphere, personal or professional, virtual or face-to-face... With the same common point: gathering individuals who share the same values, vision or interests.
💻 With the rise of digital, these communities are expanding without borders. For businesses, creating a community has never been easier. With one click, a group of customers, prospects or employees can be brought together. But from now on, the ambition should not only be to create communities. It is the animation and the commitment of these communities that will make them live in the long term.
This awareness is starting to spread, especially in BtoB. The means and resources are developing to animate and engage. Newsletters, webinars or publications on social networks are examples of widespread formats. But are they really enough to guarantee a real engagement?
Why "community management" does not always rhyme with "community engagement
In 2021, engaging a community cannot be done without deconstructing certain ideas. For example, thinking that "community management" rhymes with "community engagement" is a common mistake! ❌
Indeed, many companies think that developing an audience on social networks is a sufficient strategy. But broadcasting posts on LinkedIn, seeing the number of followers climb and responding to comments is not an end in itself. All these actions of community management do not always allow to strengthen the link over time.
Here are some limits to be aware of, concerning the most common content creation (and link) formats in B2B:
Infobesity on social networks can "disengage" communities
According to the latest figures from DoubleVerify, the time spent consuming content has gone from 3 hours and 17 minutes before Covid to nearly 7 hours today. While this means consumers and professionals are more connected, it also means they are plagued by infobesity.
With the mass of information and commercial stimuli disseminated every day on social networks, our ability to retain a message and engage with it is diminishing.
The conclusion is: for your communities, "too much" is the enemy of "good"! Distributing too much content, without real personalization or added value, can have a counterproductive effect on your communities. The consequence is simple: disengagement.
Blog posts do not guarantee interaction
Today, more and more companies are opting for inbound marketing, especially through blog posts. This can be a winning strategy (and if you read us, you know that MeltingSpot relies on blog posts to create content!)
However, a blogging strategy must be part of a more global content strategy. This channel alone is not enough to animate a community. Since articles are generally one-sided transmission media, it is difficult to encourage interaction... And therefore engagement!
Newsletters are considered intrusive solicitations
Among the formats favored by companies to animate a community, we frequently find newsletters. Whether they are internal (for a community of employees) or external (for a community of customers or partners), newsletters help to disseminate information in a contextualized way. The name, the first name and even the reason for the contact can be personalized.
📩 On the other hand, this Outbound Marketing format can be considered intrusive. We all know it: our email inboxes are full of newsletters... But do they really allow us to get attached to a company, and have an engaging experience? Are they really effective in animating a community in the long term?
Faced with the limits of the most common content formats in business, the question that remains is: in 2021, how to engage and animate a community over the long term? Which formats and which strategy should be favored?
3 best practices to animate a community in 2021
Thanks to social networks, a newsletter or a blogging strategy, you have succeeded in gathering an audience that consumes your content. Congratulations! But this approach is not enough to transform a passive readership into an active community.
In 2021, engagement is all about consideration, interaction and personalization. The good news is that events bring these three criteria together... And in the post-covid era, organizing events seems to be the key to gather, engage and animate a community efficiently.
To go from building an audience to successfully animating a community through events, here are our best practices:
1- Organize relevant events
The engagement of a community is not only based on the form of an event. The "substance" (theme of the event, proposed content, speakers...) is also a key element.
For example, in BtoB, the engagement of a community of employees must necessarily be based on a subject that brings them value. Even before participating in the event, participants must perceive the benefits of such a gathering.
💡 To turn excitement into commitment, don't hesitate to solicit participants upstream about their expectations. Sending a questionnaire is not only reserved for post-event satisfaction... But can also be sent several weeks before the D-day, to co-construct the most relevant meeting! You will be able to design a tailor-made event that meets your target's desires.
2- Surround yourself with committed partners
To guarantee the engagement of a community during an event... It is essential to surround yourself with serious and committed partners!
💡 For example, if you want to host a hybrid event with prospects present in virtual and physical, it is essential to call on a logistics partner. A marketing tool like MeltingSpot is committed to supporting you before, during and after the event.
Our solution allows you to animate and engage your community. From an all-in-one tool, you can communicate about your event and share content with participants on a news feed, broadcast the event on the day, collect essential data to boost your marketing strategy... In short, you can customize a white-label platform to create the event that suits you best.
3- Anchor your events in a long-term strategy
Whether we wear our professional or consumer hat, we all have one thing in common: we lassohow-to-recruit-the-best-candidates-remotelyns quickly. We need to be challenged and experience new things. So, organizing a single event would not be enough to engage and animate a community in the long run.
It is therefore essential to engage your community all year long, by varying the event formats and animations. All this, while respecting a regularity, to propose frequent appointments.
💡 For example, if you are a BtoB company, animating a community of partners can be done throughout the year. With a marketing tool like MeltingSpot, you can organize physical trade shows, virtual webinars, hybrid partner days... With various animations, such as the intervention of famous speakers, fun activities (cooking classes or wine tasting) or differentiating sharing moments (networking, FAQ, etc.). Between your different events, you also have the possibility to share content with your target audience on a news feed, around engaging themes. In short, with our marketing tool, communication and engagement are present 365 days a year!
You now know that...
✅ Being on social networks, sending a newsletter or publishing blog posts is not enough to create a community.
✅ In 2021, a properly defined event strategy will engage a community over time.
✅ And to help you animate your communities, MeltingSpot is at your side!