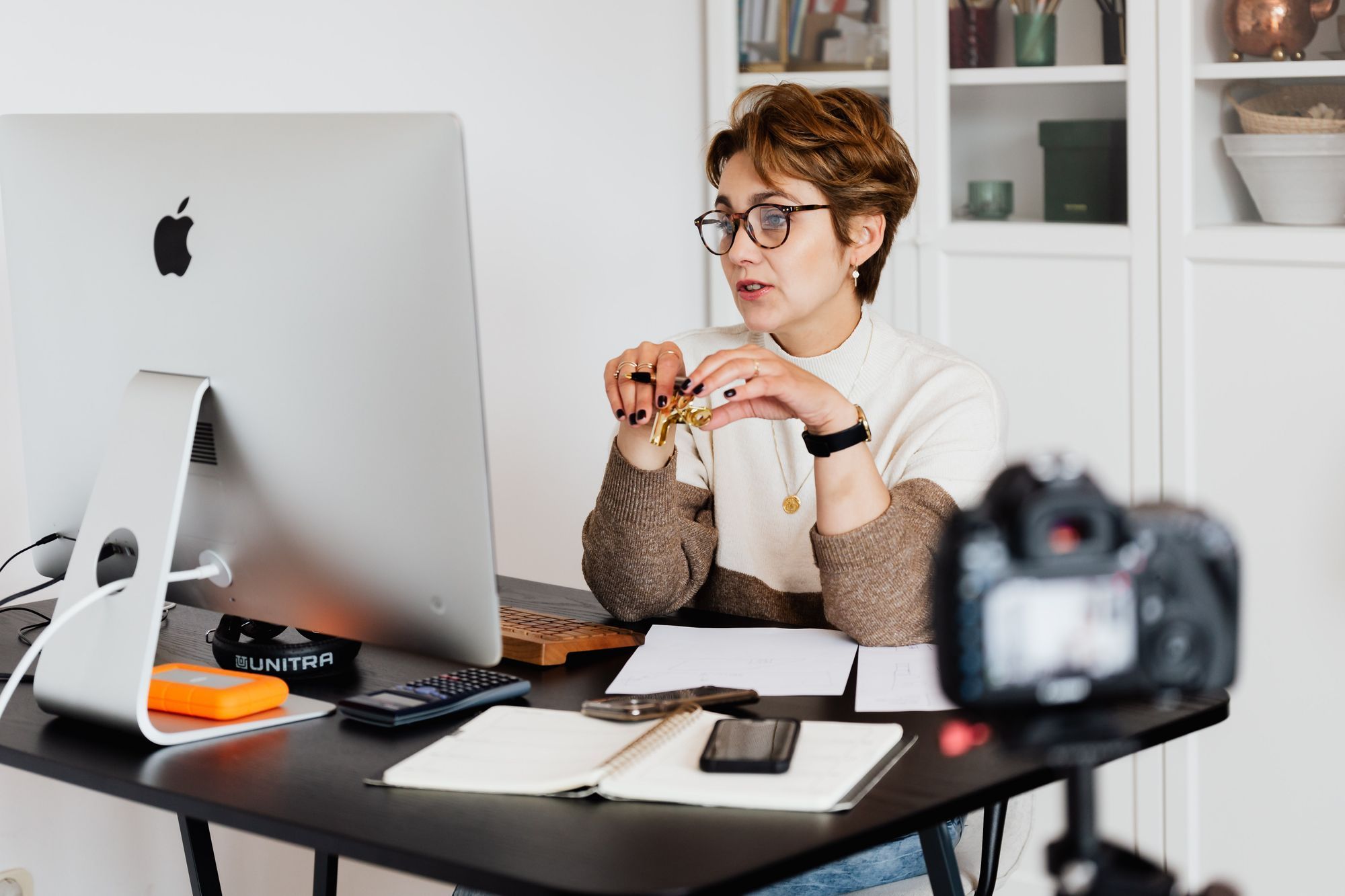 Each of your events have been cancelled in 2020. But in 2021, the virtual events appear as the ideal solution for you to organize trade fairs, partner appreciation days, product launches, conferences, meetings… !
Here are the companies' testimonies and best practices.
Virtual or face-to-face event : what are the differences ?
A physical event requires a room, speakers and participants on site ; the setup will depend on the size, the organizer's imagination and how you want to deliver the event. Anyway, the bottom line is to offer a unique and memorable experience to the participants. Unfortunately, it all belongs to the past now. This is why more and more companies resort to virtual events.
The virtual event offers multiple advantages. First of all, everything is online. It is safe ! You don't have to worry about social distancing, masks… It is also more affordable and eco friendly : no travel, no stand to build, no food to provide, no waste. Finally, it allows you to expand your audience ! Without geographic constraints, anyone, wherever they are, can get in. Finally, virtual events suit both small and the biggest events !
Virtual trade shows
For more than 20 years, Laval virtual has gathered thousands of professionals, on a virtual  augmented and mixed reality setup. Now that the show had to be canceled, the virtual show was the best alternative. 11,200 people have registered ! stands, exhibitions, demonstrations, meetings and conferences…. All of this was designed in one month.
Choosing the platform is the number one priority. "For ten days, we explored and tested around thirty more or less sophisticated, more or less mature platforms, to finally choose the 3D solution that is interactive, immersive and adapted on tablets, computers or smartphones", indicates Laurent Chrétien , General Manager of Laval Virtual.

To keep the audience's attention on the event, it is important to foster interaction : "We must imagine multiple forms of interaction, without following the participants around", explains Grégory Maubon, Co-event Manager. Participants took advantage of the 150 conferences and round tables, they were able to play games and participate in the presentation of the Laval Virtual Awards. "Social" spaces were created with a beach or a football field where visitors could chill and chat. At MeltingSpot, we offer many features to promote interactions : to chat on a 1to1 setup , to make appointments, to share content on the event's news feed, to discussion in groups ...
👉 Want more ? Request a demo!
It is essential to offer a dedicated space to the exhibitors to meet with their customers and prospects. This is why the event managers have given private offices for product presentations or scientific work. Rooms were also available for partners to host their own event or working groups during the event.
The 100% online customer / partner appreciation day
Each year, Quantalys is used to bringing together customers and partners around round tables and conferences. The company decided to turn its physical event into an online event. It was essential to :
Choose a solution based on your business objectives. For Quantalys, the objective was both to boost their partners' visibility and to collect information about visitors. "We could have simply made Youtube lives and uploaded them on our website. It would have been money-saving and easy to achieve. But we wanted our partners to gain more visibility. That is why we chose MeltingSpot", explains Mariane Barré, Event Manager at Quantalys.
Train. "I would have saved so much time by making tutorials or FAQs to make the platform easier for partners and the public to use" she adds.
Offer virtual stands to partners for customers to come and discuss or attend demos.
Test and retest the tools during the preparation phase.
Remote product launch
The virtual product launch is the opportunity to :
Reach a large audience. You can invite more people. This is how Laneige, the cosmetics brand could launch its products from New York and Los Angeles. A virtual launch enables them to invite influencers from across the United States and connect with fans who live in cities where they have little presence.
Inspire by focusing on creativity and interaction. Laneige had planned 3 virtual backgrounds where participants could take pictures with Zoom.
Invite experts.
Make demos that remain online long after the event.
The online conference
As with any event, managing an online conference begins with choosing a video conferencing platform.
Pick it out according to the features you need (question/answer, screen sharing, sending files, chat, etc.), the number of participants and speakers. Don't forget to test it out and teach your guests on how to use it. There might be a technical bug !
Plan pre-registrations to collect the number and details about the participants.
Give them the opportunity to share the event on their social media,
Teas your event with samples of guest interviews or previous events.
Provide tools to encourage interaction. This is how you pep up an event : quiz, brainstorm, vote, chat ... be creative !
Networking meetings
Some networking clubs like Univers VO or the Club have had to redesign their entire work procedure because of Covid-19. They had to be proactive. "We wanted to go for it and learn by doing it. It's new to us, the benchmarks are different. Without trying and taking action, it is impossible to grasp the subtleties", explains Julien Le Clère President of Univers VO. They have decided to :
👉 Start with a simple but effective structure
👉 Think digitally : "We must not solely replicate the face-to-face meeting practices. Digital events' asset is the ease of use and efficiency and this is where we need to focus on. It is also new to the visitors, let's support them" he advises.
👉 Put the interaction at the forefront. Coming to a live conference on the Internet only makes sense if the audience has the opportunity to interact. All the more so when it comes to professionals with relevant opinions on the topic !
Do you also want to launch your virtual event ?