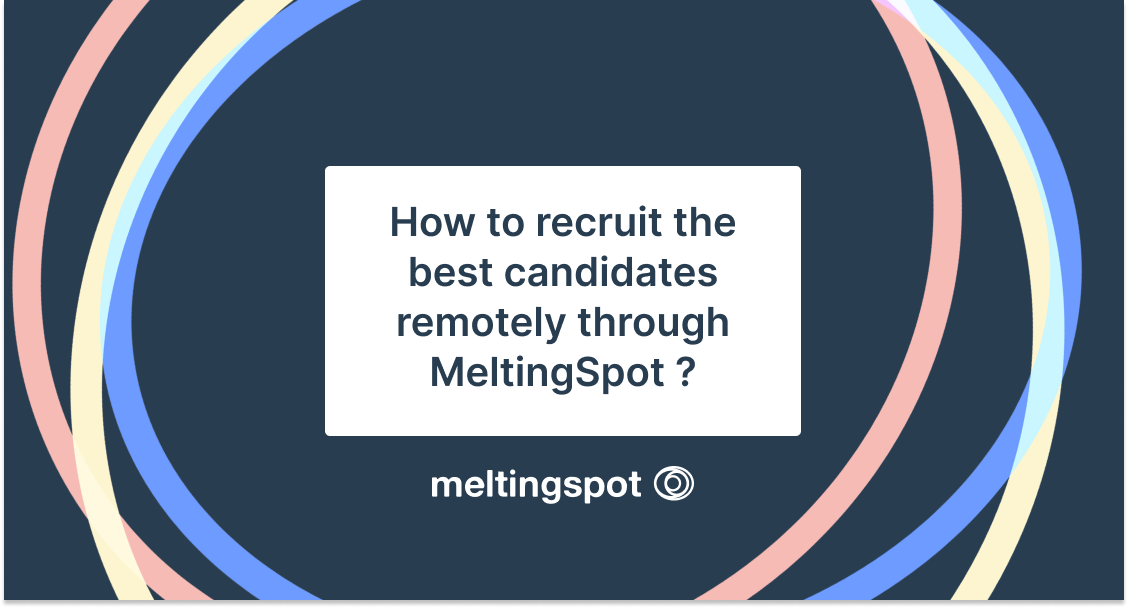 Are you looking to organize a recruitment forum? Here is everything you need to know.
What do you think the best recruiting forum is ? Where recruiters can find the best profiles from the most prestigious schools ?

Recruitment forums aim to provide companies with a maximum of qualified profiles and to candidates the opportunities available to them 😉
The perfect recruitment forum therefore implies:
👉 as many diverse and qualified candidates as possible
👉 various companies
👉 various offers
👉 outstanding organization and logistics to get people to meet, discuss, interview or be interviewed and to get informed.

What if the 100% digital format was the best option?

The perks of a 100% digital recruitment forum
Save time
Some will tell you that there is nothing like a physical meeting to recruit a new team member, but keep in mind that not the whole recruitment process is done on the forum 😉

The first contact and the first interviews can be done through a digital event. This is the right format to carry out a first candidate and company sorting.

The digital format can help you access much information at once: CV, company details, job offers. Indeed, at physical events, candidates walk through the event stands while searching the company details on their smartphones 😉

Connect with participants: companies, candidates, organizers
On a physical forum, unless a very small one (that is, not the best format), candidates have a hard time meeting each recruiter on their stands.

Their availability depends on how many people gather around their stand. Yet, they might not match the candidate's needs. We have all seen a candidate who had waited for hours before being able to speak for 5 minutes to a company representative. They could only eventually put the resume on a huge pile of resumes.

Same for recruiters, they can't actually spend much time discussing with a candidate when there is a whole line waiting behind 🤔

Access a 100% complete forum
This is the major advantage of a 100% digital forum. Before it begins, recruiters can upload their company details, offer appointment slots ...

On a platform like MeltingSpot, your digital forum will look 100% like a physical forum with:
👉 a virtual conference room to carry out your meetings: presentations (live or pre-recorded) by your partners, sponsors or exhibitors, etc.
👉 an exhibition hall with virtual stands to put the exhibiting companies at the forefront.
great visual content : text, photos, pre-recorded presentation videos, testimonials ...
a "live" experience for exhibiting companies. They can also pitch in real time for 20 minutes.
👉 recruitment interviews (or job dating): each company can make up to three private video conference appointments on its stand.
💡 The appointment booking feature is completely integrated into the platform. They can be made during the show, you can also encourage the students to book the appointments ahead of time.
Collect precise data
As the organizer of a digital forum, you will access very detailed data after the event: most popular stands, number of job applications, average connection time per candidate ... This data will give you and the recruiter a better understanding of the expectations and behaviors of the participants 😉
more time to discuss
more affordable ==> thus accessible
can plan things in advance
simpler logistics for the organizer

Create and set up your digital forum on MeltingSpot: the steps to follow
Create the content of your registration link
This link is essential: this will enable your participants (here the candidates) to register for your event. It is crucial that you set it all up asap to spread it !
You are the one who will choose the information you need from the registering candidates: last name, first name, LinkedIn profile, CV ... The choice is yours !

👉 This registration link might come along with the event-dedicated landing page.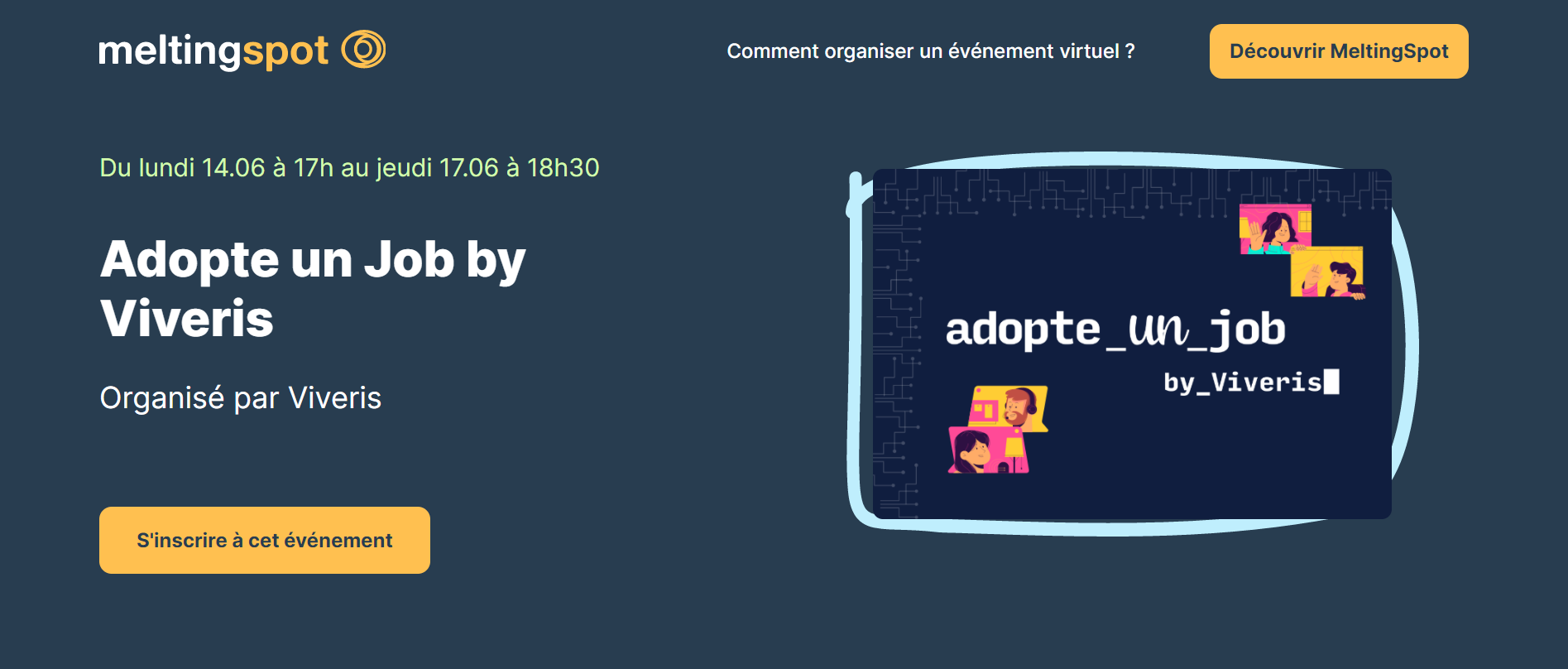 Here is an example of a landing page with the Viveris Recruitment Forum 😉 👇

Configure your forum tags
These tags will give you the opportunity to offer each candidate a personalized plan and enable them to spot the very use of your event to them. For example, you can create a tag :
✔ by business: human resources, marketing, sales ...
✔ by sector: industry, banking, IT ...
✔ by studies / diplomas: business schools, engineering school, graphic design studies ...

Thanks to these tags, you will be able to collect relevant and useful data upon registration!

Create and customize your content
This is a two-step process: the stands first, then the lives

✔ Recruitment stands
Each recruiter will get their own stand and will be able to add up its own content: job offers, company presentation, etc.
He is also the one who will manage his own agenda: set up his appointments and how long.
The many agencies are looking for candidates during the Adopte un Job By Viveris event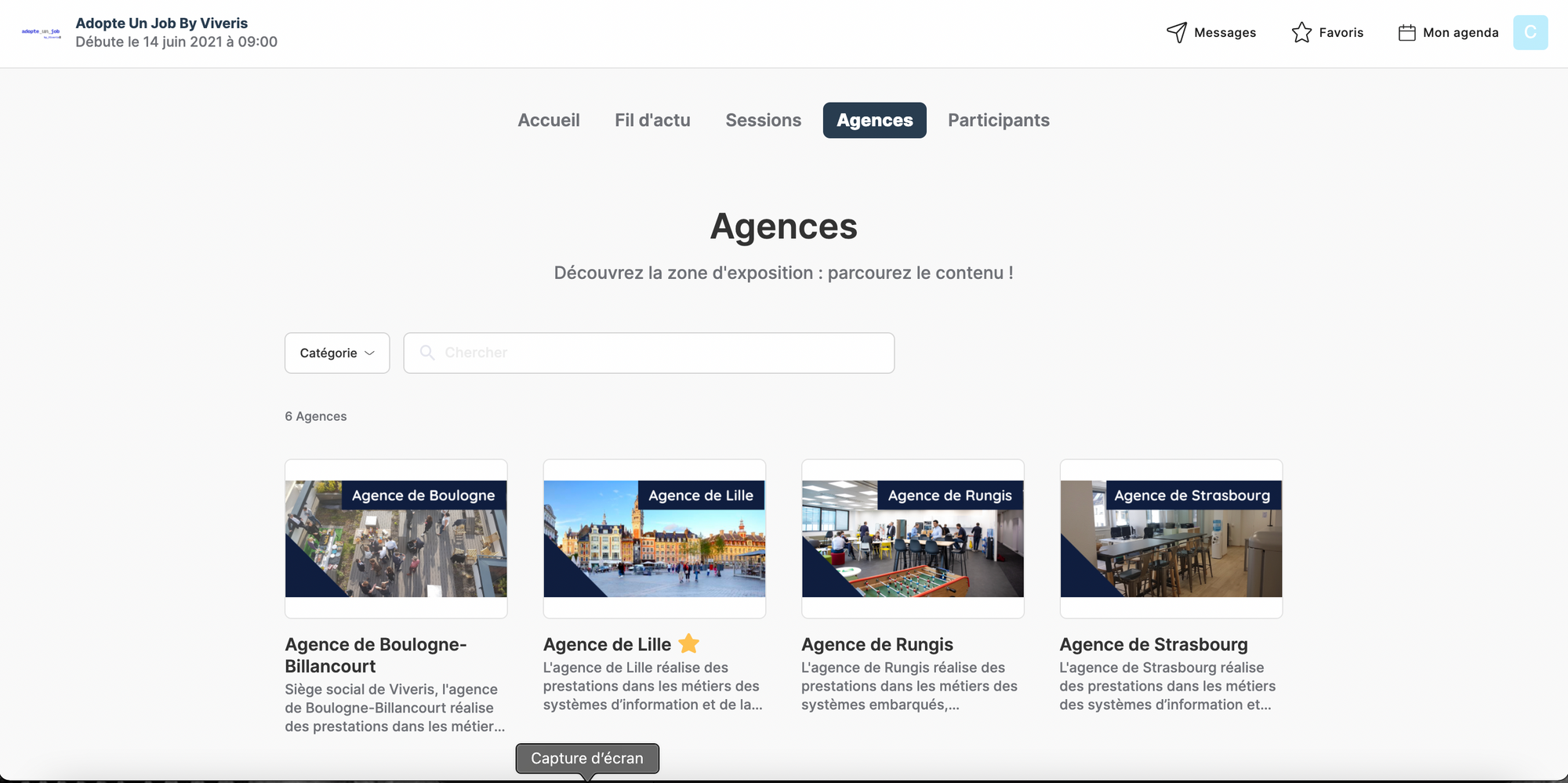 ✔ The lives
It's up to you to add your conferences, keynotes, workshops, everything you have planned on your forum agenda !

Follow our control room test and launch your event
Your event manager will make some audio/visual tests and make sure you can control the platform.
Ask any question you want !
You can then launch your event on D-Day or a few days before, it's up to you 😉

Prepare your communication plan and activities
Before, during and after your event, it is important that you communicate about it to gain visibility. You'd also need to prepare some entertainment!

Energize your forum
Plan and design in advance some surveys, questions and content that you want to share in the news feed in order to engage your audience as much as possible!

Communicate on your forum
Some best practices:
👉 Communicate before, during and after the event to tease, gain visibility and engagement that will last!
👉 Plan a communication strategy on various channels through each stage : emailing, social media, advertising ...
👉 Encourage recruiters to promote the forum by sharing some communication kit
🚀🚀🚀 Did you like this content?