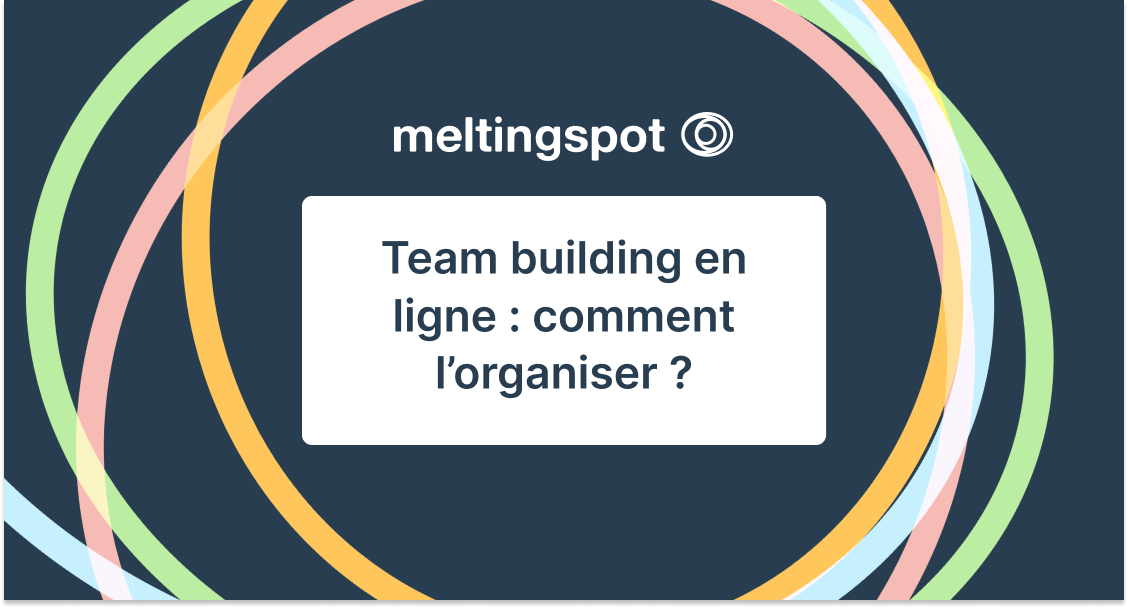 Above anything else, the company performance depends on the individual and collective well-being of employees.
According to a study from DIRECCTE, improving  well-being at work would boost the staff engagement, creativity and reduce absenteeism.
But now that remote work has risen, how can we ensure employee wellbeing? How to motivate them, unite them and spread a bonding corporate culture?
The first answer is: to organize virtual events ! There's nothing like an online event to increase the cohesion of the team in a joyful and good mood. Do you need tips for successful team building ? Here our tips for the right activities and the right platform 👉
Virtual team building : how does it work ?
Team building is an activity for employees to boost internal communication. The objective is to bring the staff together and improve cohesion on a business day.
Usually held face-to-face, corporate team building days are now frequently held online in order to reduce health risks and to simplify its organization.
The number 1 step for a successful team building is to choose the right activities. You can involve employees or make a surprise on D-Day. Here are some activities :
✅ "icebreakers" to start online team building. There is no better way to break the ice than to start the team building by bonding with the team. Here are the ideas of MeltingSpot : two truths and a lie to guess, find 5 common points with a colleague, tell a fun anecdote, share challenges…
✅ Collective challenges : challenges will improve critical performance and encourage team spirit. The idea is to mix employees from various departments to make groups that compete against each other for a sporting, creative or fun challenge. Quizzes, treasure hunts or virtual escapes games are the new trend !
✅ Workshops : this event is also the opportunity to call on external expert to share skills. Be sure to choose themes that differ from your industry, so as not to extend the working days. Remote cooking classes with a chef, cocktail workshops with a mixologist or even gardening workshops to spend some good time with the staff.
✅ Interactive virtual shows : have you thought about offering your employees a show, in which they can participate from home ?  The goal is to get each employee to participate in the event : magic tricks or private concerts where every song is to be guessed !
✅ Virtual happy hour : you can also make it simple. Employees dream of meeting over a drink on the terrace ... But while waiting to share such moments, organizing a virtual happy hour is a good compromise. Remember to set some simple rules, for example "no work related talks" ! To make this moment even more fun, you can also send a surprise package to them, filled with items to be enjoyed together remotely.
For a successful digital event, remember to choose interactive activities, adapted to the distance and which create a chilling atmosphere.
At the end of the event, also remember to collect the employees' feedback. This will help you improve the next team building session.
What is the right platform for an online team building ?
Finding THE right idea for a business day is sure essential but here is the next step. To hold a successful team building, the platform is important.
To organize a virtual event, there are a lot of existing solutions : Skype, Zoom, Google Meet ... Video tools are multiplying. But are the features suitable for an online team building ?
Not really. An engaging and tailor-made virtual team building requires interaction and a personalized interface ... You might as well choose a turnkey platform like MeltingSpot !
The perks are  :
🚀 Possibility of creating a unique format (according to you brand and in white), to make the online team-building experience even more unique !
🚀 Ease of use, for both organizers and participants. The solution is reliable and intuitive, to foster employee engagement at all levels.
🚀 More interaction, collectively or individually. "1 to 1", "many to 1" or even "1 to many" exchanges are useful for team building day activities that combine public and private exchanges in teams.
🚀 Ability to organize hybrid events thanks to MeltingSpot, to bring new ideas into life. The solution mixes up virtual and physical events : what if tomorrow's team building relies on phygital ?
To boost internal communication, bring teams together and strengthen cohesion, the only one solution is to organize an online team building ! And to make this business day a success, organizing original activities is not enough ... Remember to choose the only turnkey platform that will unite and engage all your employees 👇