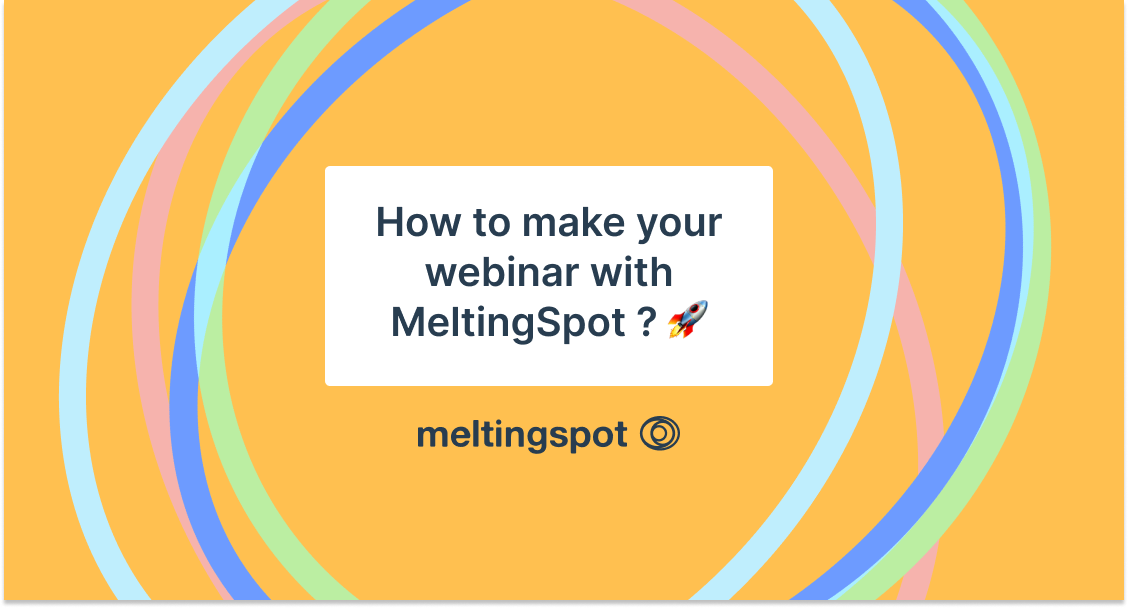 We explain here how to make an engaging, interactive webinar on which your participants will be able to learn, exchange and especially participate 😉
The webinar, the very first virtual event format
👨💻 The word webinar was created to refer to all forms of interactive meetings done via the internet usually for collaborative work purposes.
On most of the webinars you have attended you may have realized that the interactive features were quite poor?
😊😊 This is normal, indeed webinars are most often organized on platforms dedicated to traditional webinars. These platforms thought the webinar as a discussion space between a speaker and an audience with a single video stream.
The speaker can talk to you and show you his screen but as a participant you cannot participate, speak or share content.
Your attitude is more like that of a spectator in front of his TV than an active participant in an event 😉
And this is normal because traditional webinars have nothing to do with virtual events. As a reminder, we have listed their major differences here: webinars and virtual events, what are the specificities of each?
Organize a webinar on a virtual event platform: the advantages
A virtual event platform is designed to maximize interactions and focuses on the event aspect of your meeting, more than on the digital dimension.
With a virtual event platform, you can:
👉 manage multiple incoming speakers on a single webinar (and therefore multiple incoming streams)
👉 have access to an integrated mini control room to manage the sound, have a background in the color of the client etc...
👉 realize the captation of your webinar the day or before in the recording studio of your choice
👉 share content before your webinar on the same platform
💡💡 At MeltingSpot, we give you access to a social feed: a space dedicated to content sharing, interactions and exchange. Each participant can access this content, interact on it and share more! A very effective way to make your audience active and interact 😉
Discover our social feed 👇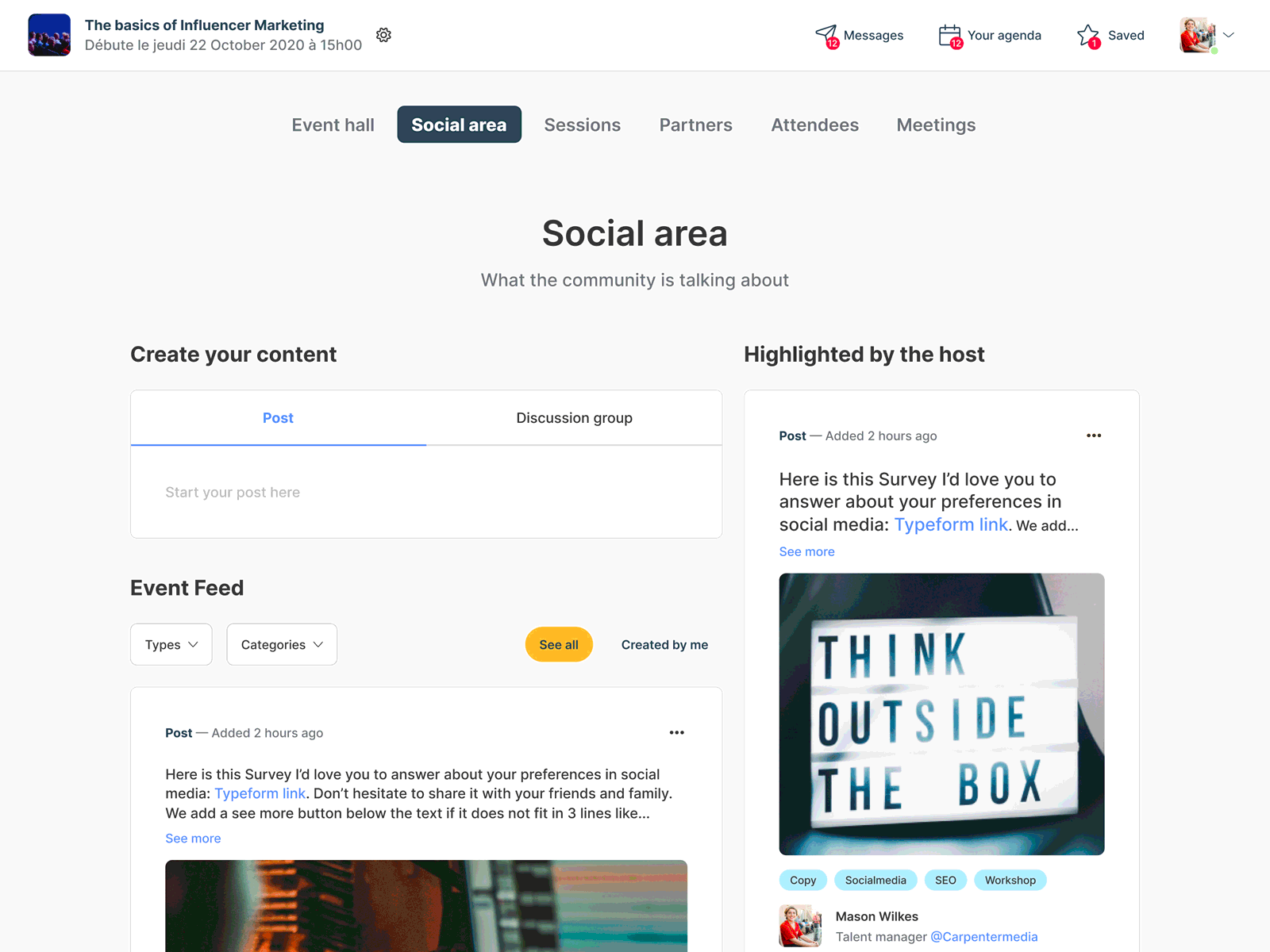 👉 exchange with your participants in the chat
It is notably this feature that convinced Laurent Tirard, director of the communication agency Acteris and organizer of several webinars on which guests such as Edouard Philippe and Michel Barnier followed one another, to opt for our platform.
One might think that a virtual event platform is more suitable for a trade show than a conference. But it allowed us to have interesting functionalities that we would not have had with a simple videoconference tool. Thanks to the chat, guests could ask questions during the live session.
Laurent Tirard, director of the communication agency Acteris

Here is an example of a chat during a webinar organized on MeltingSpot with Michel Barnier.

👉 Automatically manage the sending of invitations
This point is not to be neglected because it sends back a very professional image 😉
Create an interactive webinar with a platform like MeltingSpot: steps to follow

Step 1: define the key information about your webinar

This involves establishing:
✔ the objective of your webinar
Is it a webinar that aims to generate new leads? To feed your community? To animate a network of partners?
✔ The number of speakers on your webinar and therefore the number of video streams.
Each speaker who will be at a distance will be the subject of a video stream.
For example, if two speakers are in the same recording studio and exchange with a last one, who is at home, you will need two video streams.
✔ the unfolding
How does it start? Do you give participants the opportunity to express themselves in the chat? Do you offer animations like polls?
How long does it last?
✔ the graphic charter
Name, logo, typography, colors, communication elements
✔ the registration mode
Is your webinar private or public? What information do you want to request at the registration stage?
Step 2: Set up your webinar on MeltingSpot.
👉 Create your registration link
This is where your participants will be able to register. Don't hesitate to create it as soon as possible even if your webinar is not yet fully set up because it won't be open to the public yet.
Enter the information about your webinar: title, detailed description, banner and configure the information requested from your participants (name, first name, email address, etc).
👉 Configure your content on our backoffice: lives and stand
It's up to you to add your different lives and speakers as well as your booth!
👉 Follow our control room test with your dedicated event manager
We fine-tune all the elements with you and test the sound and image in order to open the event when everything is perfect 😉
👉 Opening of your webinar
On D-day or a few days before: it's up to you!
👉 Prepare the animation
You must anticipate the animation of your webinar (the final script) by planning the polls, the break time, the questions you want to ask etc but also the animation the moderation of the chat 🙋♀️🙋♂️
Step 3: prepare your communication
Before, during and after your webinar, your communication must be impactful!
You will need to establish a solid communication plan that takes into account several data:
👉 the communication channels you want to use
👉 the types of communication
Some communications are going to be transactional (like an email to remind your attendees to log in), others are going to be more inspirational (like a post on LinkedIn to share an article related to your webinar)
👉 the timing of your communications
Before, during, after your webinar
👉 the actors of your communications
Will you rely on some of your speakers? If yes, how? Don't hesitate to offer them some examples before the webinar 😉
Our tips to maximize the impact of your communications
Before your webinar
Your communication is going to be used to generate registrations, give information about your webinar and warm up your audience before the event!
Think about establishing a hashtag for the event, communicate on the right channels (social networks, emailing, newsletter etc.) and take advantage of the visibility of your partners and speakers if you have any!
Don't forget to relay your webinar to groups of people or ambassadors who may be interested in the topic.
During your webinar
Keep communicating during your webinar to remind latecomers to come and connect or even new registrants to arrive!
You can even share real-time images from the event to do more teasing 😉
Feel free to also share information about your webinar topic such as an infographic, key figure or blog post on the topic.
After your webinar
Capitalize on your replay!
The first thing to do is to send an email to thank your participants, give them access to the replay and send them information collected during the show like key figures or verbatims.
Use pieces of your replay to tease on social networks and why not in some content: emails, blog posts,...
🚀🚀🚀 Interested in another virtual event format?