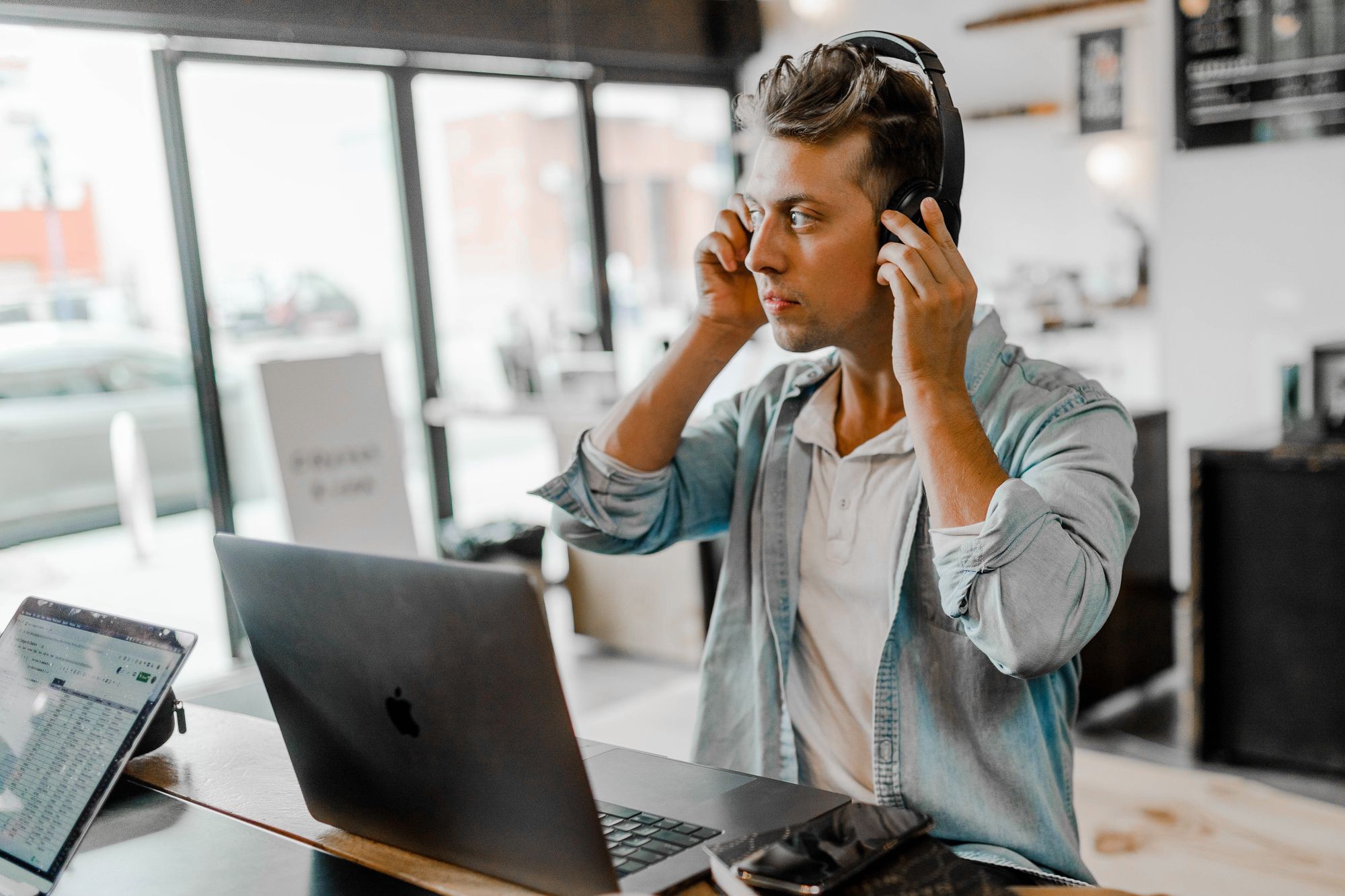 For many companies, launching a virtual event is a new experience. Virtual and hybrid events are both technical and human, so companies quickly understood that it cannot be organized like a physical event.
"It's a new job, the benchmarks are not the same. Trying and taking action is the only way one can understand all the aspects'', explains Julien Le Clère, president of Univers VO who organized his first digital client days.
A successful virtual event is a technically flawless event
Technically, the virtual event should run smoothly and be easy to use, otherwise you lose your attendees. Since not everyone is comfortable with digital tools, the platform should be accessible and the design intuitive. 😉
Registration should also be simple. Create as few steps as possible: last name, first name, email address.
Facilitate the login process. Your participants should be able to log in and out multiple times. So be careful! They might not come back if the login process is tricky. Support them. For example, you can send them a quick note on how to use the features: chat, screen sharing…
For partners and users' convenience, create tutorials or FAQs. "We need to educate users," says Mariane Barré from Quantalys, who organized her first virtual professional meetings in December. During the IFCAM (Crédit Agricole University) sharing days, the organizers trained the speakers, exhibitors and facilitators on the platform. You can prepare mock presentations, offer dedicated support, and gather a WhatsApp community to promote mutual assistance.
Anticipate the issues your participants may face: set up a space where they can check that everything is working before a live.
Share the event schedule ahead of time.
If this is your team's first virtual event, they too need to get onboarded and informed on the workflow and the logistics. Speakers have to master the settings.
The bug : the organizers' worst nightmare
"More than anything, I feared a server shutdown that would prevent people from logging in," Marianne Barré told us. And she's not the only one. To make sure everything runs smoothly, here are a few rules to follow :
Test and retest your tools during the preparation phase :
✔ Loading and bandwidth (the platform should be able to welcome participants)
✔ Chat, screen sharing and much more features
✔ The microphone
✔ The brightness and the position of your camera (neither up nor down but right in front of the eyes)
✔ The smoothness of your PowerPoint presentation and every digital content
✔ Make a list and check all the tools you need so you don't forget anything on D-Day
Communication : key to the success of a virtual event
In order to get more participants and improve interactions during your event, you must develop a strong content strategy. The goal is to boost your reputation on social media and the other channels: newsletter, marketing content, blog…
Put social media at the core of your marketing strategy and make your attendees the ambassadors of the event: encourage them to share information on the event through their networks.
Upon registration, offer them the opportunity to share the event.
Make the most your social network app features: for example use the Instagram countdown or the creation of Facebook events.
Make an event teaser with samples of guest interviews, previous events or debates and round tables.
Inform journalists and influencers on your topic at least 15 days prior to the event. Write a press release and or offer an interview. Give as many details as possible: logo, meeting topic, detailed program, speakers and of course the date and time.
Carry out a sponsored ad campaign to broaden your target audience. Involve your teams by encouraging them to share the event. Prepare images, videos, event tracking URLs and messages to share on their social networks 🎯🎯🎯
A successful virtual event is an event where people interact with each other

💡💡 A virtual event is not just a "digitized" physical event. "We must think outside of face-to-face meetings processes", explains Julien Le Clère. Indeed, behind a screen, participants tend to barely listen or completely drop out. To avoid this, it is essential to :
Offer some high-quality content
On a virtual event, content is essential. To attract your target to your event, rely on speakers and a high-quality program.
Create a unique experience
Marketing or event managers must be creative in order to offer a unique experience and offer unforgettable moments to participants.
Promote interaction
An event is called successful when it catches the public's attention and when attendees can talk to each other, ask questions, interact, meet and make unexpected discoveries.

🔥🔥 Here's how you can improve the engagement rate:🔥🔥
✔ Plan breaks because the attention span on a screen is shorter. It's about encouraging questions, voting, comments and meetings.
✔ Live polls, chat and Q&A: virtual formats are effective ways to break down barriers and facilitate audience/speaker talks.
✔ For networking or product demo sessions: use virtual stands where exhibitors and participants can meet and talk.
✔ How about fun and engaging strategies ? Games can be extremely engaging for participants. Be creative: polls and contests with attractive prizes will create interactions within your event. But beware, gamification strategy is effective only if it matches with your event.

A successful virtual event is an event where participants take part in the event
⚠ Don't judge the success of your event only over the number of attendees. Sharing knowledge with a small, dynamic and engaged group will bring far more satisfaction and positive feedback from your contributors than a silent crowd in front of their screen. "We have noticed a great willingness to interact from the participants. They also want more exchanges between them", rejoiced Julien Le Clère during the review of his event. The speaker becomes a debate moderator who gets your audience to take part in the discussion.

📣📣The real condition of success is interaction, their relevance and duration. 📣📣
If your participants are still online after the end of the event, discussing or if they make long lasting contacts, that's how you know you nailed your virtual event !
To achieve such results, a few points should be followed:

Promoting serendipity : the dream of the organizer
Much more than a program, the success of an event relies mostly on the discoveries, the meetings and the unforeseen exchanges. Now it is up to the participants to take the opportunities that may arise !

This is called serendipity (the fact of making unexpected discoveries and the ability to grasp its usefulness) and that's every good event planner's dream !

Find the same emotions as in person
Behind the obvious coldness of a screen, emotions and warmth may appear. "I was surprised how emotional I got when we launched the event. I found similar feelings as on face-to-face events", recalls Julien Le Clère.
👉👉 Are you ready to embark on the adventure of a digital event?