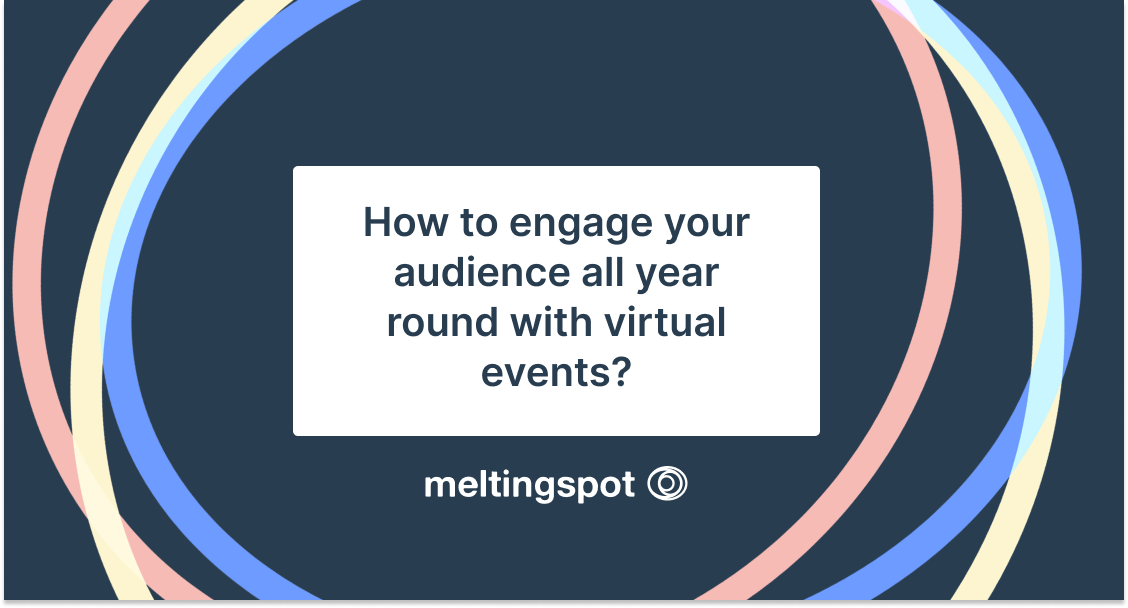 Do you want to know how to engage all your communities all around the year? You must read this article! 💪🏻
Do you want to engage your customers, employees or partners by bringing them together for a virtual event?
It's a good idea, but not always enough. If organizing an event allows you to gather... It doesn't always allow you to engage your audience over time.
So how do you create a real engagement strategy with virtual events? What types of virtual events should you focus on to engage your audience all year long? All our answers are in this article 👇
The "magic" equation, to engage your audience all year round
Engagement is a strong word, often misused. In business, employee engagement doesn't happen through an isolated action. The engagement of a community of customers is also built over time, thanks to personalized attention or privileged moments of sharing.
So how do you lay the foundation for an engaging strategy through virtual events? The answer lies in an (almost) magical equation:
💡 Varied event formats + high value-added content + respected regularity = guaranteed audience engagement!
To better understand our equation, here are our explanations:
Varied event formats
To engage an audience, it is essential to vary the event formats you offer. You can alternate between physical and virtual meetings or hybrid events. And why not organize webinars, then online shows and workshops depending on the month?
Whatever your objective (sales, recruitment, marketing, etc.), the variety of formats allows you to organize new meetings that stimulate curiosity... And ultimately, to boost engagement.
High value-added content
At this stage, the idea is not only to vary the event formats. The form does not guarantee the quality and success of a virtual event... So, think about structuring a relevant content, with high added value for your audience.
To find interesting content ideas for your audience, don't hesitate to solicit them before the event. You can for example propose a survey on social networks to choose the theme of the event, in order to evaluate their preferences.
Recurrence respected
The form and content of the event are two essential criteria to structure. But to encourage engagement, it is important to plan a recurrence of virtual events.
Indeed, regularity is one of the keys to engagement. Whether it's your Inbound Marketing strategy or your event strategy, think about planning recurring events... that last all year long! This way, you multiply the opportunities to create a link and you energize the relationship.
Now that you know MeltingSpot's favorite equation, one question remains: what types of events should you schedule, to engage your audience year-round? 👀
6 virtual event ideas to engage your audience year-round
Whatever your goals, the target audience or the messages you want to get across, virtual events are always a great time to meet.
To inspire you in the structuring of your event strategy, here are X ideas of formats to decline over the year :
1- Bi-Annual Customer Day
Twice a year, MeltingSpot recommends that you organize a customer day. The idea is simple: invite your entire customer community to a meeting around a theme. For example, the launch of a new product is a perfect opportunity to gather your customers.
🚀 Bonus tip: this event format is as effective in BtoB as in BtoC, to engage an audience!
2- Quarterly trade show
To boost your quarterly goals, one event format is particularly interesting: the trade show. Since the beginning of the health crisis, many trade shows are now held virtually. So digital is not a hindrance to organizing such an event... On the contrary, with a platform like MeltingSpot, you should rather expect a real time saving and a tenfold increase in participation rate.
🚀 Bonus tip: this virtual trade show format is ideal for the recruitment industry!
3- Bi-monthly workshop
Virtual events also represent an opportunity to regularly review your product, service or customer strategy. By organizing a workshop twice a month, you can easily collect feedback for continuous improvement. These workshops can also foster the co-construction of new offers.
🚀 Bonus tip: this idea works just as well for a customer workshop as an employee workshop... Why not even alternate between internal workshops and then external workshops with a community of loyal customers every month, to boost engagement?
4- Monthly conferences
Monthly conferences are a great opportunity to offer relevant and regular content to your audience. By varying the topics every month, you promote both engagement and the conquest of new members to grow your community.
🚀 Bonus tip: this format to be renewed monthly is as effective for small startups as it is for large groups to engage an audience.
5- Annual seminars
Every year, one event format that appeals to many companies is this: the annual seminar. This long-awaited corporate moment can easily be adapted to remote, thanks to the organization of animations or cohesion exercises.
🚀 Bonus tip: this type of event is perfect for thanking partners or collaborators every year, at Christmas time, at the beginning of the school year in September or before the summer vacations.
6- Quarterly team building
At the end of each quarter, to motivate, federate and develop a strong company culture, have you thought of organizing a team building? This online company day or evening is a great way to boost internal communication.
🚀 Bonus tip: a team building is even more engaging with original activities, like an interactive magic show, a treasure hunt or a virtual escape game.
You get it: to engage an audience over time, varying formats is key. But you also need to think about the quality and recurrence of the content delivered... And the choice of a platform to support you!