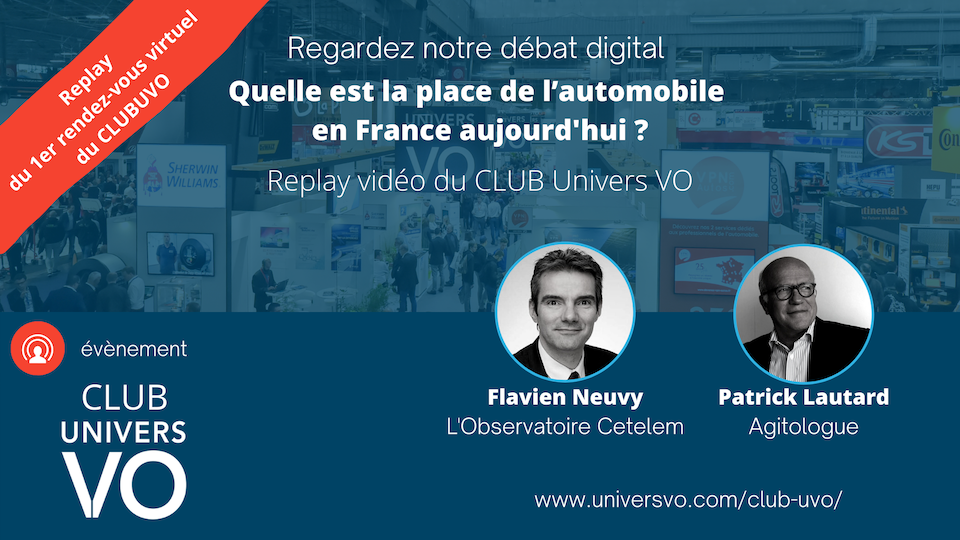 Covid hit hard. The major events of 2020 have been cancelled, leaving many businesses at risk.
What if meetings and networking are the core of your brand, just like Univers VO Club ? This networking club could get back on its feet thanks to virtual events. Julien Le Clère, its president, explains how he successfully managed to gather more than 170 automotive enthusiasts for 1h30 thanks to our MeltingSpot platform.
"Univers VO Club is the meeting place for decision-makers in the automotive remarketing community. We were a physical event in the first place. The goal of our meetings are to discuss, build and find solutions on the automotive distribution market and especially automotive remarketing. Since the health crisis, we had to reinvent ourselves", explains Julien le Clère, Founder of Univers VO.

Adapt
Adapting its strategies is key now that everything is unsure. Like many companies, Univers VO quickly decided to adapt from a traditional event to a virtual event. "We considered digitizing part of our events only in the last quarter of 2021. Things went faster... We wanted to free ourselves from the money and time waste of travelling", adds Julien Le Clère.
Respond quickly
Digital platforms now offer opportunities to find effective solutions that can be adapted to everyone's needs. Rather than spending time analyzing and trying on all the options, Univers VO decided to learn by doing. "Our priority is to gain as much experience as possible. It's a new discipline and there are many strategies. Trying and taking action is the only way to grasp all the subtleties of it."
Less is more
Diligence is the mother of good luck. "Less is more" is Julien Le Clère's motto. He started off with a simple but effective tool that can respond and provide concrete solutions. "I have seen too many businesses fall into this trap of complexity. We preferred to start with an event-style tool.". This first event, held on MeltingSpot platform on Thursday, November 15, gathered more than 170 participants for 1.30 around 3 conferences of 30 minutes each. Club members can chat anytime with the facilitators.
Design digitally
From a physical event to a digital event, we think differently. Ergonomics, main menu, interactivity, temporality... Digital sure knows how to adapt but also gives constraints that Julien knew about : the audience remains behind a screen. Visitors will come back only after a successful first experience. "We must think outside of the box : the codes of a face-to-face meeting no longer apply. Digital events must focus on efficiency and ease of use. Keep in mind that this is our visitor's first experience, too. Let's not burden them" he advises.
Interaction as the event's priority
Coming to a live conference only makes sense if the audience can interact. Especially when it comes to professionals who can contribute to the speaker's speech. This is a key parameter to a recurring event as Univers VO's. "I got emotional when we kicked-off the virtual event, I didn't expect that. I had the same feelings when we launched the physical one. We noticed that the participants wanted to interact with each other. We are working on promoting this more and more." says Julien Le Clère.
Assess
Virtual events are very powerful tools for creating interaction and providing opportunities to meet potential clients. Thanks to this first experience, Julien Le Clère has found two new partners and 3 potential ones. "The commercial aspect is a bonus. Things just happen naturally. We are more than satisfied with this first edition. More to come in 2021", he concludes.