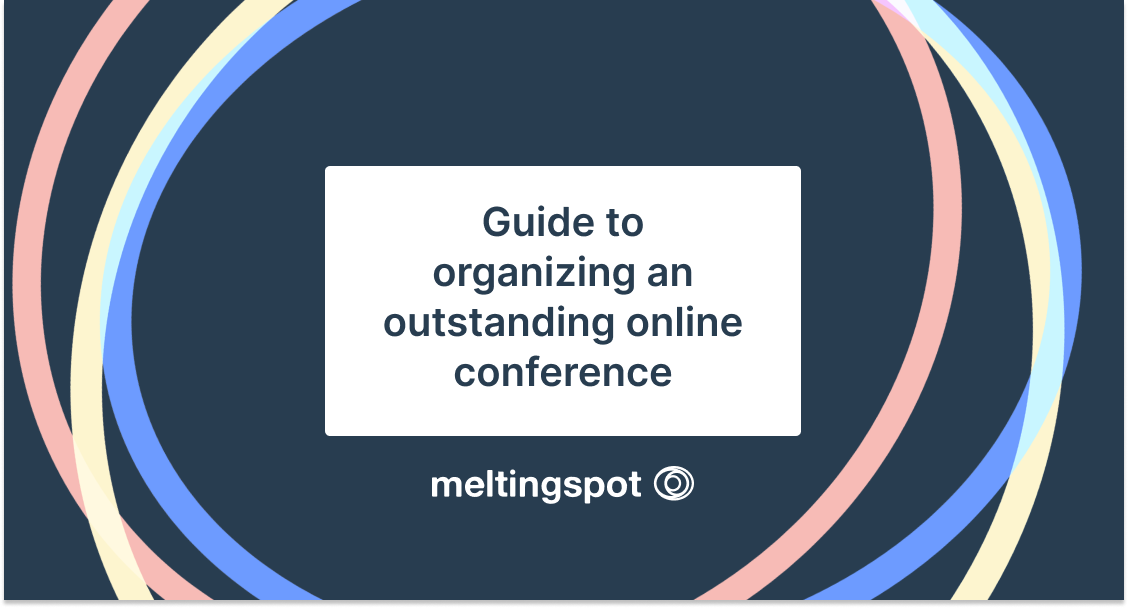 With the pandemic, online conferences have boomed in 2020 and 2021. Not only do they help companies maintain a good customer relationship, but they also increase their brand visibility and stand out from the crowd.
Indeed, there are two main advantages of organizing a web conference : putting yourself as an expert in a specific field and generating quality leads 😉. The conference is generally led by a facilitator who, with one or more experts, deepens a specific theme. That might sound easy, but a successful event needs to be thought through and well organized.
The perks of a successful webconference
To attract your target audience and to make your event attractive and engaging, give yourself time to:
👉 Find an impactful subject : The goal of web conferencing is to find THE subject that will catch your target's attention that they sign in. You can interview your customers, ask your sales team for their feedback, consider the comments and frequently asked questions on your social media. Ask yourself what important problem you can solve for your target.
👉 Call on an inspiring guest, an expert. If your budget is too tight, find speakers who can speak for 1 hour without boring their audience. Don't make them log out !
👉 Be concise, remember to prepare visuals or small videos to make the conference more lively.
👉 Make the public react! Via chats or surveys. Ideally, the conference facilitator could select a few questions and have guests respond live.
👉 Last but not least: choose the right platform! Ask a few simple questions : how many participants are you expecting ? What level of interaction do you want between guests and attendees? Do you want an interface design that matches your brand identity? Do you have specific service needs? Would you like an event assessment? Do you want a platform that manages registrations, sends emails?
All these elements must be taken into account when choosing the platform.
What tools do you use to organize an online conference ?
There are many existing tools to host a web conference, from the very basic softwares to the specialized ones. Each offers more or less advanced features. What are the differences? How to choose?
Basic video conferencing software
We all now know these video conferencing tools such as Zoom, Teams, Skype for Business or Google Meet. You undoubtedly use them in the many online work meetings you have been invited to since teleworking has been this popular. And you might tell yourself that they will perfectly do the job for your online conferences.
Of course, these solutions can be suitable for team meetings or simple conferences with few audiences. They are easy to use, but are quite limited concerning the number of participants, the connection time and the features.
Specialized web conferencing tools
If you have answered all of the questions suggested in the previous paragraph, chances are that you will start looking for more performing platforms like MeltingSpot.
They offer many advantages:
✅ The possibility of customizing your event : the platform adapts the interface to your needs, your constraints and your visual identity.
✅ Services that will save you time such as : registration management, event landing page creation or fully personalized email templates.
✅ 1 to 1 chat to enable communication between participants and of course all the chat options, surveys, questionnaires to interact during the conference ...
✅ Access to several incoming streams during the same conference and thus the possibility to view several speakers at the same time from your computer.
✅ An audience and its engagement assessments at the end of the conference: : the platforms have analysis tools that will give precise figures of the number of actually connected participants, the connection time, the logouts, the engagement rate commitment ...
✅ A participant satisfaction survey at the end of the conference
✅ Personalized support from a support team dedicated to your online conference
Using a specialized online conference tool : what are the perks and constraints? As you can see, a specialized online platform offers many advantages.
🚀 It offers a large number of useful features for your conference ;
🚀 It is (surprisingly) easy to learn ;
🚀 It offers a much more pleasant and memorable user experience ;
🚀 You are supported from start to finish ;
🚀 You don't have to worry about the technical aspect and can focus on the content ;
🚀 It alleviates the communication work (creation of the landing page, email template, registration management.)
🚀 It gives a dynamic, modern and professional image of your company
🚀 It offers valuable analytical tools.
And the disadvantages?
The price, do you think ? Do you really need to spend that much for an online conference ? Well, maybe. Especially when you compare the costs of a virtual event with that of a physical event. 😉