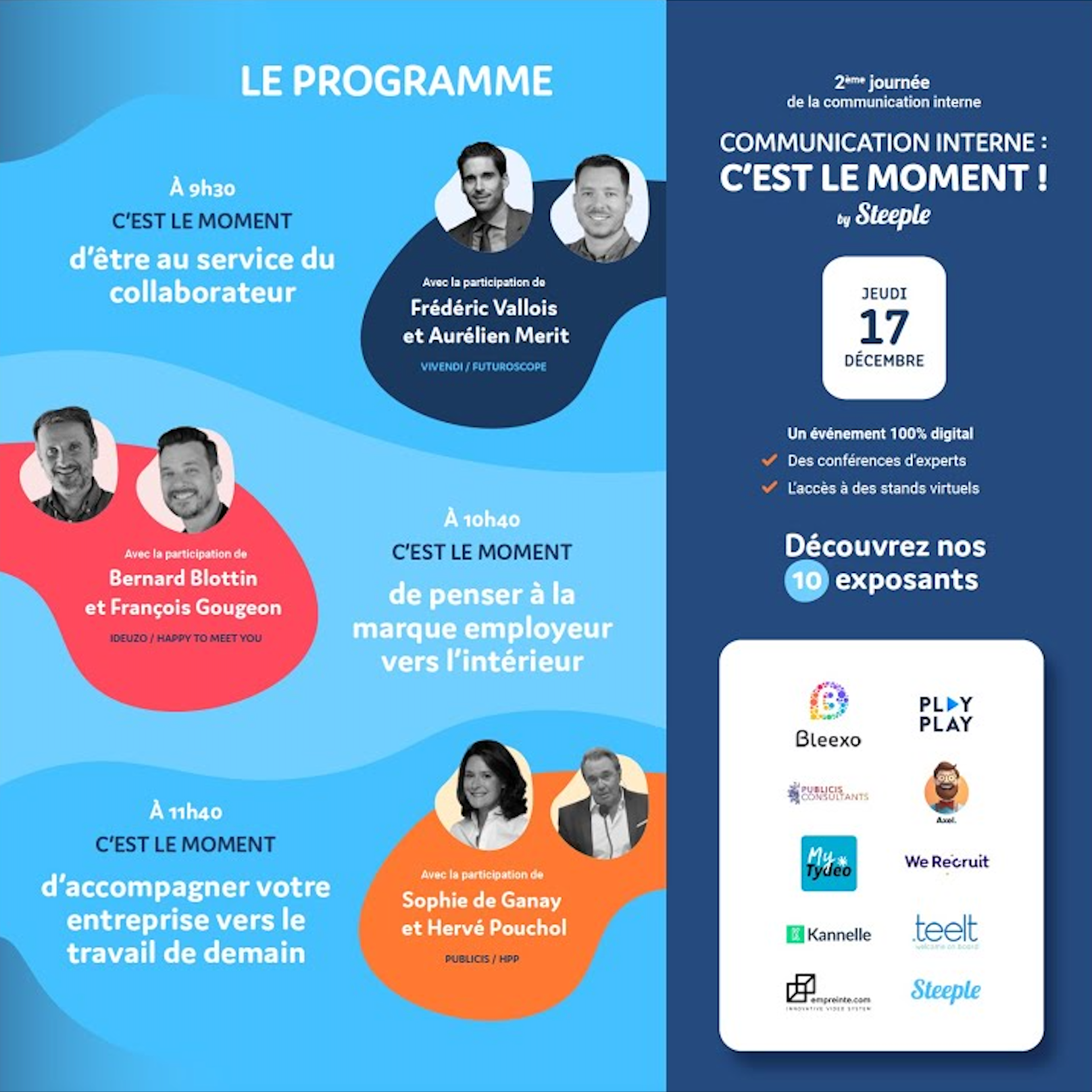 In 2020, Steeple, an HR french startup wanted to create an annual day dedicated to internal communication.
The main goal is to gain visibility and attract new customers. The global pandemic obviously disturbed companies' projects but not their motivation. They held on December 17th their first internal online communication fair. Julien Le Tutour, Steeple Event Manager looks back on this day.

Steeple offers a solution to facilitate internal business communication through various events "Events are part of our lead generation strategy, but also promote our reputation", explains Julien. "Our goal in 2020 was to create an annual day dedicated to internal communication. We wanted to gather as many prospects, customers and stakeholders as possible. We first started in June 2020, with a series of conferences held online within one day. Then, we wanted to evolve and involve more people. This is how this virtual fair idea came up: conferences and internal communication manager meetings."
Work with partners to increase your visibility
Offering other stakeholders to be a partner increases the visibility of the event and thus the number of registrants. "On this show, we worked with 9 other companies who got offered stands free of charge. As a return, we asked them to communicate about the event to their networks", adds Julien Le Tutour.

A challenge : keep your participants interested
The most challenging part of hosting a digital event is to keep the participants online as long as possible. You can lose a user's attention with an email or an emergency he has to deal with. In the case of Steeple, the show only lasted half a day with three main conferences. But registrants could also visit the companies' virtual stands and chat with each other. "We also opened the event 4 days ahead in order to access the platform and the stands so that participants can make appointments on the d-day", explains Julien Le Tutour.

One live for 3 conferences
To lower the dropout rate during the conferences, Steeple decided to launch a single live. "The usual setting is one live per conference. Between each conference, the participants would leave the virtual room and get in the next conference via another button. We didn't want them to leave the room and never come back. With a unique live, once they log in, they don't have to do it again", recalls Julien Le Tutour

Beware of short timings
Setting up a trade show requires an unpredictable amount of time. Yet the first virtual events are often made in a hurry. The company is discovering and learning how to use those new tools. "The project started at the beginning of November for a trade fair that was actually held on December 17th. I was aware that 5 weeks would be short: finding the right tool, the speakers, the exhibitors, the theme and then communicating is much work".

500 registrations : goal achieved
"My goal was 500 entries and that's exactly how many we got. 250 people eventually logged in. However, we collected only a few appointments at the stands. But the deadlines were very short. Lessons learned! We need to give our partners more time to prepare the stand and the meetings."

The virtual show enabled us to reach our target
"We had excellent feedback from the participants. There was a great engagement rate on the chat. Plus, we achieved our goal : attracting communication or human resources managers and recommending our platform to them. A large percentage of registrants matched the profile. We look forward to the next event. I hope that we will be able to reuse the MeltingSpot tool.", concludes Julien Le Tutour.
👉👉 Wanted more information about our platform?