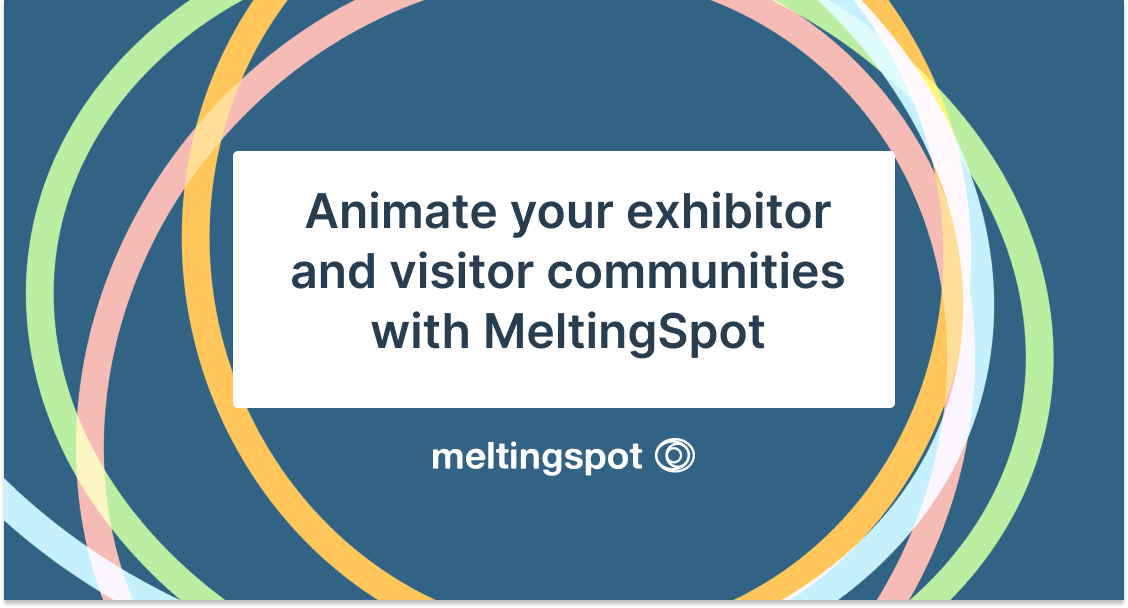 How to animate all your event audiences with an event community platform? You've got all your answers here!
You want your very first remote trade show but you're not sure how to make it interactive and engaging?
We explain step by step how to go about making a memorable and ultra engaging virtual trade show 😉
Physical trade show, virtual trade show: what are the big differences?
It's all going to depend on the solution you choose to make your virtual trade show. Indeed, many classic video conferencing and webinar solutions can offer you to adapt to the virtual trade show format, in addition to all the specialized virtual event platforms.
We present both possibilities, but we strongly recommend you to select a virtual event platform, which is much more likely to create interaction and reproduce a real exhibition!
If you choose a webinar or video conferencing platform
If you choose a classic webinar platform, you will certainly be able to organize a live remote event but you will be limited in the realization of a real virtual event. Indeed, many elements of a virtual or physical exhibition will be impossible to reproduce:
you will not be able to create virtual booths for your exhibitors,
you won't be able to propose to your participants to take appointments with exhibitors
⚠ Yet this functionality is particularly important for trade show organizers. As Marianne Chandernagor, director of the trade show division at Comexposium and organizer of the Tourism show the week of May 15-21, 2021, testifies:
We also needed visitors to have access to our partners' profiles and to be able to make private appointments with them or to have access to information about a country or a region.

You will not be able to propose to your participants to exchange between them:
...
We will not make you the whole list because you understood it 😎 : a simple webinar or video conferencing platform is not at all adapted to realize a virtual exhibition.
If you opt for a specialized virtual event platform
There, you will have already put more chances on your side 😉
But be careful, make sure that this platform allows you to configure and reproduce all the indispensable elements of a trade show like:
✔ The exhibitor booths
Here is an example of the Yousign exhibitor booth at an event organized by MeltingSpot: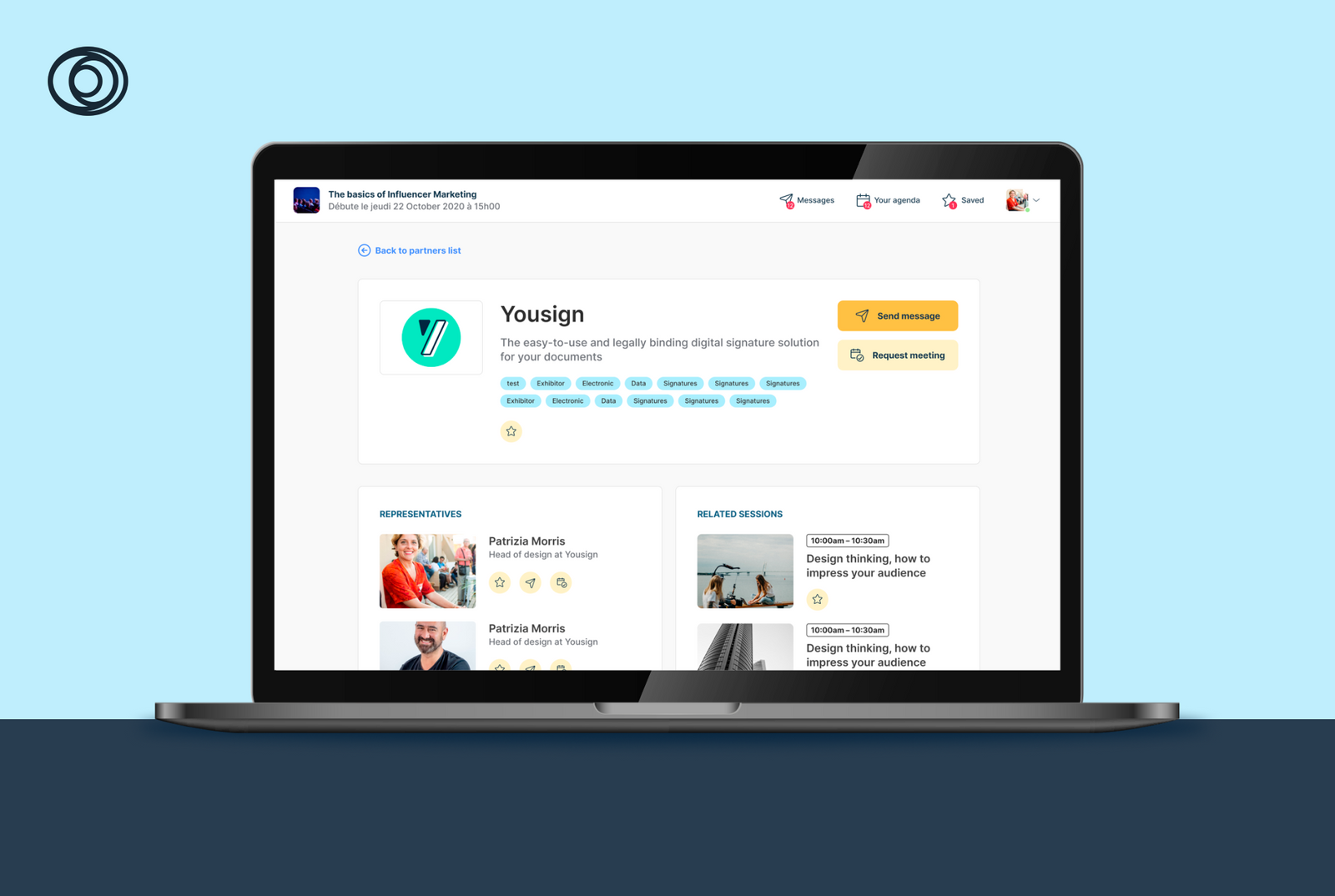 ✔ Making appointments at an exhibitor booth
On a virtual trade show, participants must be able to make an appointment with an exhibitor to ask questions, discover his offer or even have a slightly informal discussion. It is therefore necessary to offer a module for booking appointment slots!
✔ Exchange between participants and exhibitors
Participants must be able to exchange via a chat with the exhibitor even if they have not made an appointment 😉 Hence the importance of making sure that your platform offers a chat or messaging system with exhibitors.
✔ Exchange between participants
Participants must be able to exchange with each other, meet and create a discussion. For this, it is therefore necessary to have access to a chat open to all participants of the exhibition.
✔ Conferences that punctuate the show
This is a crucial point: on your virtual trade show it is important to know whether or not you want to offer live conferences. The participants will be free to participate or not. If you do, you will have to find the theme and the speakers and think about the way you want to carry out these conferences: round tables, 1to1 exchange, conference with a single speaker...
These conferences will be presented as such during your exhibition, the participants will be able to come and go but also to participate on the chat.
It is therefore very important that the platform you choose allows you to configure and control your different lives 😉
✔ Access to information about the show before it such as the list of exhibitors, the list of participants, the program etc.
So make sure that the solution you choose allows you to give your participants access to this different information!
Animating your community on a virtual lounge with a platform like MeltingSpot: the list of steps to follow
Step 1: Set up your virtual lounge on MeltingSpot
👉 Your registration link
This link is very important because it will allow all your participants (here candidates to register to your event). So you need to set it up as soon as possible to broadcast it!
You will choose the information you want to ask the candidates to register: name, first name, LinkedIn profile, resume... The choice is yours!
Here is an example of a virtual fair registration form on MeltingSpot 👇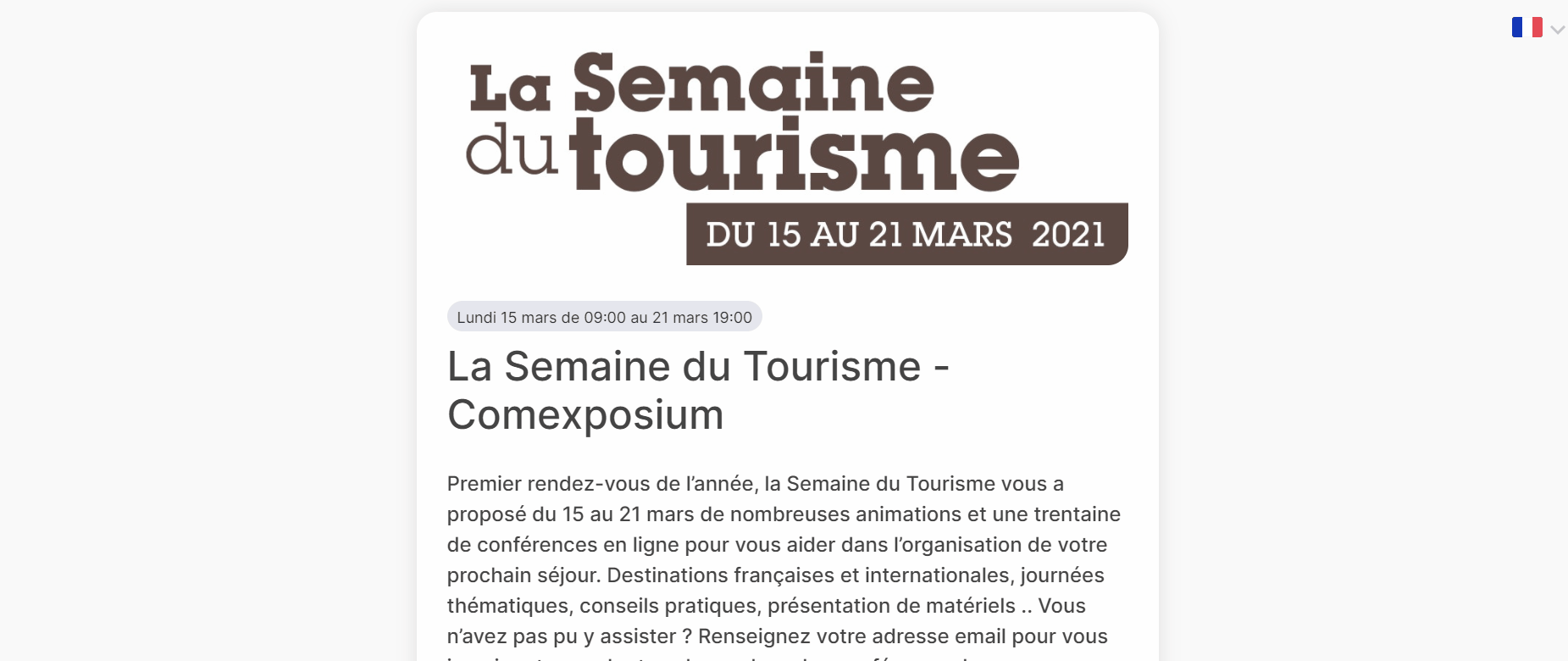 💡💡 This registration link can be accompanied by a landing page completely dedicated to your event.
👉 Exhibitor booths
Fill in their logos, the names of the people at the booth and their professional information. Don't forget to add some visuals.
💡 You can do it yourself or leave it to your exhibitors but make sure to check a few days before your show that your booths are all full!
👉 The meeting slots of your exhibitors
💡 Here again, it is quite possible that you let the exhibitors do it themselves, they can be totally autonomous and change their availability at any time.
👉 The lives and the program
Create your lives, add a short description and the presentation of the speaker(s).
👉 Register to your show
On MeltingSpot, you have two options: either you provide us with the guest list, or you share the invitation around you and in your communications 😉
👉 Tags
These tags will allow you to offer a personalized path to each candidate and to highlight the specificities of your event.
It is thanks to these tags that you will be able to collect relevant and useful data as soon as they register!
💡💡 Once you've passed these steps, you'll follow a control room test with your dedicated even tmanager to check the image and sound quality. Then you can open your show!
Step 2: set up a solid communication plan
Before launching your salon and its communication, define a communication plan that takes into account
the communication channels you want to use: mailing, social networks, newsletter, etc.
the types of communication: do you want to provide logistical information? Inspire and feed your audience? Communicate about a speaker, a live event or a particular exhibitor?
the actors of these communications and their role: what place do you want to give to your exhibitors and speakers in your communication plan?
the timing of your communications: it should be thought in three stages, before, during and after your show
💡💡💡 If you're interested, we've created a kit to make the perfect retroplanning 👉 download it here!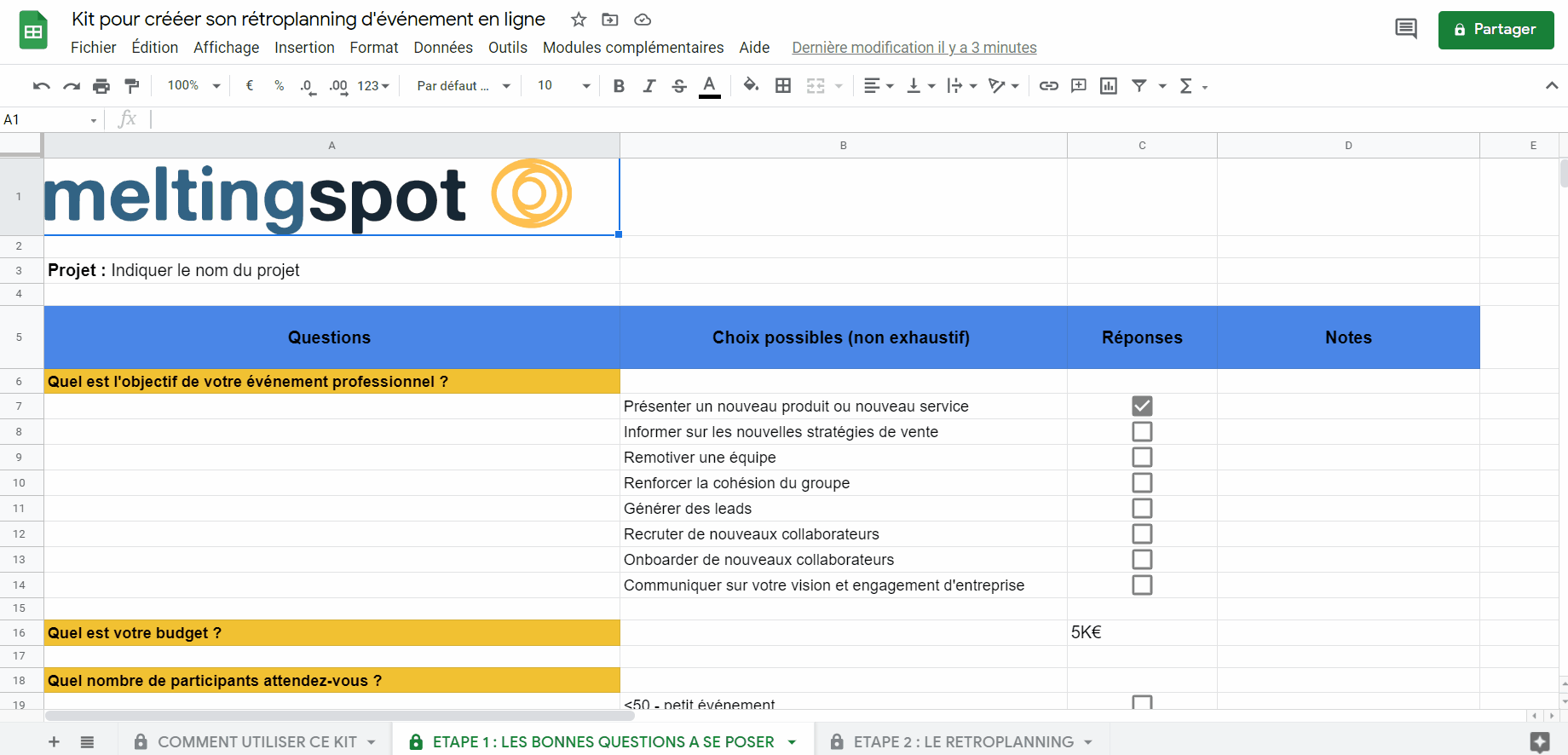 Step 3: think about the animations and interactions
A virtual trade show must remain a moment of exchanges, meetings and interactions. These will of course change in nature since they will no longer be done directly in physical but you will discover that in virtual, it is quite possible to create strong moments of sharing 😉
💡 Think about how you want to liven up your trade show before, during and even after the big day.
Before your trade show starts:
Communicate on social networks, publish content on your website and blog (including key figures and information on the subject), conduct interviews with your speakers beforehand, ask questions to your participants... And above all, don't forget to communicate on practical information: date, time, means of access etc.!
Don't hesitate to encourage your audience: participants, exhibitors, speakers to communicate on it too.
You will have to communicate on the live shows that are starting, the exhibitors' booths to come and discover but also propose animations that will create interaction like :
👉 Polls
Ask your participants to give their opinion on the show or ask them questions on the theme of your show

👉 Discussions on each conference

"We used the platform's chat feature a lot. To encourage the public to ask their questions we systematically made an introduction to the name of the show before each conference. Every day, the Internet users found the same animation team."
Marianne Chandernagor, director of the trade show division at Comexposium and organizer of Tourism Week from March 15 to 21, 2021
💡💡💡 At MeltingSpot, we have a feature that allows us to bring any lounge to life: the news feed. On every event, trade show or otherwise, every attendee can go to this "social wall" and share content, interact on posts and access content already posted.
So you can share content and communicate yourself, let your participants do it but also your whole audience, not bad!
Your exhibition does not stop at the end of the day! It is quite possible and recommended to make the effect and the communication last 😉

How? Through communication and content sharing!
👉 Share exclusive content on social networks
Verbatim of your show, key moments, exclusive interviews... These contents are very rich for your participants and will help to encourage your audience to relay, share and comment.
Don't forget to remind your exhibitors to do the same!
👉 Send a post-show newsletter or mailing to share key information, replay and collect feedback from your audience.
This collected data will help you improve the experience of your attendees, speakers and exhibitors!
👉 Encourage your attendees to talk about their experience themselves